What It's Really Like When Your Brother Has Schizophrenia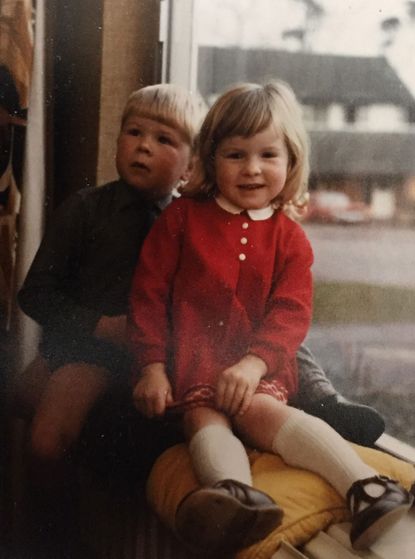 Parents caring for adult children with mental health problems are often talked about, but what of siblings? On World Mental Health Day (10 October), Louise Atkinson writes about her struggle to cope with her adult brother's schizophrenia...
Louise, 52, lives in Oxfordshire with her husband, Jonathan. They have thr
ee
children,
Florence, 19, Isaac, 16, and Gregory, 14.
"My memories of my cherubic blonde brother when we were little are all happy ones. He's just 15 months older than me, and we formed a united front of games and giggles when our younger sister Helen burst on to the scene when we were four and three.
As kids, we were loved and cherished, and neighbours fondly referred to us as "the perfect family". Ross was startlingly artistic and musical, sketching portraits with photographic accuracy and sailing through Grade 8 on piano and clarinet.
But when Ross was 16, the madness struck and all our subsequent childhood memories are ugly ones: Ross charging up and down the stairs throughout the night and festering in a sheetless bed (his choice) all day; he'd play the piano with gusto but jump up halfway through to rip the music into shreds; he'd scribble urgent messages and "meaningful" symbols all over his bedroom walls; and spent family mealtimes ranting about being the second Messiah and warning us the world was definitely going to end that weekend. It was a godawful time. Mum got cancer and died at 52, and Dad was left to somehow cope alone.
People with schizophrenia often hate the medication that controls their psychosis and the voices that plague them - it can leave them feeling like zombies. Ross likened it to "wading through treacle". He would sometimes stop taking the drugs and, every so often (always unexpectedly), the lid on Pandora's box would flip open.
For 15 years, Dad was a prisoner in his own home because he could never be sure what ross would do. On more than one occasion, he returned from an errand to find the front door wide open, the TV blaring and Ross gone. Eventually the police would call, from somewhere hundreds of miles away, to say they'd picked him up. Usually barefoot, sometimes naked. With schizophrenia you never know what is going to happen next.
Meanwhile, my sister and I got on with our lives, eternally grateful that Ross wasn't our problem. But the shadow of schizophrenia hung over us always. It struck our cousin Peter in his twenties, and we try not to think about the possibility of the genetic lottery falling on one of our feisty, funny teenage kids.
In his early thirties, Ross made an attempt at living independently in a council flat. It was disastrous. He was bullied by neighbours and lived in squalor. Then, 18 years ago when Ross was 36, he became involved with a Hare Krishna community and ended up moving to Germany to live with them.
The quiet, ordered life was perfect for Ross, and a blissful respite for Dad - his 70's were one of his happiest decades.
After Dad died in 2007, it was only a matter of time before Ross resurfaced as our responsibility. When I picked up the phone to hear a strong German accent, I knew at once it could only be bad news.
Ross was off his medication, had been taken to hospital but had walked out, and was now missing somewhere in Europe. It turned out Ross had no passport (too paranoid to fill in the renewal forms we'd sent years before) or health insurance. His doctors refused to talk to me (patient confidentiality), his bank agreed to cancel his lost debit card but would not allow me reorder a new card on his behalf (client confidentiality).
I spent the next three weeks engulfed in stress, desperately trying to juggle work and three teenage children while launching an international missing person's hunt, liaising almost hourly with police in the UK and Germany, the British embassy in Berlin, and the Hare Krishna community. Mixed in to this soup of chaos and despair was a miserable sense of déjà vu.
After three weeks of imagining the worst, we were alerted to the fact that Ross was alive when a hospital called to ask who would be paying the €20,000 bill he'd racked up after being picked up by the police. He was oblivious that anyone was looking for him.
His German friends said they could no longer cope. I lay awake night afternight, my heart racing, trying to work out solutions. But every "fix" was just like sticking a plaster on a badly leaky - and sinking - inflatable boat.
I hate schizophrenia with a passion. Of course I know it is the illness that is making my brother behave this way. It's not his fault. His voices and paranoia must be hell to live with, but it is so hard to be sympathetic when all the chaos and confusion emanates from him.
Are we bad people to secretly wish he'd just be "normal", that someone else would step in and take over, and make the whole problem disappear? AndI confess, I am struggling to control the bitterness and resentment at how schizophrenia trashed our childhood, and how scared I am about the future.
That's the unique aspect of a sibling relationship. It often outlives any others, and as parents die and partnerships, if they happen, may be strained or flounder, it often falls to siblings to be in the front line.
The charity, Rethink Mental Illness, has conducted research into the impact of schizophrenia on siblings and now offers a comprehensive package of support and advice. According to its policy manager Paula Reid, this is a sorely needed service: "It can be a minefield trying to understand different services and the treatments available, and siblings often find themselves on the periphery when it comes to involvement in mental health services."
Many siblings may not want to identify themselves as carers. My sister and I care deeply for our brother, but we're absolutely united in the fact that we can't - or won't? - be his "carer".
In fact, this is what held me back from initially phoning Rethink Mental Illness' sibling support groups. I was worried about someone putting pressure on me to sacrifice the rest of my life to my brother, as our mother had done.
But when desperation did drive me to call, it was enlightening. Although listening to other sibling stories was depressing (there really is no escape, and nothing you can do will ever be enough), we were counselled to look after ourselves and our families first.
Eleanor Murphy, volunteer group coordinator for Rethink Mental Illness Support for Siblings in south London, who has a sister with schizophrenia, said it is vital for the health of the "well person" to control just how much effort they put in, or not.
"Everyone wants to try to fix their sibling, but you may never be able to do that," she says. "There are so many people who have already faced similar scenarios and know the loopholes and shortcuts. We don't have answers but we do have insight - and siblings need emotional support."
As I write, I'm waiting for my brother to be shipped back to the UK to face... who knows what? I know one thing - it must be even more frightening for him than it is for me and my sister. We three will work through this together."
UPDATE We've managed to find a place for Ross to live 45 minutes away, and he's now back in the UK. It offers independent living in a house of 12 adults with schizophrenia or bipolar disorder, but supervised by a psychiatric nurse. On his second day, he called to say how glad he is to be back, how much he loves his new home and, to my complete surprise, to say thank you. I burst into tears. I never expected thanks, but knowing that I've made him happy even just for a while is one of the best feelings in the world.
Where to go for help: ✢ Rethink Mental illness. Visit rethink.org (opens in new tab); call the advice line on 0300 5000 927, weekdays 9.30am- 4pm; email advice@rethink.org ✢ Mental health charity Mind offers local support groups; mind.org.uk (opens in new tab)
✢ Charity sibs.org.uk (opens in new tab) supports siblings of people affected by chronic illnesses and disability ✢ if one of your children has a mental illness, get siblings involved. See top tips for supporting your sibling child at sibs.org.uk (opens in new tab)
✢ Charity Together for Mental Wellbeing provides advice on supported living; together-uk.org (opens in new tab)
World Mental Health Day is on 10 October; mentalhealth.org.uk (opens in new tab)