How to stop a panic attack, from women who have overcome them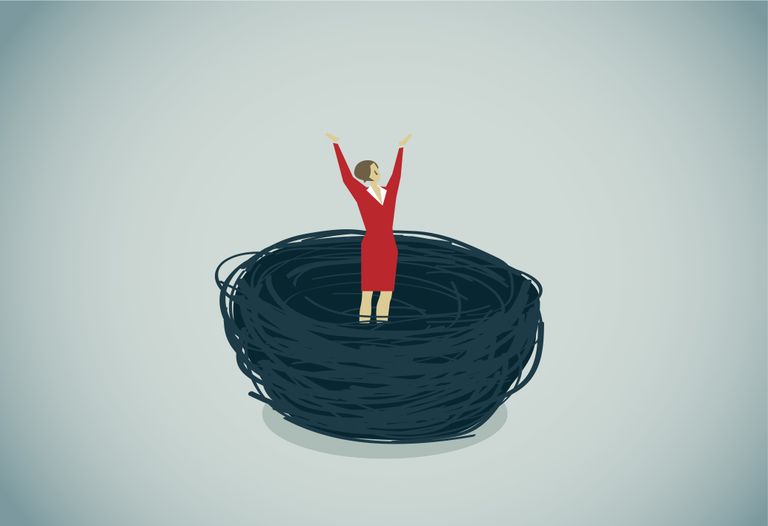 Experiencing a panic attack for the first time can be completely terrifying.
A sudden rush of adrenaline, coupled with debilitating symptoms, can leave the sufferer feeling scared, disorientated and subsequently exhausted. In the words of Nadia Hussain, who has spoken openly about her own "crippling" anxiety, "it feels like you're going to die. Your airways close up. Your head spins. You collapse. It's so scary".
The NHS cites panic as the most severe form of anxiety, and can "create a cycle of living […] in fear of fear". If you're prone to panic attacks, you're not alone. 13.2% of people will experience a panic attack in their lifetime according to the Mental Health Foundation.
As a society, we're talking about mental health more than ever before, with celebrities championing conversation around panic disorder. Nadiya Hussain's recent documentary, Nadiya: Anxiety and Me, documents the TV chef's quest to find treatment, while journalist Bella Mackie's bestselling memoir, Jog On, highlights how exercise can be a lifeline for those suffering with anxiety and panic attacks, which were, for Bella, "physically brutal".
When the moment strikes, it's easy to think, in the words of Bella Mackie, "I can't possibly get through this". So how do you?
W&H spoke to three women who have learned to manage their attacks about how to cope when they feel the panic rising.
How to stop a panic attack: three women share their strategies
While experiencing a panic attack can be an unsettling experience, there are coping mechanisms that can help prevent the attack from escalating.
Jane Sorrell, life and wellness coach at janebliss.co.uk, first started experiencing panic attacks 15 years ago
"I remember during the first attack there an extreme awareness of my heart. All of a sudden, I couldn't breathe and I was convinced I was having a heart attack. I felt overwhelmed and couldn't stabilise. It was horrific.
"I only really learned how to stop panic attacks when I delved into why my anxiety was there in the first place. If you want to deal with the root of a panic attack, accept that it's often down to something else going on in your life; grief, or stress, perhaps. Reach out to someone - whether that's a loved one, close friend, your GP or a professional - as it's so important to talk.
"At this moment, breathing is so important"
"An attack can bring back uncomfortable and familiar memories of previous panic attacks. When you feel the memory creeping back up, let it wash you until you feel safe, repeating 'I am safe, I am fine'. Overcoming a panic attack involves a lot of positive self-talk; a strong mental attitude is key.
"At this moment, breathing is so important. Many people get it wrong when it comes to breathing to calm the system down. The exhale needs to be longer than the inhale by one count to engage the relaxation response. An easy technique to remember is 3-4-5; breathe in for 3, hold for 4, then breathe out for 5.
"Another technique that will work quickly is a technique called EFT, which involves tapping on meridian points in order to relax the body. EFT points include the collar bone, under the nose, under the eye, the side of the eye and the chin."
TV presenter and psychology expert Anna Williamson is championing an open discussion on mental health, after suffering with panic attacks from a young age
"I actually first experienced a panic attack at the age of eight years old. But I only know this because when I subsequently had panic attacks in my adulthood and was then diagnosed with panic disorder and generalised anxiety disorder in my 20s. It was during regression hypnotherapy I discovered the learned feeling went back to when I was eight and got trapped in a swimming pool. My panic attacks in my adult hood started when I was 25 and fronting a kids TV show for ITV, it was a terrifying time as I didn't know what was wrong with me and what I was experiencing.
"There is only so long someone can cope with that intense adrenaline and fear coursing around their body. As is common with mental health issues, I started to experience other side-effects such as insomnia and loss of appetite. In the end I had a breakdown at work and willingly went to see my doctor for help.
"General relaxation techniques day-to-day can be a game changer"
"If you feel a panic attack coming on, get yourself in a safe place, ideally sitting down and breathe in for five seconds through your nose and out for five seconds for your mouth. Tell someone what you are experiencing so they can help you if need be. Let the attack pass, which it will, and make sure you just take the rest of the day easy as it can be exhausting.
"I am a big fan of talking therapies, but also medication where appropriate as well. I believe that medication should always be supported with a therapy of some kind to get to the root cause of the issue - and to learn coping strategies and techniques. A combination of cognitive behavioural therapy, neuro-linguistic programming, hypnosis and mindfulness is what I find to be really effective. Also learning about who you are, what your triggers are, and what you need to do to help keep yourself well is key.General relaxation techniques can be a day-to-day game changer."
Chloe Brotheridge suffered panic attacks in her teens and has written two books, The Anxiety Solution and Brave New Girl, providing practical solutions for mental health issues
"I had my first panic attack at 15. I thought I was dying and begged my friend to take me to hospital. At a later date, I had a panic attack during a presentation, where I felt as though I'd come out of my body and was watching myself from the ceiling.
"The more you resist a panic attack, the more panicked you become."
"My main piece of advice would be to remind yourself that although panic attacks are scary, they are not dangerous; it's just adrenaline and it can't hurt you. Try and float the panic attack rather than fighting against it. The more you resist a panic attack, the more panicked you become.
"I use a technique called grounding. It's where you notice what you see around you, feel, smell and hear. This grounds you and brings you back to your body.
"Worry and anxiety can be exhausting. I set up my website Calmer You to try and help people suffering with anxiety and panic attacks find solutions that work and overcome these issues."
What is a panic attack?
A panic attack is a sudden feeling of intense fear or discomfort that reaches a peak within a short space of time, accompanied by physical symptoms such as dizziness, shaking, nausea and breathlessness.
In severe cases, the sufferer may believe he or she will collapse, or is about to die. Panic attacks can last anything from a few minutes to an hour.
What are the common panic attack symptoms?
The NHS cites that panic attack symptoms can include, but aren't limited to:
a racing heartbeat
sweating
nausea
chest pain
shortness of breath
trembling
shaky limbs
a choking sensation
dizziness
pins and needles
a dry mouth
feelings of dread or fear of dying
a choking sensation
a churning stomach
tingling sensations
How to prevent panic attacks happening in the future
There are certain lifestyle changes you can make in order to lessen your chances of experiencing a panic attack.
"You need to work out what particular stress you might be under that could make your symptoms worse," explains Professor Salkovskis, Programme Director for the Doctorate in Clinical Psychology (DClinPsy) at the Oxford Institute for Clinical Psychology, on the NHS website.
NHS guidelines state that these lifestyle habits can help prevent future panic attacks from recurring by reducing stress levels:
breathing exercises every day
regular exercise, particularly aerobic exercise
regular meals to stabilise blood sugar levels
avoid caffeine, alcohol and smoking
Online help for panic attacks
There are online resources that can help you reduce your stress levels - for good. Panic attacks can be a direct product of stress and anxiety, so it's important to deal with the root of the issues first. Websites like Mindbox give its users practical tools in order to help them manage stress levels through exercises and online counselling sessions. The NHS waitlist can be long, with referral times spanning months. But with Mindbox, you receive instant help and advice. Their mission is to "provide the best therapy, in the right place, when you need it the most".
Good mental health needn't cost the earth. Whichis why we have partnered with Mindbox to offer you an exclusive discount of up to 50% off their services.
Medical treatment for panic attacks
NHS guidelines suggest cognitive behavioural therapy (CBT) as way to ease panic attacks, panic disorder and anxiety. You can refer yourself directly to a psychological therapist, without seeing your GP. Alternatively, your GP can refer you.
Several types of medication have been shown to be effective in managing symptoms of panic attacks, including selective serotonin reuptake inhibitors (SSRIs) and serotonin and norepinephrine reuptake inhibitors (SNRIs). Always consult a doctor if considering medication and be mindful of potential side effects.
Lauren is deputy editor at woman&home.com in the UK and became a journalist mainly because she enjoys being nosy. With a background in features journalism, Lauren has worked on the woman&home brand for four years. Before woman&home Lauren worked across a variety of women's lifestyle titles, including GoodTo, Woman's Own, and Woman magazine. After starting out working for a local paper in Yorkshire, her journalism career took her to Bristol where she hunted out stories for national papers and magazines at Medavia news agency, before landing a job in London working as a lifestyle assistant.
Lauren loves helping people share their stories, bringing experiences to life online, honing her interview techniques with everyone from authors to celebrities, headteachers to local heroes. As well as having a good nose for a story, Lauren has a passion for the English language and years of experience optimizing digital content to reach the widest audience possible. During her time at w&h, Lauren has worked on big brand campaigns like the Amazing Women Awards and assisted in developing w&h expert-approved Buyer's Guides—the place to go if you're looking to splash out on an important purchase and want some trusted advice. In addition to her journalism career, Lauren also has a background in copywriting for prestigious brands such as Inhabit Hotel, eco-development K'in in Tulum, social enterprise The Goldfinger Factory and leading London architect Holland Harvey, using language in all its glorious forms, from detailed guidebooks to snappy social content.
A big fan of adventure, Lauren is also a keen travel writer and loves sharing tips on where to find the best places to eat, drink, and be merry off the beaten track. Lauren has written a series of travel guides for London hotels and loves sharing her insights into a destination's cultural and culinary offerings. If you need a recommendation on any UK destination, she's more than happy to help. At the weekend, you'll usually find her hanging out with her pet cat (or anyone else's pet she can get her hands on), escaping to the countryside, or devouring a good book.
Follow her adventures @laurenkatehughes
Twitter: @laurenkhughes
LinkedIn: Lauren Kate Hughes
Email: lauren.hughes@futurenet.com