Retro drinks ideas from the '70s and '80s that make us feel very nostalgic
Drinks, they don't make 'em like they used to. These retro drinks ideas will bring you back to a simpler time - cue that warm and fuzzy nostalgic feeling....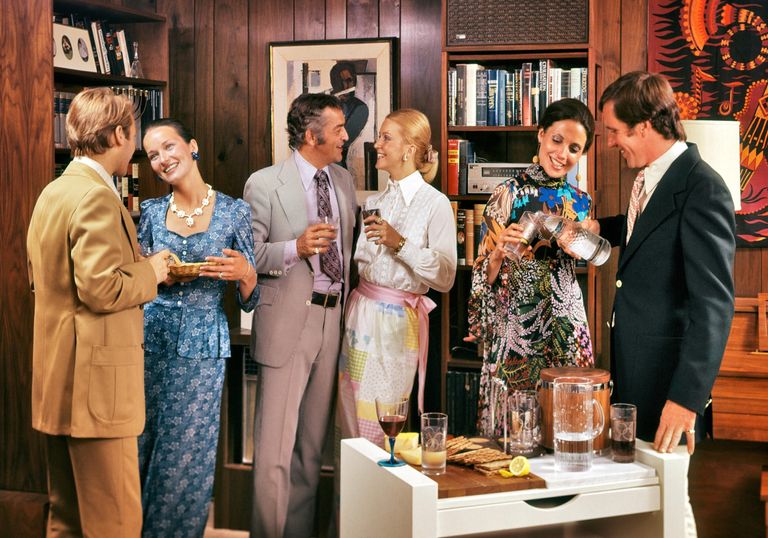 If you could rewind forty or fifty years and take a peek inside a typical drinks cabinet, there just might be a bottle or two that look familiar.
You may think that the '70s and '80s was all Cherry B's, sweet Mateus wine and garishly colourful cocktails… and you wouldn't be wrong. But it was also the birth of many iconic drinks, some which have stood the test of time, and others, suddenly re-emerging after a long hibernation.
The '70s are a fine example of the influence of advertising. As the summers were long and curiously hot, drinks companies adopted words like "fresh" and "refreshing" which captured the parched public and forced sales up. The first drink aimed at women was born and our drinking habits began to change.
The 80's saw our admiration for cocktails soar. We loved them bright, we loved them sweet, and if they had a sexual innuendo, well, all the better! Long drinks, short drinks and even shots; the Slippery Nipple, Sex on the Beachand Slow Screwbecame the bartenders recommendation.
Come and take a walk down memory lane with our little throwback to some of these memorable drinks…
1970s spirits
Advocaat
If 1970's cheese was a drink, it would definitely contain Advocaat. Everyone seemed to have a bottle of this rich, creamy Dutch drink at home that would get dusted off during the festive period! Mixed with lemonade to make a Snowballand transport yourself to Christmas in the '70s. Advocaat can thank domestic goddess Nigella Lawson for their sweet egg liqueur making a comeback. Since Nigella praised this retro tipple back in 2007, sales of the bright yellow bottle have increased year on year. For another festive favourite try Eggnog (opens in new tab).
SHOP NOW: Warninks Advocaat, £19 (70cl), Amazon (opens in new tab)
Vodka
Vodka became hugely popular in the 1970s. It was used as the base of many popular 70's cocktails such as the Harvey Wallbanger. For something more contemporary try our Pomegranate Vodka Recipe (opens in new tab).
1970s wines
Lambrusco
Lambrusco is a frizzante (lightly sparkling) red wine from the Emilia-Romagna region of Northern Italy. This was the bottle one would take to a dinner party if you didn't know the hosts too well, or if you were on a tight budget. Lambrusco has undergone a renaissance and is definitely the comeback queen of sparkling red wines; it tends to be drier with higher alcohol content.Serve chilled while snacking on some delicious Italian fare.
Mateus Rosé
This iconic Portuguese wine was more famous for its unique flask-shaped bottle than the contents. But it really made an impact and will forever be epitomised in Elton John's 1973 song Social Disease. Elton sings "I get juiced on Mateus and just hang loose."
SHOP NOW: Mateus Rose Original Wine, £30.30, (75cl case of 6), Amazon (opens in new tab)
Babycham
This kitsch little number changed the way woman drank in the UK. In Babycham Night: A Boyhood At The End Of The Pier, Rock biographer Philip Norman's memoir of growing up in the 1950s, he writes, "Babycham was the first drink a woman could order in a bar without feeling a tart or a crone,"Coined "The happiest drink in the world", this light sparkling perry gained popularity in the '70s – perhaps because it was the first ever alcoholic beverage to be advertised on British commercial television. Seen as the original party drink, you couldn't go to a soiree without seeing a bottle (or two, three, four…) floating around!
MORE: Remember these iconic retro foods? Whatever happened to Viennetta? (opens in new tab)
1980s spirits
Cinzano and Martini
Italian vermouths were one of the nations favourite tipples and these two brands monopolised the market: Cinzano and Martini.
Vermouth hasn't fallen out of fashion, in fact, far from it. More premium vermouth brands have made their way behind the bar and are still staples in many cocktails. Vermouth can be servedwith soda water or lemonade as a refreshing spritzer, shaken or stirred with gin in a Dry Martini (opens in new tab), or mixed with gin and Campari for a classic negroni (opens in new tab); a cocktail that has seen a huge resurgence in recent years.
SHOP NOW: Martini Extra Dry, £8.95 (75cl), Amazon (opens in new tab)
Campari
This alcoholic liqueur has withstood the test of time and is still widely available and enjoyed today. It was a hugely popular apéritif in the '70s and '80s, served over ice. It has a distinct taste of herbs and fruit and can also be served with soda water or citrus juice, as well as a number of cocktails we still enjoy today. Campari can also be used in place of Aperol when making an Aperol Spritz (opens in new tab) to create a more bitter tasting drink.
SHOP NOW: Campari, £13 (70cl), Amazon (opens in new tab)
1980s wines
Blue Nun
You can't think of a dinner party in the '80s without conjuring up images of Blue Nun on the table. It was the height of sophistication – or so we thought - and all down to some clever marketing. Blue Nun was advertised as a wine that could be enjoyed throughout the entire meal, therefore taking the pressure off of thinking about wine pairings. This extremely sweet German wine however, fell out of favour as time went passed and our palates become more refined. It became the butt of the joke and regularly mocked for very the reason it was once so popular. Blue Nun is slowly starting to creep back onto the supermarket shelves, so if you're a lover of sweet wine, or just want a hit of nostalgia, then maybe grab yourself a bottle.
Bulls Blood (Bikavér)
This Hungarian 'bottom shelf' red wine is another that didn't have the best reputation in the end, and Hungarian wine makers are working hard to change this. Bikavér (from bika meaning bull and vér meaning blood), similarly to Lambrusco was lambasted for low quality, mass-produced exports making their way into the UK.High-quality producers in Hungary are creating some fantastic wines, but some are still hesitant to advertise their blends as Bikavér, as is still has a negative connotation.
1970s cocktails
We know that a number of the cocktails (opens in new tab) from this era should stay exactly where they are, however with higher quality ingredients and some clever little twists, these are becoming firm's favourites once more.
Green Hornet
Attitudes towards cocktails in the '70s and '80s were - The brighter, the better - and that's why the Green Hornet was embraced with open arms, or more appropriately, an open mouth. Whiskey, vodka, gin and crème de menthe all poured over ice to give a minty fresh buzz to your evening, certainly one to drink if you wanted to "do a little dance, make a little love, get down tonight…"
SHOP NOW: De Kuyper Creme de Menthe Liqueurs, £12.49 (50 cl), Amazon (opens in new tab)
White Russian
This rich, creamy drink made with vodka, coffee liqueur, and cream is served over ice in an old fashioned tumbler. It was all the rage in the 70s. Palates have slightly changed since then, and we now tend to opt for lighter cocktails, but you can still find a White Russian on many cocktail menus.
Aperol Spritz
You may think that the Aperol Spritz (opens in new tab) is a recent creation, but Aperol came over from Italy in the '70s, and with it, the Aperol Spritz. A 3-2-1 mix of Prosecco, Aperol and soda water was the drink to accompany the new Italian dishes that we were also embracing.
Now the drink is more popular than ever! Giant balloon glasses filled with effervescing bright orange liquid has become synonymous with al fresco drinking on a hot summers day.
SHOP NOW: Aperol, £14 (1L), Amazon (opens in new tab)
Margarita
The Margarita (opens in new tab) is a classic cocktail which was still going strong in the 70's. It's made of tequila, orange liqueur, and lime juice. For an authentic effect, the rim of the glass should be dipped in salt.
1980s cocktails
Harvey Wallbanger
Sometimes simple is best, and what's more simple than a Harvey Wallbanger cocktail? Vodka is added to orange juice and topped with a floating layer of Galliano vanilla liqueur (created by stirring the drink and delicately pouring the Galliano over the back of a spoon). It's a drink that has withstood the test of time and can be bought, pre-mixed in tins, from some supermarkets these days.
SHOP NOW: Galliano, £12 (50cl), Amazon (opens in new tab)
Negroni
Most brightly coloured cocktails from this era came from artificial colours and saccharin syrups like grenadine or blue curaçao. The Negroni however was one that gained its vivid colour from the alcohol alone. Gin, Campari and Vermouth Rosso all stirred together and served on the rocks.
It was some time before this bitter cocktail was embraced by Brits; who preferred something a little sweeter back then. Now considered a classic and more popular than ever before - you'll be hard pressed to find a decent cocktail menu without one.
READ MORE: A selection of gin cocktails for every taste and occasion (opens in new tab)
Amaretto Sour
Amaretto, a sweet almond liqueur was the perfect liqueur for the Italians to export. Knowing our stance on their bitter drinks were somewhat of a love-hate relationship, Amaretto ticked all of the boxes! Shaken with lemon juice and sugar syrup and garnished with a maraschino cherry. Delish!
SHOP NOW: Disaronno, £16 (70cl), Amazon (opens in new tab)
Pimms
A timeless hit Pimms (opens in new tab) fruit cup was a classic summer drink in the 80s too.
SHOP NOW: Pimms No. 1 Cup, £15 (70cl), Amazon (opens in new tab)
Piña colada
The 80's was a crazy time. It was acceptable back then to enjoy a Piña Colada even when you weren't sunning it on a tropical isle! We will judge you for drinking this tropical cocktail at home, so instead please enjoy this Piña Colada inspired cake (opens in new tab). It's much more appropriate for the climate!
Will you be recreating any of the old classics? Or are you happy to leave them down memory lane?
Head over to our Facebook page to join the conversation.
Keiron George develops recipes and styles dishes for a number of publications, as well as reviewing products, writing food features and How To's for Goodto and woman&home.
Keiron's love of food happened quite by accident. As an arts graduate, he was looking for new outlets to channel his creativity when he stumbled upon the world of cake decoration. He set up his own wedding cake business in 2015. In 2016 Keiron was awarded the Julia Child Scholarship at world-renowned culinary institute - Le Cordon Bleu, London, where he studied the art of French Pâtisserie.