Best Champagne 2020: The woman&home taste test
Send off 2020 in style with a bottle of the best Champagne you can, because nothing says 'Let's celebrate' like the pop of a cork.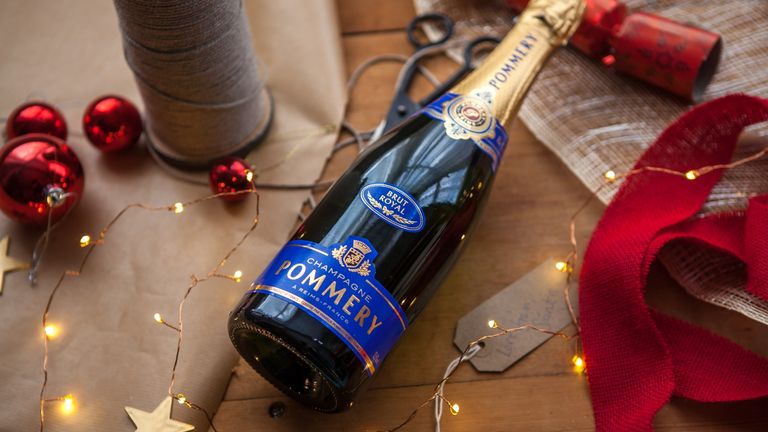 (Image credit: Ocado)
Whether you use it to toast your Christmas breakfast, alongside your Christmas dinner, or just as a tipple throughout the jolly season, there's something special about the popping of a Champagne cork.
You want to buy the best Champagne you can afford and that's why we are here to help. As the woman&home Christmas Taste Test proved, the best Champagne doesn't always mean the biggest price tag or brand. As with any wine, individual preferences will play an important role in deciding what the best Champagne is for you and your loved ones. From bottles that are creamy and biscuity to others that are dry and refreshing, there's sure to be at least one you want to buy.
Best Champagne 2020: The winners
Les Pionniers NV Champagne: £19 | Co-op
Shall we tell you a secret? This champagne has a Co-op price tag but it is created by an extremely well-known and respected French champagne house, whose bottles usually sell for £30 or more. It's vegan and holds two impressive silver medals.
M&S Delacourt Brut Champagne: £25 | M&S
Elegant and creamy, this fizz is crafted by a female wine making team and is made using the classic Chardonnay, Pinot Noir and Meunier grapes. It would make a beautiful pairing with a smoked salmon starter or canape and would also match nicely with a leftover turkey risotto on Boxing Day! You can expect notes of brioche, vanilla and peach with pleasing complex finish.
Best Champagne of 2020: The honourable mentions
These bottles didn't get a spot in our Taste Test selection but they are certainly worth talking about! From award-winning supermarket-own labels to big brands you know and love, these are our best Champagnes for 2020.
Aldi Veuve Monsigny Champagne Brut: £12.99 | Aldi
Consistently a bestseller, this competitively priced award-winning Champagne comes from small Champagne house Philizot & Fils. Aged for a minimum of 48 months in the bottle, this fizz delivers aromas of apple and soft red fruit with a crisp zingy finish that will encourage you to seek a top up!
Pommery Brut Royal: £39.99 | Ocado
Light and refreshing, this elegant Champagne would make a delightfully decadent start to the day. While it does not have strong creamy or brioche notes, which many people love, it instead delivers a clean crisp finish without intense dryness, which could be preferable to others. It's a pale yellow colour with flecks of green when it catches the light.
Sainsbury's Taste the Difference Blanc de Noirs Brut Champagne: £21 | Sainsbury's
This sparkling fizz is a great talking point for any wine enthusiasts. It's made purely from the black grapes Pinot Noir and Pinot Meunier, which explains the moniker Blanc de Noir. The fizz is rich and fruity with a well-balanced acidity and enjoyable citrus notes. It would be great served with salmon, spicy appetisers or simply as an aperitif.
Morrisons Adrien Chop Brut Champagne: £18 | Morrisons
While Morrisons might not be the first name that springs to mind when asked for a Champagne recommendation, it deserves to be taken seriously. In a tasting hosted by an expert panel for Which?, this Morrisons fizz beat big names such as Moet & Chandon, Lanson and Veuve Clicquot for the top spot. The Champagne is matured for three years before being released for sale which allows it to develop a rich, creamy mousse.
Lidl Comte de Senneval Brut Champagne: £12.50 | Lidl
You'll struggle to find another Champagne of this quality at this price point. It's the perfect accompaniment to a smoked salmon blini but is equally pleasant sipped on its own. Master of Wine and Lidl's wine consultant Richard Bampfield scored this fizz 86 out of 100 and describes it as having a clean, dry finish.
Waitrose Brut Champagne: £19.99 | Waitrose
This fizz just missed out on the top spot in the Which? Champagne taste test but it still scored an impressive 79 per cent. It has gentle toasted notes with a round and fruity mouth feel. It's suitable for vegetarians and vegans and is made with Pinot Noir and Chardonnay grapes.
Moët & Chandon Impérial Brut NV: £37 | Waitrose
Undoubtedly one of the world's most recognisable and loved Champagnes, this fizz was first created in 1869 and it's been enjoyed by millions of people ever since. It has a very dry finish but has an elegant, fruity build up which makes it a very pleasant drinking experience.
Asda Extra Special Louis Bernard Premier Cru Brut Champagne: £21 | Asda
Decanter awarded this fizz an impressive bronze medal in 2019 and described it as having 'an appealing toasty character'. It's fresh, lively and suitable for vegetarians. At the time of writing the Champagne is part of a promotion where you save 25 per cent when you buy six bottles. A bottle would make a lovely addition to any homemade hampers you're making for friends or family this Christmas.
Rose Fooks, Deputy Food Editor at Future plc, creates recipes, reviews products and writes food features for a range of lifestyle and homes titles including Goodto, Style at Home and woman&home. Since joining Future, Rose has had the pleasure of interviewing cookery royalty, Mary Berry, enjoyed the challenge of creating a home-based, lockdown baking shoot for woman&home, and had her work published in a range of online and print publications, including Feel Good Food.
Rose completed a degree in Art at Goldsmiths University and settled into a career in technology before deciding to take a plunge into the restaurant industry back in 2015. The realisation that cookery combined her two passions - creativity and love of food - inspired the move. Beginning as a commis chef at The Delaunay, Rose then worked at Zedel and went on to become a key member of the team that opened Islington's popular Bellanger restaurant.
In order to hone her patissier skills, Rose joined the Diplome de Patisserie and Culinary Management course at Le Cordon Bleu. Rose ran a food market in Islington championing local producers and cooked for a catering company that used only surplus food to supply events, before finding her way into publishing and food styling.
Other than cooking, writing and eating, Rose spends her time developing her photography skills, strolling around her neighbourhood with her small, feisty dog Mimi, and planning the renovation of a dilapidated 17th-century property in the South West of France.