Kirstie Allsopp's dresses: Where to buy the property guru's figure-flattering dresses
Kirstie Allsopp's dresses have made her a style icon. Here's the inside scoop on her most-worn brands.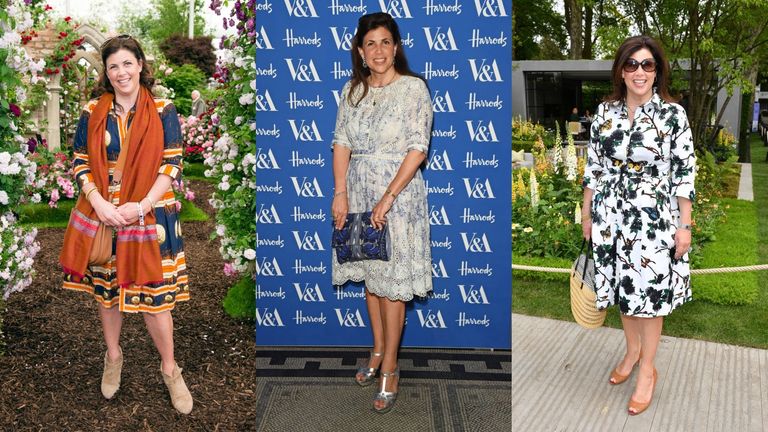 (Image credit: Getty)
Kirstie Allsopp's dresses have become quite the talking point over the years, with the property guru becoming synonymous with a printed, 50s style frock. 
Two decades since arriving on our screens in 2000 as the presenter of Location, Location, Location, the queen of craft and real estate has been crowned a style queen too. Always looking fresh and ready to go as she guides potential homebuyers with her property expertise, Kirstie Allsopp's dresses regularly leave us frantically googling how to bag her stellar closet. So just how does she do it? 
Achieving effortless style is no mean feat, but sticking to wardrobe staples is a good place to start. As versatile as your best jeans, the best dresses will form the basis of any capsule wardrobe—and don't even get us started on the joys of a dress with pockets. Just as Kate Middleton's dresses form part of her signature look, as do Kirstie's. Her style is elegant and glamorous, as well as figure-flattering. Her go-to frock, a classic belted shirt dress, offers a clever way to emphasize your waist and creates a stunning silhouette. 
The real key to Kirstie Allsopp's dresses is in the labels she supports. The property guru loves to support female-founded businesses and in particular British clothing brands. Recently, she took to Twitter to reveal just where she gets her dresses. She explained, "Most of the dresses I wear for work are either made for me by the lovely @makwana_rashmi or by Samantha Sung @TheCrossShop or @KjsLaundry."
Kirstie broke her wardrobe down, revealing that her two favorite shops are The Cross Shop, in Holland Park, London, and KJs Laundry, a fashion boutique in Marylebone.
She also revealed on her Instagram that she often shops for fabrics in Shepherd's Bush, London, which she then takes to her favorite designer Rashmi Makwana.
Where to shop for Kirstie Allsopp's dresses - quicklinks
So how can you get your hands on Kirstie Allsopp's dresses and channel her iconic style? As Kirstie has revealed to her social media followers, she favors independent brands and boutiques. When she isn't scouting for unique finds in London, the presenter also loves to shop at her favorite high-end British high-street labels. Here's the lowdown on her go-to brands:
Kirstie Allsopp's dresses: Our fashion team's top picks from her favourite brands
From quintessentially British brands to luxury designers, emulate Kirstie Allsopp's signature look from a range of labels. Here are her go-to dress brands, with look-a-like styles and our fashion team's top picks from each. 
Me + Em
Kirstie has often declared her love for British fashion and female-founded brands, and one of her recent favourites is Me + Em. Founded in 2009 by Clare Hornby, Me + Em's philosophy is to create intelligent style for intelligent women. The brand ensures their pieces are always flattering, functional and made to last.
Often spotted on our screens in one of Me + Em's beautiful floral frocks, Kirstie showcases exactly why we love the British brand so much. Their contemporary prints and classic shapes make for fabulously versatile dresses you'll want to keep in your wardrobe forever. The great news is, you can get your hands on the exact same frock that Kirstie recently shared on her Instagram. We are obsessed with the gorgeous detailing, from the intricate paisley print to the frilled trims on the sleeves and hem.
---
Fashion team's picks from Me + Em:
---
Me + Em Paisley Print Boho Maxi Dress
Me + Em Camo Floral Spliced Shirt Dress
Me + Em Diamond Geo Maxi Shirt Dress
Me + Em Brush Stroke Floral Fluid Sleeve Midi Dress
Justine Tabak
It's rare for Kirstie to post about her wardrobe secrets on Instagram, so we couldn't believe our luck when she shared outfit details of this little-known brand. She revealed to her followers that her beautiful floral frock is from the gorgeous independent brand, Justine Tabak. 
The female-founded British brand makes all of its garments in the UK from fine British fabrics using small local manufacturers. Not only are the pieces made in the UK, but they are also inspired by the British Isles too. The range of glorious dresses, that Kirstie is often spotted in, is inspired by vintage finds but designed in modern easy-to-wear shapes. In true British style, Justine Tabak ensures their collections are in keeping with changeable weather. The trans-seasonal designs can be layered and styled all year round. As Kirstie demonstrates in her Instagram post, the fabulous frocks look great paired with a coat and boots in chillier weather.
---
Fashion team's picks from Justine Tabak:
---
Justine Tabak Flower Dot Saltaire Shirt Dress
Justine Tabak Woodstock Floral Camden Passage Dress
Justine Tabak Columbia Road Floral Cotton Camden Passage Dress
Tucker
As we know, Kirstie's favourite type of dress is a shirt dress. The classic style provides instant elegance and is perfect for both work and play. The TV presenter once revealed that she has an extensive collection of Tucker shirt dresses. Another female-founded business, The New York label was founded in 2006 by Gaby Basora. The womenswear brand focus on creating luxury classic pieces that are made to stand the test of time.
Crafted from beautiful printed silk and cotton, a Tucker dress is designed in New York and made in their own factory. The label prioritizes sustainability, creating and printing each individual piece on a made-to-order basis, reducing waste and over-production.
---
Fashion team's picks from Tucker:
---
Tucker Sarah Shirtdress in Cobalt
Tucker Sarah Shirtdress in Emerald Dutch Blossoms
Samantha Sung
If you love Kirstie Allsopp's dresses as much as us, you might already know that the presenter especially loves a Samantha Sung frock. "I bought my first one several years ago and now have quite a few because they work for every occasion," she said. In particular, Kirstie favours their Audrey dress, a classic collared 50s style gown that she has since become synonymous with.
Samantha Sung has worked in some of fashion's most coveted roles, including a stint as head designer for Ralph Lauren Collections in New York and Cerutti in Milan. In 2006 she launched her own line, known for its feminine elegance and colourful prints.
---
Fashion team's picks from Samantha Sung:
---
Audrey Dress in Pear Pastel
Specifications
RRP: $875
Sizes: XXS-XXXXL
Audrey Dress in Nordic Ikat
Specifications
RRP: $975
Sizes: XXS-XXXXL
Audrey Dress in Chevron
Specifications
RRP: $875
Sizes: XXS-XXXXL
Zimmermann
Back in 2017, Kirstie showcased her hourglass figure in this bohemian piece by Australian designer Zimmermann. With a cinched in waist and delicate broderie anglaise, the dress was a stunning summer choice for the property expert.
The popular brand was founded by sisters, Nicky and Simone, in Sydney in 1991. Since then Zimmermann has stayed true to its original vision, to create sophisticated feminine pieces in colourful and intricate prints. Just like Kirstie, we are ardent admirers of their floaty frocks.
---
Fashion team's picks from Zimmermann:
---
Zimmermann Shelly Button Midi Dress
Zimmermann Teddy Scallop Frill Dress
Zimmermann Shelly Midi Shirt Dress
Emma White is a freelance fashion and lifestyle writer. She has been working in the publishing industry since she graduated with an English Literature degree from the University of Southampton in 2018. Combining her love of writing and fashion, she started working as part of the fashion team at woman&home in early 2019 and now works across Womanandhome.com, Goodto.com, woman&home, Simply woman&home, Woman's Weekly, Woman, Woman's Own and Chat. 
Emma writes about a broad range of fashion topics, including celebrity and royal fashion, trending seasonal styles, how to get designer looks for less on the high street, sustainable fashion and timeless wardrobe classics. When she isn't writing she is probably shopping, looking for the latest must-have piece to update her wardrobe or home. She particularly loves to discover and support up and coming small businesses. You can follow what she gets up to with work and outside of work on her Instagram @emma_whitex