Gym Wear Buys That Are Chic and Cheap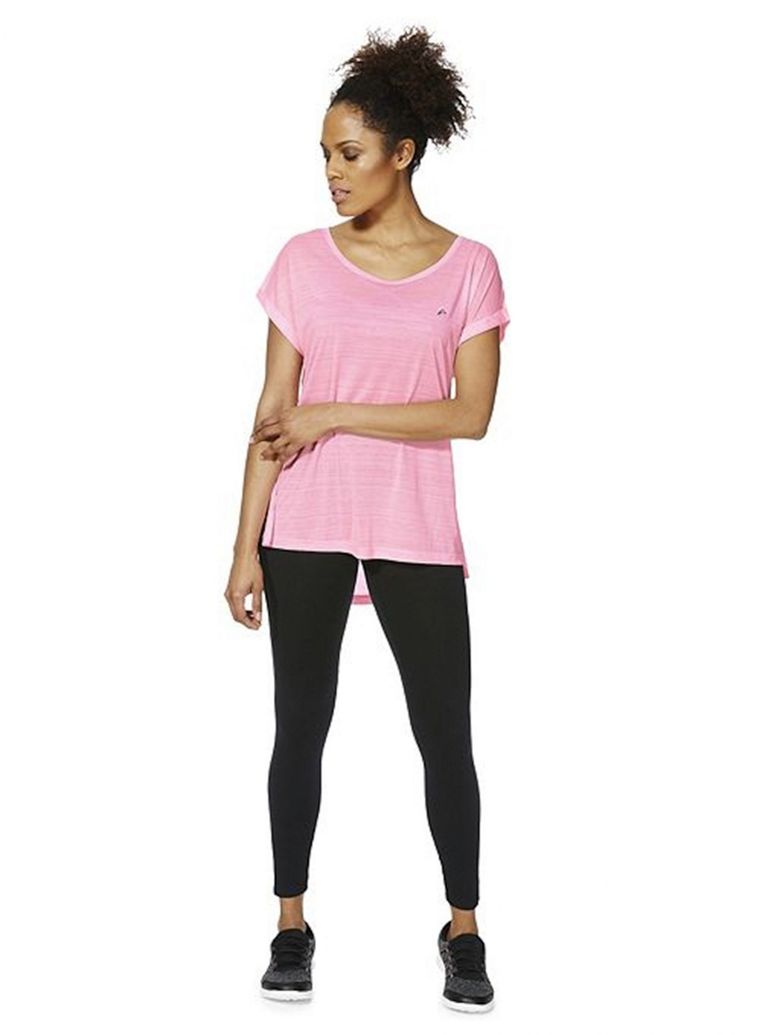 The best new sportswear buys and products to inspire your fitness regime and make you feel fab in 2017
If there's one New Year's resolution to stick to, it's making exercise a part of your daily routine. You don't have to run marathons to reap the benefits - even walking an extra one to two thousand steps (that's around a mile) can significantly improve your health.
Whether you're an exercise newbie or seasoned sports star, it's important to get yourself kitted out in the right gear for your chosen activity. And with all the amazing choices of sportswear on the high street, it's never been easier to get fit while looking fabulous - and purchasing gym wear doesn't need to cost the earth! There's plenty of stylish pieces on the high street to suit every taste (and exercise need). To prove it, we've rounded up some chic activewear all at £35 or under!
Whether you're looking for sports bras, leggings, tops or jackets - we've got you covered.
Make 2017 a year of health and happiness with our selection of inspiring gym wear...
Gym Wear Buys To Get You Moving In 2017
Fitness Leggings, £13.99, Decathlon Great activewear doesn't have to cost the earth as these stylish gym leggings prove. BUY NOW from Decathlon for £13.99
Gym Wear Buys To Get You Moving In 2017
Side Split T-shirt, £8.00, F&F This slouchy tee is designed for comfort and breathability, with a quick drying material and open sides for added ventilation. BUY NOW from F&F for £8.00
Gym Wear Buys To Get You Moving In 2017
Technical Mesh Vest, £10-£12, Next Inject some character into your activewear collection with this bold geometric print. BUY NOW from Next for £10-£12
Gym Wear Buys To Get You Moving In 2017
Active High Impact Sports Bra, £30.00, Rosie For Autograph at M&S A supportive sports bra is essential when it comes to fitness clothing. You want to feel comfortable so you need a sports bra you can rely on. High impact bras are great, this one from M&S is specifically designed to restrict movement and reduce bounce. BUY NOW from M&S for £30.00
Gym Wear Buys To Get You Moving In 2017
Violet Marl Active Jacket, £24.99, T.K. Maxx During the winter it's important to stay warm when you run, plus you never know when you may be caught out by an unexpected shower - so wearing waterproof clothing is a must. This sport jacket has long sleeves and a high neck to keep your upper body toasty on long runs. BUY NOW from T.K Maxx for £24.99
Gym Wear Buys To Get You Moving In 2017
Sports Tights, £17.99, H&M Most of us are guilty of sticking to all-black activewear, so why not mix it up with these lovely grey sports leggings? BUY NOW from H&M for £17.99
Gymwear Buys To Get You Moving In 2017
Panache Teal Print Sports Bra, £29.00, JD Williams This smoothing bra reduces bounce by up to 80% - great for high-energy sports. BUY NOW from JD Williams for £29.00
Gym Wear Buys To Get You Moving In 2017
Waist Sculpt Joggers, £25.00, M&S If you're not a fan of skin-tight leggings these joggers from M&S are just the ticket, they also sculpt your waist with the super stretch panel. BUY NOW from M&S for £25.00
Gym Wear Buys To Get You Moving In 2017
Glamorise No Bounce Sports Bra, £21.00, JD Williams If you have a bigger bust, finding a sports bra that offers full coverage is essential. This bra is specifically designed for larger cup sizes and is made to contain larger breasts during active workouts. BUY NOW from JD Williams for £21.00
Gym Wear Buys To Get You Moving In 2017
Souluxe Hoodie, £16.00, Matalan, This purple marl hoodie is great for throwing on as an extra layer if you're going to the gym. BUY NOW from Matalan for £16.00
Gym Wear Buys To Get You Moving In 2017
Solute Sports Leggings, £14.00, Matalan If you're looking to stand out from the crowd these bamboo print sports leggings will add some personality to your gym outfit. BUY NOW from Matalan for £14.00
Gym Wear Buys To Get You Moving In 2017
Trespass Lumi Women's Jacket, £32.49-£62.99, Amazon If you're running at night, it's important to wear light-reflecting devices. This luminous active jacket ensures you will be seen by cars and pedestrians. It's also water resistant and windproof - so will keep you protected whatever the weather throws at you. BUY NOW at Amazon.co.uk for £32.49 - £62.99
Gym Wear Buys To Get You Moving In 2017
High Impact Hidden Wire Sports Bra, £30.00, Next This stylish sports bra is ideal for running and spinning with its sweat absorbing material. BUY NOW from Next for £30
Gym Wear Buys To Get You Moving In 2017
Elle Sport Racer back Vest, £12.99, TK Maxx Racer back vest tops are a gym wear staple, both lightweight and comfy they're perfect whatever your workout. BUY NOW from TK Maxx for £12.99