'Sadwear': fashion's new name for lockdown dressing
Meet the new pandemic dressing trend.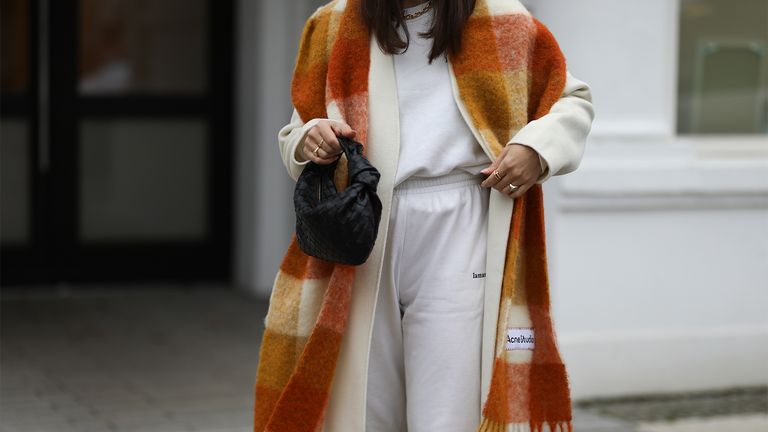 (Image credit: Jeremy Moeller/Getty Images)
Lockdown dressing just raised its game with 'sadwear', a trend that's going viral and articulates our new attitude to at-home fashion.
The New Year has brought with it a fresh way to reveal our frustrations over social distancing and the mundanity of our working from home wardrobes. Our clothes it seems are now the most vocal expression of our emotions and we no longer care who's privy to them over Instagram or Zoom calls.
Living in ratty sweats or even our best leggings seven days a week is enough to get anyone down, which is why 'sadwear' is resonating with so many of us. Coined by Esquire magazine's style director Charlie Teasdale, it can be used to characterize clothes that "make us feel better when we're sad, specifically born out of the existential ennui of lockdown".
So despite its moniker, 'sadwear' is actually a mood-booster and encompasses comfortable items for home and the occasional trip to the supermarket.
Sweatshirts are your obvious go-to for 'sadwear' - but make it fashion by choosing a brand like Ganni (its 'Have a nice day!' motif sweatshirt is sadwear at its best) or the Frankie Shop's Vanessa shoulder-padded version.
Ugg boots are back on the agenda, too, bridging the gap between slippers and outerwear. Meanwhile, cashmere sweatpants is another item we can't seem to get enough of and Zara's knitted wool versions are proving equally as popular.
What's even more joyous is that there's no wrong answer here - the prerequisite for 'sadwear' as detailed in Esquire is whatever the item, it just needs to make the wearer feel good.
'Sadwear' is also the polar opposite of what New York Times' Reyhan Harmanci, has described as 'hate-wear' - which refers to clothes deemed "neither stylish nor particularly comfortable, yet constantly in rotation". That'll be the aforementioned ratty sweats then.
Of course, 'sadwear' can never compete with the succour of a kickass pair of heels and a night out, but we've got to get our feel-good factor from somewhere these days. So go on treat yourself - even if that coveted athleisure piece comes with the type of elasticated waist your grandma would approve of.
Fiona Embleton is a beauty writer who is now Acting Beauty Editor at Stylist. She is obsessed with Isabel Marant and cats.