This Sunday Riley facial oil is the secret to Helen Mirren's flawless complexion and it's 30% off today
Helen Mirren's favorite facial oil is on sale!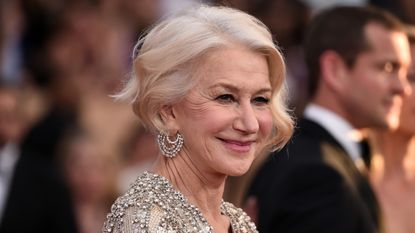 (Image credit: Alberto E. Rodriguez / Staff / Getty Images)
Here's your chance to look just a bit more like the always-wonderful Helen Mirren: the facial oil that she swears by is currently on sale for Prime Day.
We love it when Helen reveals her affordable beauty hacks, especially when they involve products that we can invest in ourselves. Case in point: this face oil by Sunday Riley usually costs $40 but will run you a mere $28 during Prime Day.
---
Infused with advanced vitamin C and golden turmeric, the product will instantly brighten your face and imbue it with antioxidant defense. Make sure to apply 2 to 3 drops of it on your face and neck in the morning and/or the evening. Massage it well and then follow the oil with your favorite moisturizer if you find the need for even more moisture.
---
The soon-to-be 77-year-old actor is clearly not the only fan of the product.
"I thought I'd 'tried them all'... but this one is different!," a user commented on Amazon. "I noticed an immediate improvement in the appearance of my skin. Love, love, love!!!"
"Another Sunday Riley product that does not disappoint!," someone else noted, specifically citing a smoother skin texture and the lightening of dark spots on the face.
"I have been using this oil for a few days now," yet another fan wrote on Amazon. "It brightens my skin so beautifully. It also tones down my redness and just gives my complexion an overall beautiful clarity and suppleness!"
If you're looking for more beauty tips by the one-and-only Helen, you should know that the star also swears by castor oil.
"I use a little bit in my hair—very, very little. I use it on my fingernails. I use it on my skin. [It's] amazing," she said to PEOPLE a few months back. "A tiny bit on your hair gives it a little shine, a little separation. [I use it on my] eyebrows, eyelashes, fingernails—just rub it in."
Given the fact that pure castor oil will set you back a relatively modest $10 per bottle on average, we suggest you give it a try while also indulging in this now-on-sale facial oil.
Anna Rahmanan is a New York-based writer and editor who covers culture, entertainment, food, fashion and travel news. Anna's words have appeared on Time Out New York, the Huffington Post, Fortune, Forbes, Us Weekly, Bon Appetit and Brooklyn Magazine, among other outlets.