Helen Mirren just revealed her affordable beauty hack and it's genius
In a new interview, Helen Mirren discusses her beauty and exercise regiment, also revealing a very simple beauty hack that makes all the difference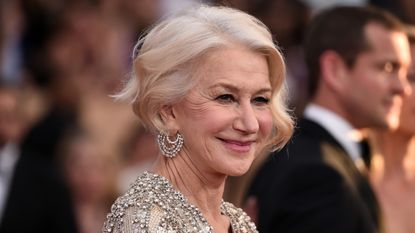 (Image credit: Alberto E. Rodriguez / Staff / Getty Images)
We would follow just about any piece of advice that the iconic Helen Mirren would offer us—especially if the tip was as simple and affordable as the beauty hack that the actor just revealed in a new interview.
Helen, always ahead of fashion trends (she recently wowed fans in a neon pink cape and a clashing yellow dress), is currently the cover star of PEOPLE's Beautiful issue. In the magazine's accompanying interview (opens in new tab), the 76-year-old star happily discusses her beauty and health regiments, revealing a very simple hack that she claims makes all the difference in her day-to-day appearance.
"I love castor oil," she says. "I use a little bit in my hair—very, very little. I use it on my fingernails. I use it on my skin. [It's] amazing. A tiny bit on your hair gives it a little shine, a little separation. [I use it on my] eyebrows, eyelashes, fingernails—just rub it in."
Given the fact that pure castor oil will set you back less than $10 per bottle on average, Helen's trick is clearly worth trying.
In the interview, Helen also mentions the importance of exercise to achieve a healthy lifestyle but admits that she has a hard time following her own advice.
"I try to do a little exercise almost every day, but I go in and out. I'm so hopeless at self-discipline. But when I hunker down, I can do it," she says. "I try to do at least 20 minutes, a bit of stretching and stuff like that. I don't do anything exhausting; I can't stand the treadmill. I always think: Do everything, but don't do too much of anything. That's my idea."
The celebrity applies that mind set when it comes to her diet as well. "I love to have a drink, and I love to eat a donut, but I don't eat six donuts. And I don't have a bottle of wine," she says. "My husband would argue with that but I try not to drink a bottle of wine."
Helen also took the chance to dish out some very valuable words of advice to folks younger than her. After decades dealing with the Hollywood industry, the actor is obviously full of wisdom.
"If there is a mantra I would pass onto a younger generation it would be to take more care of what goes into your body—please don't smoke, please—because those are the things that last," she says. "A beautiful mascara or lipstick is going to make you look great for the evening. But the things that really last are to have a great skin, to be fairly fit—nothing extreme—and to eat healthily."
Anna Rahmanan is a New York-based writer and editor who covers culture, entertainment, food, fashion and travel news. Anna's words have appeared on Time Out New York, the Huffington Post, Fortune, Forbes, Us Weekly, Bon Appetit and Brooklyn Magazine, among other outlets.