The best lightweight moisturizers—featherlight, non-sticky formulas that don't compromise on hydration
These lightweight moisturizers are hardworking yet offer a barely-there feel—perfect for hot days or oily skin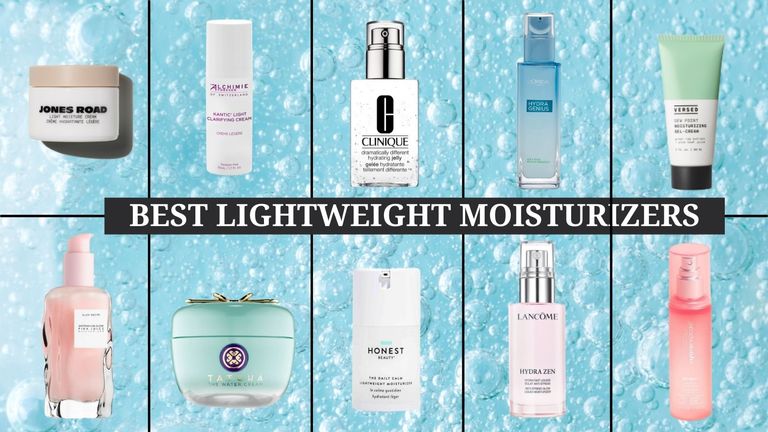 (Image credit: Future)
The hunt for lightweight moisturizers that provide ample hydration without a sticky, heavy feeling can frequently feel like Catch 22. Even the most beloved of hydrating classics can fall short, especially when it comes to heatwaves. Many times, what makes them great can be the very thing that works against them in hotter weather.
Confused? Bare with us. Many moisturizers in our everyday skincare routine have a creamy, oil-based texture that, although divinely nourishing during colder seasons can feel uncomfortable, gooey, or even downright unbearable during sweltering days. Those with oily skin, in particular, can deem regular cream moisturizers too heavy, tacky, or suffocating, going so far as to nix them all together in lieu of their natural summer-induced sheen. (Ed's note: Bad idea! Read our guide to skincare for oily skin to understand what your skin needs).
However, although wearing a moisturizer on oily skin can seem counterintuitive, the science supports that wearing moisturizer helps maintain a normal level of sebum, keeping levels balanced; without it, your skin may try to overcompensate with more sebum, which can lead to acne and clogged pores. It's just about wearing the right moisturizer, oftentimes a lightweight moisturizer.
Tammy Richards, a health practitioner at PureOptical, confirms. "It's important for us to adapt our skin and beauty regimens for the changing seasons. In the summer, ensure that you check the ingredients in your products and opt for water-based products over oil-based products, as the former will be much lighter and better for skin," she says.
Things to look for in a lightweight moisturizer
It's also not your imagination: Oily skin is also more naturally susceptible to acne on hot days. "In the summer, the combination of UV and heat can alter your skin's natural oil production, causing your skin to produce more oil than usual. Naturally in the heat, you also tend to sweat more, so this, combined with excess oil production, results in clogged pores, a risk of blackheads, and breakouts," she adds. "Avoid products that are thick on consistency, such as full-coverage foundation or heavier moisturizers, as these retain all the oil and sweat the face has produced in the heat, causing skin to become congested—which can lead to a buildup of bacteria."
Beauty mogul Bobbi Brown is also quick to pinpoint the importance of ingredients. "Niacinamide is a key ingredient in skincare products because it offers so many good-for-you benefits: In addition to it being hydrating, it softens the appearance of fine lines and wrinkles and it evens out skin tone, softening any hyperpigmentation that might be there. Beyond that, it also regulates the amount of sebum your skin produces—a huge benefit, especially in the summer— because it helps alleviate clogged pores."
How to choose the best lightweight moisturizer for you
From steering clear of heavier creams to knowing the difference between dry skin vs dehydrated skin, Tammy offers some pointers to inform your moisturizer purchase:
Dry vs dehydrated: Dry skin is lacking in oil, while dehydrated skin is lacking in water. "Dry skin will look visibly dry and flaky, even rough and racked in extreme circumstances," Tammy says, "whereas dehydrated skin looks duller, with an uneven complexion." Knowing which category you fall under will help you choose whether to go for a water-based or oil-based moisturizer.
Water-based vs oil-based: Regardless of the season, everything primarily depends on your skin type. Tammy says, "If you have extremely dry and flaky skin, then an oil-based product may work better for you as dry skin produces less oily sebum than normal. However, if your skin is dehydrated, a condition caused partly by a lack of water, then water-based products will most definitely be a good choice." She furthers that most water-based products contain something called a hygroscopic humectant, a substance that slows water from simply evaporating and instead holds itself onto skin. The popular hyaluronic acid has remarkable hygroscopic properties, making it an ingredient to look out for in light moisturizers.
Comfort level: The best moisturizer is one that you love enough to apply regularly, full stop, so in those respects, comfort and wearable appeal is key. "Avoid heavier creams and instead look for water-based gels," Tammy recommends, "or, if you're more susceptible to drier skin, lotions—their higher water content means they're more lightweight and soothing than a heavier cream."
The top lightweight moisturizers, according to our beauty experts
1. Alchimie Forever Kantic Light Clarifying Cream
Best overall lightweight moisturizer for most skin types
Specifications
RRP: $69/£50
Type: Gel cream
Texture: Translucent cream
Target issues: Dryness, irritation, excess oil
Ingredient callouts: Rosemary, European blueberries, grape seeds, jojoba, vitamin E
Fragranced: No synthetic
Reasons to buy
+Weightless, calming formula is safe on even the most reactive skin+Dermatologist-formulated and tested; non-comedogenic+Paraben-, gluten-, sulfate-, mineral oil-, silicone-, phthalate-, soy-, nut-, dye- and cruelty-free; vegan+Natural luxe berry scent
Those new to Alchimie Forever might first be skeptical about their high-end price, given such unassuming packaging (not unimportant, especially for boudoir aesthetics). However, any snobby reservations we might have had were immediately forgotten within the first three seconds of application: Not only are you greeted by a unique, berry-scented whiff—and not the cloying kind, either—but you're also taken by how silky-smooth the gel-cream glides onto skin. Its spreadability makes it a delight to apply (and we tested it during a heatwave, so the product was definitely put through its paces) and surprisingly, calmed down any post-cleanse redness, and even made our highly reactive skin glow with newfound health and radiance. It achieved a fresh yet not-too-dewy, not-too-matte finish, which we're claiming as the holy grail of summer skin.
Perfecting this sweet spot comes as no surprise: Kantic Light Clarifying Cream was tailor-made by renowned Swiss dermatologist Dr. Luigi Polla for wear during hot, sticky weather for combination to oily/acne-prone types, making it just the thing to reach for when we need a shot of hydration, but also want something pleasant for everyday. If you're one to battle with the occasional hormonal breakout, its rosemary extract gives it its strong anti-inflammatory, antibacterial, and antiseptic properties, while jojoba helps control shine and excess oil. Needless to say, oily and combo types, those with sensitive skin, as well as the rest of us who want something fabulously hydrating yet comfy alone or under makeup, will all find a rare common ground with this winner.
We're especially appreciative of its lightning-fast absorptive formula, which pretty much disappears into skin within seconds of application. The natural scent of raspberries might be the only gripe you can have with this astoundingly effective moisturizer (in which case, we'll still try to convince you that the light scent fades within a minute or so of applying); otherwise, even the pickiest of skincare connoisseurs can argue it's well worth the $70. 10/10 would recommend.
2. Tatcha The Water Cream Oil-Free Pore Minimizing Moisturizer
Best luxury lightweight moisturizer
Specifications
RRP: $68/£49
Type: Water-cream
Texture: Translucent gel cream
Target issues: Dryness, enlarged pores, dullness, uneven texture
Ingredient callouts: Hadasei-3 (green tea, rice, algae), Japanese wild rose, Japanese leopard lily
Fragranced: No synthetic
Reasons to buy
+Oil-free, sublimely refreshing formulation is ideal for hot weather and/or combination to oily skin types+Non-comedogenic, non-irritating, non-sensitizing+Dermatologist-tested+Mineral-oil-, sulfate detergent-, urea-, synthetic fragrance-, and cruelty-free+Brand is partnered with Room to Read, which supports girls' education worldwide
The name says it all: Tatcha The Water Cream was practically branded for the oil-adverse crowd, but we'd be remiss to chalk this under a simple marketing ploy. Not by a long shot, actually: Premium Japanese botanicals are the hero of this fan-favorite, which boasts of nearly 290,000 likes on Sephora alone.
Not only is the water-gel texture refreshing in and of itself, but the cooling sensation is also a welcome plus on any oppressively humid day. Let's not get lost in the details, however, as it's quite obviously the trademarked Tatcha blend that keeps us loyal to this rather pricey pick. Anti-aging hadasei-3 (a concoction of green tea, rice, and algae), along with Japanese wild rose for pores and texture refinement and Japanese leopard lily for oil regulation and cell turnover all work in tandem to provide that poreless, luminous finish that put Tatcha on editor's lists everywhere.
The packaging is what you'd expect from a $70 moisturizer, which means it comes with a delightful gold spatula for scooping, as well as vanity prowess. For travel, this watery formula decants neatly too, making for smooth, supple skin to show off during summer vacation.
3. L'Oreal Paris Hydra Genius Daily Liquid Care for Normal to Oily Skin
Best drugstore lightweight moisturizer
Specifications
RRP: $17.99/£9.99
Type: Water-gel
Texture: Lightweight gel
Target issues: Dryness, dullness, excess oil
Ingredient callouts: Aloe water, hyaluronic acid
Fragranced: Yes
Reasons to buy
+Transforms into water texture upon application for a truly transparent feel+Offers up to 72 hours' (3 days) worth of moisture+Reasonably priced
Lightweight, continuous hydration for up to three days is the straightforward name of the game with L'Oréal Paris Hydra Genius Liquid Care for Normal to Oily Skin. There's no way we could have left the product on, unwashed and unbothered, for a full 72 hours in the height of summer, but we surmise from our testing that should we need to (or on a long-haul flight, full day at work, or on a trek outdoors), this humble, minimalist pick would totally deliver.
The secret is their simple combo of aloe water and hyaluronic acid, hygroscopic humectants that keep water from evaporating thus locking moisture onto skin. The watery formula also gave an expectedly easy glide and felt light and unobtrusive under makeup, particularly due to its specialized mattifying properties.
Formulated for balanced to oily skin, this is a "no surprises" pick great for travel (the pump renders it handy on-the-go) and as a hot-weather staple easy to commit to for daily use.
4. Jones Road Light Moisture Cream
Best lightweight moisturizer for dry skin and mature skin
Specifications
RRP: $38/£27
Type: Bouncy gel-moisturizer hybrid
Texture: Creamy yet breathable
Target issues: Dryness, roughness, enlarged pores, uneven tone, dark spots
Ingredient callouts: Niacinamide, propanediol, panthenol
Fragranced: No synthetic
Reasons to buy
+Little goes a long way +Plant-derived provitamin of B5, panthenol, helps strengthen skin cells to ward off environmental toxins+Paraben-, PEG-, phthalate-, sulfate-, petrolatum-, cyclic silicones-, EDTA-, BPA, and synthetic fragrance-free+Light natural fragrance
Reasons to avoid
-Formula might be too creamy for oilier skin
Bobbi Brown's summer-friendly offering is one to watch out for, particularly if your skin skews dry/has been dryer over the years, or suffers from texture issues all year round. She tells woman&home that niacinamide, a form of vitamin B3 gaining a lot of steam in skincare, plays a big role in her newest hydrator. "It's one of the most important ingredients in our Light Moisture Cream," she says. "The formula is not only clean, but perfect for summer because it offers your skin just enough hydration without making the skin too oily."
The feel of the cream is definitely substantive—the lighter side of creamy without being greasy—which Bobbi says is perfect as a primer for makeup products like her Jones Road Face Pencil, a pencil concealer; we definitely saw less drag after following her tip, as well as a subtle glow under our lightweight foundation. We also tried it on our balanced-to-combination skin as a summer substitute for our evening cream and are happy to report a smooth, supple finish come morning, despite having the AC on full blast.
Another tiny detail we appreciated, on top of the brand's clean beauty ethos, was the super-faint citrus smell which added to its overall chic appeal. Although those on the oilier side of things might balk at the idea of a cream, the wonder ingredient niacinamide, which does due diligence in reducing the appearance of enlarged pores and dark spots, just might win them over. We love this pick for mature skin and those experiencing hormonal dryness as well—its silky glide on skin did wonders for any crepey areas that needed a bit of help, like on the marionette lines and on our neck and jawline area.
5. Clinique Dramatically Different Hydrating Jelly
Best lightweight moisturizer for oily skin
Specifications
RRP: $32.50/£32
Type: Light water jelly
Texture: Clear gel
Target issues: Dryness, pollution-exposed skin
Ingredient callouts: Clean Shield Technology (blend of sunflower seed cake, barley extract, cucumber fruit extract), hyaluronic acid
Fragranced: No
Reasons to buy
+Oil-free formula is very light and absorbs almost instantly+Non-sticky; perfect under makeup or SPF+Formulated for most skin types+Denatured alcohol-, SLS-, SLES-, and talc-free+Unscented
Reasons to avoid
-Some say can feel tacky as it dries-Might not be the best for very sensitive skin
Clinique's Dramatically Different is about as classic as you can get when it comes to skincare lines, and it's no surprise that this super-light, oil-free variant is a hot-weather hit. Formulated for all skin types (as always, we'd patch test for super sensitive skin, though), it spread neatly and evenly on our combination skin, and the clear gel is obviously a fun, refreshing take on the original DD lotion—and also, this one is mineral oil-free, doing away with a common complaint about the earlier formulation.
Let's start with the small stuff: The gel is straightforward, and dare we say it, felt more hip to use; it definitely had that crisp, gender-neutral, Instagrammable appeal. We popped it into our skincare fridge on a particularly boiling day and enjoyed the cooling effect, and appreciated the fact that it was non-fragranced. (There was a slight ozone-y scent that immediately dissipated upon application.)
Ingredients-wise, their trademarked Clean Shield Technology is a mix of antioxidants that fight the ravages of pollution for the city dweller by strengthening the skin barrier, while trusty hyaluronic acid does its part in rehydrating parched skin. Oily skin types will appreciate the non-greasy way in which this all happens, and though not marketed as mattifying, it did leave our skin with a slightly diffused glow which we found pretty nifty to work with under makeup. All in all a simple yet effective product, and the most quintessential gel moisturizer on this list.
6. Lancome Paris Hydra Zen Anti-Stress Glow Liquid Moisturizer
Best light moisturizer for combination skin
Specifications
RRP: $45/£39
Type: Silky liquid cream moisturizer
Texture: Light milky lotion
Target issues: Dryness, distressed skin, tightness, dullness, uneven texture
Ingredient callouts: Amino acids, hyaluronic acid, aloe vera, rose extract
Fragranced: Yes
Reasons to buy
+Immediate soothing sensation+Silky and featherlight feel upon application+Non-pilling, fast absorbing+Formulated for all skin types, even sensitive skin+Alcohol-free+Luxe rose scent
Reasons to avoid
-Rose scent may be off-putting for some
Not gonna lie: The first thing that greets you upon the initial pump is that signature feminine Lancôme rose fragrance, which, depending on where on the scent spectrum you lie, can be either the best or worst thing (personally, we enjoyed it). It's light enough to dissipate after a few seconds though, so not a deal-breaker by any means.
The spreadability of Hydra Zen Anti-Stress Liquid Moisturizer is exceptional. It's a milky liquid that comes out pure white, turning invisible as it's spread, leaving a soft, smooth, non-tacky result. Our skin looked naturally glowy (no grease slicks anywhere, which is, to be fair, typical of watery formulations) but with a more even texture; we wore it under makeup with zero issues.
Ingredients-wise, similar to the Clinique DD Gel on the list, it's an antioxidant-forward blend of 11 amino acids meant to fight and protect against external aggressors like pollution, giving it urbane appeal. Aloe vera and rose extract give the moisturizer its soothing, calming properties that help against tight, irritated skin, while hyaluronic acid hydrates. The alcohol-free formula also makes it non-drying, and it's this well-rounded mix that makes it ideal for combination skin that can skew dry or oily. Its lightweight formula has integrity and is able to address both skincare concerns.
Out of everything we tested, this was our favorite under foundation due to its almost water-like consistency. Drier skin types might want something thicker and more emollient, but we found this the perfect pre-SPF, pre-makeup base that also rendered a subtle, grown-up glow.
7. Honest Beauty The Daily Calm Lightweight Moisturizer
Best lightweight moisturizer for sensitive skin
Specifications
RRP: $29.99/£22
Type: Cream
Texture: Lightweight cream
Target issues: Dryness, redness, irritation, reactive skin
Ingredient callouts: Calming Phyto-Blend (Phytosterols and Phospholipids); micro-hyaluronic acid; Liquid Crystal Technology
Fragranced: No
Reasons to buy
+No-nonsense+Light cream formula is highly spreadable+Dermatologist-approved; hypoallergenic+Paraben-, phthalate-, PEG-, dye-, fragrance-, and cruelty-free; vegan
Reasons to avoid
-Might feel sticky for oily skin types
If you want a light moisturizer for the warmer months that also calms irritated, inflamed skin (after too much time out in the sun, perhaps?), look no further than this unpretentious, gentle cream. Although it's not as flashy or as summer-marketed as the others on this list, it's most certainly a lighter formulation than your regular cream and provides a just-right emollient feel that sensitive, reactive skin types can appreciate.
It's not all lip service, either: The main draw is its Calming Phyto-Blend made up of barrier-strengthening lipids that visibly reduce redness and soothe skin. We tested it after cleansing and treating with vitamin C serum, which can cause a bit of a reaction on skin, and felt that any tightness and redness were quieted upon application. Micro-hyaluronic acid is known to penetrate deeper into skin for longer-lasting hydration, and that moisture is locked in well and good with their Liquid Crystal Technology. What did that mean for us? Our skin felt soothed and protected, and even more primed for SPF. Our complexions looked even and felt more "secure," while the slightly creamier formula made foundation a breeze to apply.
As the name suggests, this is *the* pick for sensitive, reactive skin that can get particularly vulnerable during hotter, more UV-exposed months. We wouldn't look any further.
8. Versed Dew Point Moisturizing Gel-Cream
Best vegan lightweight moisturizer
Specifications
RRP: $14.99/£10.12
Type: Lightweight gel cream
Texture: Translucent jelly-like cream
Target issues: Dryness, distressed skin, inflammation
Ingredient callouts: Green tea leaf extract, aloe leaf juice, niacinamide, sodium hyaluronate
Fragranced: No
Reasons to buy
+Transparent jelly spreads smoothly and evenly+Feels comfortable under makeup+Pregnancy-safe+Clean beauty advocate; vetted and verified by the Environmental Working Group (EWG)+Paraben-, silicone-, sulfate-, fragrance-, dye-, and certified cruelty-free; vegan+Formulated against European Union Standards+Sustainably minded, environmentally accountable+Very affordable
It's not hard to see why Versed Dew Point Moisturizing Gel-Cream is the most prominent new player in vegan moisturizers: Not only do they walk the walk by formulating their products to the highest standards in the world, the European Union (avoiding 1,350 questionable ingredients in doing so), they also talk the talk by using skin-changing ingredients free from "marketing jargon," have signed the UN's Climate Neutral Now pledge, and purchased 2,600 tons of certified carbon credits to offset any of their emissions.
Now the look and feel: It's a translucent jelly that glides onto skin, with a light consistency that feels cool and refreshing during the hotter months. It's a textbook summer moisturizer that also works brilliantly for those with oilier skin or are fans of a lighter consistency, which pretty much makes this pick a no-brainer for those that hit all of the above.
They're touted as famously unfussy, and we appreciate the clear, direct benefits we get from their ingredient list: Green tea extract is the hero antioxidant here that, together with niacinamide, calms inflammation and fights free radical damage, while aloe leaf juice and sodium hyaluronate hydrate skin. (Good to know: Sodium hyaluronate has a smaller molecular weight than hyaluronic acid, meaning it penetrates deeper and is more shelf-stable.)
If you're all about clean beauty (and why wouldn't you be?), at less than $15, Dew Point is as clean as it gets, and the most logical decision you can make when it comes to sustainable yet high-performing skincare.
9. Glow Recipe Watermelon Glow Pink Juice Moisturizer
Best K-Beauty light moisturizer
Specifications
RRP: $39/£36
Type: Silky emulsion
Texture: Lightweight gel-liquid
Target issues: Dryness, acne, dark spots, aging
Ingredient callouts: Watermelon extract, hyaluronic acid, jasmine and peony extract
Fragranced: Yes
Reasons to buy
+Oil-free+Formulated for all skin types+Ultra-light gel-type formula transforms into liquid when applied+Fresh, cooling sensation perfect for wear in hot or humid weather+Enjoyable, juicy, light watermelon scent+Skin has a bouncy glow
Reasons to avoid
-Watermelon scent might be off-putting for some
We would be remiss not to pay homage to the most summery of fruits, and luckily for us, we didn't have to spin a tall tale: Glow Recipe Watermelon Glow Pink Juice Moisturizer is worth the hype for results alone (and we haven't talked about that scent yet).
Watermelon is well-known in Korean circles for its soothing properties on irritated and inflamed skin due to its vitamin- and amino acid-rich extract. To add to the goodness, soothing botanicals like jasmine and peony extracts provide another one-two antioxidant punch. Unsurprisingly, rounding out this bounce-inducing moisturizer is hyaluronic acid, which adds to the plumping factor.
We found that this felt remarkably delightful after cleansing with cool water and felt next to nothing under SPF and makeup—pretty much all you need in a summer moisturizer. And, naturally, that fresh, fruity watermelon fragrance was a sheer delight in our books, as it didn't come across juvenile or too sweet and politely quieted down and settled into a faint neutral scent after a few minutes.
As far as K-Beauty moisturizers go, this is what gave the Shark Tank-supported Glow Recipe its viral chops and it's easy to see why: The iconic moisturizer achieves that famed "glass skin" effect when layered with a serum, and nails the cute-yet-effective, youth-enhancing ethos that separates Korean innovations from the rest. A fun, lighthearted, optimistic pick that gave us a nice glow when worn alone, it's low-stakes at $21 for the 25ml, but we find that $39 for the full 60ml bottle is still very reasonable for its calming, plumping, and yes, glowing, effect.
10. HydroPeptide Optimist Radiance Serum Mist
Best moisturizing spray
Specifications
RRP: $68/£49
Type: Facial spray
Texture: Ultra-fine mist
Target issues: Dryness, distressed skin, aging
Ingredient callouts: Argan and green tea seed oil, seaweed complex, baobab fruit, aquaxyl
Fragranced: Yes
Reasons to buy
+Works like 4 products in 1 to tone, treat, and moisturize+Very refreshing; handy for on-the-go+Geneticist-developed for all skin types+Paraben-, phthalate-, sulfate-, and cruelty-free; vegan
Reasons to avoid
-Scented-Pricey
Fans of a good facial spray will be pleasantly surprised at the multi-functional benefits provided by HydroPeptide's cleverly-named Optimist, which touts the same results as a toner, treatment, essence, and moisturizer put together. As loyalists of a multi-step skincare regimen (hello Korean skincare), we're not suggesting we take this too literally—but if you're of the less-is-more camp, this ultra-fine mist is damn impressive... and it's vegan!
Chock-full of antioxidants, this bi-phasic (oil and water) mist contains an anti-inflammatory mix of botanicals and actives that strengthens and firms skin. It has baobab fruit that's six times more concentrated than vitamin C, while Argan and green tea seed oil regulate oil and have a "dry oil finish" that's safe for even the acne-prone. The rapid hydration comes from their complex blend of nutrient-rich five seaweeds that optimize water retention, while plant-derived xylitol improves and increases epidermal circulation. The spray also gave us a shot of dewiness, which was much-appreciated.
Give us a multitasker any day, but one that also has the integrity to do the job of four skincare products is another layer of fab altogether. As expected, this provided a literal fresh drink of water to dry, sun-exposed skin with every spritz, and best yet, could be reapplied as needed without fear of overdoing so. Its spray formulation means it's made for a summer holiday, and we also plan to use it as a makeup setter or enhancer even as the weather cools down.
woman&home thanks Tammy Richards of PureOptical and Bobbi Brown of Jones Road for their time and expertise.
Eunice Lucero-Lee is the Beauty Channel Editor for woman&home. A lifelong creative writer and beautyphile, she graduated from De La Salle University in 2002 and was hired a year later to front all beauty coverage for Pink Magazine, a teen lifestyle publication, after submitting a page-long thesis on why Stila was the best brand to come out of the Aughts. She was hired an hour later.
Her writing—which has since then expanded to cover pop culture and astrology, both equal passions—led her to spearheading columns in Chalk Magazine, K-Mag, Metro Working Mom, and SugarSugar Magazine. Upon receiving her stripes at New York University's Summer Publishing Institute in 2008 she was immediately headhunted to work as the Beauty Editor, thereafter Managing Editor of Stylebible.ph, the digital home of Preview, the Philippines' best-selling fashion magazine, where she also did double-duty as Associate Editor of the print edition.
It was during this stint that the hallyu wave started taking hold and when she was tapped to co-found Sparkling, Asia's first-ever English K-Pop print magazine. Originally planned as a one-off, the project became a runaway hit and saw her taking Korean classes on the weekends for three years, as she found herself frustrated by the lack of breadth translators provided for celebrity profile coverage. She was Editor-in-Chief until her move to New York in 2013. The now-iconic magazine has remained in publication since 2009 due to massive fan support.
A beauty, astrology, and pop culture obsessive and insider for over 18 years, Eunice is an internationally published editor (and now certified astrologer) whose work has been featured in publications such as Cosmopolitan, Esquire, and The Numinous, among many others. The former Editor-in-Chief of All Things Hair and a (very) proud cat mom, she spends her time in Manhattan figuring out the correct Pilates-to-sushi ratio, obsessing over celebrity natal charts, luxury skincare, and Scandi-noir crime procedurals, as well as finding the perfect K-Pop vid to save the day. She can still order drinks perfectly in Korean. Find her on Instagram @eunichiban.