The best purple shampoo for clean, ice-cool blonde and grey hair
Brassiness begone! The best purple shampoo will tone and clarify in minutes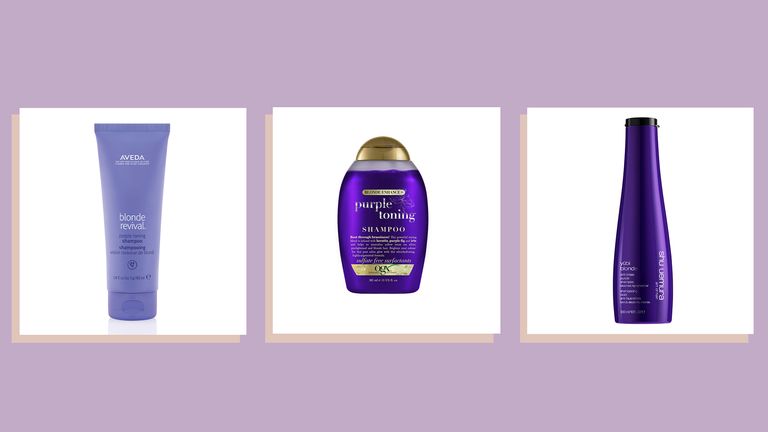 (Image credit: Future)
Finding the best purple shampoo sounds like it should be a relatively simple task—you're looking for something to wash your hair with that also contains purple pigment. Sure, there are things like hair type, budget, and the shade and strength of violet pigment to navigate, but in truth you've already got a head start on most of the consideration you'll need to make.
Why? Because unlike picking the best hair dryer, there are really only so many types of purple shampoo and people who want to buy them. If you're looking for the best purple shampoo it's very likely you have blonde or grey hair and want a product to cool down yellow, brassy tones. What's more you probably already use the best shampoo and conditioner for your hair type, so have some idea what you like.
But while this decision may not be as tricky to make as picking the best hair straighteners or learning how to create the perfect hair up style, there are still a vast number of violet toning shampoos to choose from. And while they all aim to perform roughly the same function, there are some variations on the theme, each with their own unique merits (or lack thereof) So it is still useful to get an expert steer on which purple shampoos are worth your time, and which are better off down the plughole.
How to pick the best purple shampoo for you
Purple shampoos work on the simple premise that, as purple is the opposite colour to yellow on the colour wheel, it neutralises warm tones in the hair. While primarily marketed at bleached blondes, purple shampoo also works well on grey hair, balayage hair and highlights in hair. Choosing the best purple shampoo means thinking about your hair type. Have you got frizzy hair or a long hairstyle that requires extra nourishment to prevent split ends? Some purple shampoos include hydrating or repairing ingredients, while some are purely focused on packing in as much pigment in as possible.
How much you can spend is, naturally, an important consideration. Purple shampoos can run from less than a fiver all the way up to £30+. Where your product sits on that price spectrum will probably be reflected in the extra ingredients and luxurious packaging, but rarely in the strength of pigment. If all you want is to tone down warmth in the hair, affordable purple shampoos can be as, if not more, effective than luxury brands.
The best purple shampoos, as chosen by our experts
1. Fudge Professional Everyday Clean Blonde Damage Rewind Shampoo
Best purple shampoo overall
Specifications
RRP: £14.50
Key features : Gradual toning, opti-plex technology
Reasons to buy
+
Can be used frequently
+
Damage repair properties
+
Great lather
Reasons to avoid
-
Subtle toning won't suit everyone
This takes the top spot for versatility, effectiveness and ability to adapt to anyone's needs. The violet pigment is more subtle than most purple shampoos, which along with the brand's strengthening Opti-Plex technology makes this a better product for regular use than many others on this list. It also lathers beautifully, so feels more like a traditional creamy wash than a toning product and leaves hair a lovely fresh-looking ashy color after one wash.
While we'd still argue against washing with any purple shampoo every single day, this feels gentle enough that you could use it most of the time without over-toning or drying your hair out. Price-wise this isn't bargain basement, but for a multi-tasking 250ml tube, it feels like very good value.
2. Pro Voke Touch of Silver Brightening Shampoo
The best budget purple shampoo
Specifications
RRP: £3.99
Key features: Saturated blue-purple pigment
Reasons to buy
+
Excellent value
+
Effective toning
This brand have been creating purple shampoo since long before it was on most people's radar. And this product is still a great example of doing exactly what you promise and doing it very well. Nothing more, nothing less.
A powerful purple pigment with a touch more blue in it than most coats hair in an icy, fresh-looking layer that instantly dials down warmth. It lathers nicely, washes well and smells pleasant in a salon-fresh kind of way. Like many of its kind, Touch of Silver can leave dry or damaged hair feeling less-than-silky, but following it up with one of the best hair masks to nourish strands will counterbalance that effect.
3. Pureology Strength Cure Blonde Shampoo
Best luxury purple shampoo
Specifications
RRP: £21
Key features: UV filters, rose and sandalwood fragrance
Reasons to buy
+
Protects and tones
+
Intense pigment
+
Nourishing ingredients
One of the priciest purple shampoos on this list, but very well justified when you know how much cult haircare brand Pureology has packed into their formulation. As well as hyper-concentrated violet pigment (watch those splatters!) it also contains a UV shield to protect hair from the environmental dulling that causes brassiness in the first place. We also get a series of natural oils and seed extracts to nourish plus oil-unclogging skincare acid, salicylic acid for extra scalp freshness.
The thick vegan-friendly cream has the appearance of a low-foam formula, but works into a decent creamy lather while depositing plenty of cool-toned toners onto the hair. And while the heady rose and sandalwood scent is an unusual choice for haircare, which usually errs towards fresh and fruity scents, we couldn't get enough of it.
4. Aveda Blonde Revival Purple Toning Shampoo
Best natural purple shampoo
Specifications
RRP: 22.50
Key features: Silicone free, 96% naturally-derived
Reasons to buy
+
Very strong pigment
+
Gorgeous scent
+
Sulfate-free formula
Fans of Aveda hair care will find everything they know and love about the brand present here—the gorgeous, natural herbal fragrance, a low-foaming formula without sulfates and silicones and an almost exclusively natural ingredients list. Add to that some incredibly powerful purple pigment and you have yourself an excellent toning shampoo.
When we say the pigment packs a punch we mean it, you would really only want to use this once or twice a week max, for up to three minutes at a time. Many will see this as a great thing because it gets the job done. It also doesn't foam up due to the lack of sulfates, which might feel alien to anyone used to rich surfactants. But it is less drying to the hair and has the benefit of stopping the pigment spraying a Rorschach test all over your tiles. Expect instant iciness of tone and a scent that lingers all day.
5. Shu Uemura art of hair yubi blonde anti-brass purple shampoo
The best purple shampoo for shine
Specifications
RRP: £29.95
Key features: Gel-cream texture, moisturising white peony
Reasons to buy
+
Saturated pigment
+
Excellent moisturisation
+
Splatter-proof texture
Providing you can afford to spend £30 on a shampoo, there are lots of reasons why you should go for it with this one. As you'd expect from Shu Uemura art of Hair, it includes a considered list of Japanese ingredients including white peony for antioxidant and moisturizing properties and an ultra-intense tone created by a Japanese ink manufacturer, which delivers icy violet pigment deeply into the hair.
On testing, the standout differences between this and your average purple shampoo was texture and shine. The formula is a gel-cream and feels more rigid in the hand, with a holding quality that helps it cling to the hair, rather than spray all over your shower tiles. This means a little goes a longer way than you'd expect. It also leaves the hair feeling silkier than its contemporaries, without the tugging we've come to expect when brushing and a lovely reflective shine when dry.
6. OGX Blonde Enhance+ Purple Toning Shampoo for Blonde Hair and Highlights
Best drug store purple shampoo
Specifications
RRP: £7.99
Key features: Keratin infused, sulfate free
Reasons to buy
+
Buildable pigment
+
Great value
+
Non-drying
This would make a great starter product for anyone nervous about purple shampoo, as it's pleasingly affordable and the pigment is definitely on the subtle side of the spectrum. This gradual color depositing also means you can get away with using it 2-3 times a week, as does the keratin-infused formula that helps rebuild depleted strands for strength.
The texture is noticeably thinner than some other formulas, although this does help it spread through the hair with ease. Unusually for a budget-friendly shampoo, it doesn't contain sulfates, which means it's less likely to work into a satisfying lather but also less likely to strip the hair and make it feel dry. For dehydrated grey, blonde or highlighted hair that feels like a more than fair trade.
7. John Frieda Shimmering Silver Shampoo
Best purple shampoo for grey hair
Specifications
RRP: £5.99
Key features: Silvergloss technology for shine
Reasons to buy
+
Boosts shine and tone
+
Great value
+
Pleasant lather
Reasons to avoid
-
Pale purple pigment won't suit all
Most purple shampoos market themselves at blondes, despite probably being used on just as many grey heads of hair as highlighted ones. How refreshing then to see a violet wash catering specifically to the grey-haired market and doing it very well. This contains a pared-back pale violet pigment to gently neutralise yellow tones in grey hair without tipping it over into blue rinse territory.
Toning aside, a decent proportion of the formula is given over to moisturising and gloss-boosting ingredients, which shows in the nice sudsy lather and pleasant shimmer on the hair after drying. We found the tone to be more ashy than ultra-icy, which very warm blondes who want punchy purple pigment may find off-putting, but it's a winner for silver.
8. Redken colour extend blondage shampoo
Best professional purple shampoo
Specifications
RRP: £18
Key features: PH balanced, wheat proteins
Reasons to buy
+
Very intense pigment
+
Non-drying formula
+
Good value
Redken is beloved of salon colourists everywhere, and once you try this professional-grade purple shampoo you'll agree with Harriet Muldoon, Queen of colour at A-list fave Larry King Salon, who says "I would always recommend Redken Colour Extend Blondage Shampoo to keep your blonde nice and fresh."
At home, you'll notice the intense pigment right away, an almost inky aubergine that requires careful rinsing from the tops of your ears after washing. The benefit of this is, of course, ultra-effective icy toning with just one wash. The formula also boasts a PH-balance and wheat proteins for condition. While we didn't have silky soft hair afterwards (practically impossible with purple shampoo) it was manageable and didn't feel remotely brittle.
As an aside, this isn't the cheapest shampoo on the list but that price is for a giant 300ml tube that you only need use once a week, so it does represent a good deal.
How to get the most out of your purple shampoo
Be a mindful hair washer
Bear in mind that even the best purple shampoos shouldn't be used every single wash. "For blondes that have turned brassy, use a purple shampoo every few washes, but also use a clarifying shampoo to remove buildup if it starts to look dull," advises Katie Hale, Head of Colour at Charles Worthington. Used too frequently the violet pigment can over-transfer resulting in violet hair and can be a touch drying, so it's a good idea to mix and match with a hydrating conditioner.
If your hair is seriously yellow, think about how you wash, as well as what purple shampoo you wash with, "When it comes to purple shampoo, I recommend applying it as a toner before rinsing," explains Hairstory Colourist Cyd Charisse. "I'd also suggest looking at the kind of water you have. If it's hard, it can cause hair to turn brassy. Investing in a water filter system that attaches to your showerhead will make all the difference."
Factor in splatters
Finally, be warned that there is not a single purple shampoo on this planet that won't make a temporary mess of your bathroom tiles. These products are designed to coat the hair in strong violet tones so will also coat anything else it splatters on. Lather gently with your head facing into the shower rather than outwards to your bathroom to avoid splattering walls, bath mats, and more. Then get your shower head off the bracket and rinse any mess immediately—it'll wash away easily as long as you're quick.
As woman&home's Beauty Channel Editor, Fiona Mckim has tried more products than she's had hot dinners and nothing makes her happier than raving about brilliant finds on womanandhome.com or her instagram grid (@fionamckim if you like hair experiments and cute shih-tzus). Fiona joined woman&home as Assistant Beauty Editor in 2013 under industry legend Jo GB, who taught her everything she needed to know (learn about ingredients and employ extreme cynicism). She has since covered every corner of the industry, from interviewing dermatologists and celebrities to reporting backstage at Fashion Week and judging the w&h Beauty Awards.