Face moisturiser with SPF—are they as effective as sunscreen?
Everything you need to know about the efficacy of face moisturiser with SPF...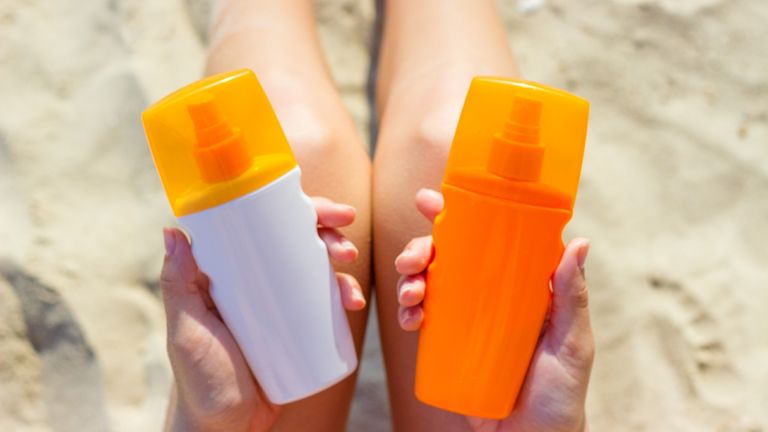 (Image credit: Getty)
If you're interested in face moisturiser with SPF then you've probably also heard a thousand times before that a daily SPF really is a non-negotiable part of your skincare routine. It can come in different forms, ranging from face moisturiser with SPF to pure SPF.
"Sunscreen is the one universal item that every dermatologist worth their salt will agree needs to be part of your daily skincare routine," explains Dr Anjali Mahto, Consultant Dermatologist at 55 Harley Street. "Sunscreen protects against solar radiation, in particular UVA and UVB."
"It has two main benefits, both of which are important. Firstly, sunscreen use will reduce your risk of skin cancer. Secondly, the sun's rays are responsible for about 80 to 90 per cent of the features we associate with ageing."
Would you like the good news or the bad news first? The bad is, even the best foundations can't completely blur the most common signs of ageing accelerated by sun exposure, nor can the best retinol creams completely reverse them. But the good news is, daily SPF will go a long way towards keeping fine lines, wrinkles, loss of firmness and pigmentation at bay.
Is face moisturiser with SPF as effective as sunscreen?
This is one of the most commonly asked SPF questions and the answer is, in short, no. Face moisturiser with SPF is not as effective as sunscreen, for two key reasons. The first is that sunscreen needs to be reapplied regularly to guarantee the level of protection promised on the packaging, and the second is that most people don't apply enough product to reap the SPF benefits.
"SPF in moisturisers is fine in the morning," says Dr Adam Friedmann, Consultant dermatologist for Stratum Dermatology Clinics. "But remember, sun cream needs re-applying every couple of hours, so you will need further SPF applications later in the day."
"Often people don't apply enough of the moisturiser to give the labelled SPF," adds Consultant Dermatologist Dr Emma Wedgeworth, "A moisturisers primary function is to hydrate, so this has been the main focus when formulating it. With sunscreens, the main focus is the protection against the sun."
For this reason, we would always recommend using a daily dedicated SPF during the spring and summer months. The need to wear sunscreen in winter and autumn is slightly less crucial, and the rules can be bent depending on your location and circumstances.
"In general terms, living in the UK as I do, using make-up with SPF when the days are short in the winter is probably fine," explains Dr Anjali Mahto. "Due to our latitude, we get very little UVB between October and March—these are the sun's rays often associated with burning."
"However, this isn't a case of one size fits all and some common sense also needs to be employed. For example, if you are regularly using skincare acids during the winter such as AHAs and BHAs, you are better off with a separate, regular sunscreen. Similarly, if you participate in outdoor sports or work and are likely to be outside for longer than twenty minutes or so at a time you should wear daily sun protection. The same applies if you live in a sunny climate or close to the equator; wearing a regular daily sunscreen throughout the year is strongly advised."
What is the best face moisturiser with SPF?
Now you have the facts, let's talk products. As with all sun protection, the best face moisturiser with SPF is the one you love to use. If you like the look and texture of the formula, you're more likely to apply on a daily basis, and slather it on in generous quantities. Below is a mix of our beauty team's tried and tested favourites, plus dermatologist recommendations.
CeraVe AM Facial Moisturising Lotion SPF 25
Don't be fooled by the no-frills packaging, as this is an impressive multi-tasker. A blend of three ceramides keeps even the most sensitive, driest complexions happy, while broad spectrum protection shields skin from UVA and UVB rays. 
---
Murad Essential-C Day Moisture Broad Spectrum SPF 30
SPF keeps the sun's rays at bay, while antioxidant vitamin C does the hard graft. It'll shield skin from free radicals, kick-start collagen production and brighten lacklustre complexions.
---
Fenty Skin Hydra Vizor Invisible Moisturiser SPF30
Wearing face moisturiser with SPF no longer feels like a chore when the formula is as silky as this. The subtle rose-tinted finish is a nice touch for tired faces too. The outer packaging is refillable too—bravo, Fenty. 
---
Liz Earle Environmental Defence Cream Mineral SPF25
Mineral UV filters work hand-in-hand with potent antioxidants, blueberry and lingonberry seed to boost skin's natural moisture barrier and protect from future damage. It's easily absorbed and plays nicely with foundation. 
---
La Roche-Posay Hyalu B5 Aquagel SPF30
Treading the line between SPF and skincare, this is a must-try face moisturizer with SPF if your skin is on the dry side. The addition of hydration hero, hyaluronic acid, makes for a fresh feeling formula that leaves skin plump and dewy. 
---
Dior Bronze Beautifying Protective Creme Sublime Glow
A luxury holiday in a tube, this delivers a buildable, gradual tan alongside SPF30 protection. It's available in SPF50 too, if you prefer a higher factor. A firm favourite of Dr Anjali Mahto. 
---
Heliocare 360° Fluid Cream
Hate the stickiness that can come with wearing both SPF and moisturiser at once? Follow Dr Emma Wedgeworth's lead and give this hydrating lotion a go. There's no white cast, nor will it pill or bobble beneath make-up.
---
Jess Beech is an experienced fashion and beauty editor, with more than eight years experience in the publishing industry. She has written for woman&home, GoodtoKnow, Now, Woman, Woman's Weekly, Woman's Own and Chat, and is currently Deputy Fashion & Beauty Editor at Future PLC.
She caught the magazine bug during a stint as Fashion Editor of her university newspaper alongside her English degree, and hasn't looked back since. As for the fashion bug, that came as part and parcel of growing up in the 90s, but the less said about that the better!
Jess' average day in the office is spent researching the latest fashion trends, chatting to industry tastemakers and scouring the internet to bring you this season's must-buy pieces - as well as advice on how to wear them. Weekends are equally fashion-focused, and Jess has been known to visit no less than five Zara stores in a single day in search of the perfect occasion dress.
The only thing that comes close to a buzz of finally tracking down that much-coveted dress is the joy of discovering a new beauty wonder product or hero ingredient. A beauty obsessive, Jess has tried everything from cryotherapy to chemical peels (minus the Samantha in Sex and The City-worthy redness) and interviewed experts including Jo Malone and Trinny Woodall.