The best fake tan for face—get a convincing, streak-free glow
The latest fake tan for face formulas won't leave you orange, promise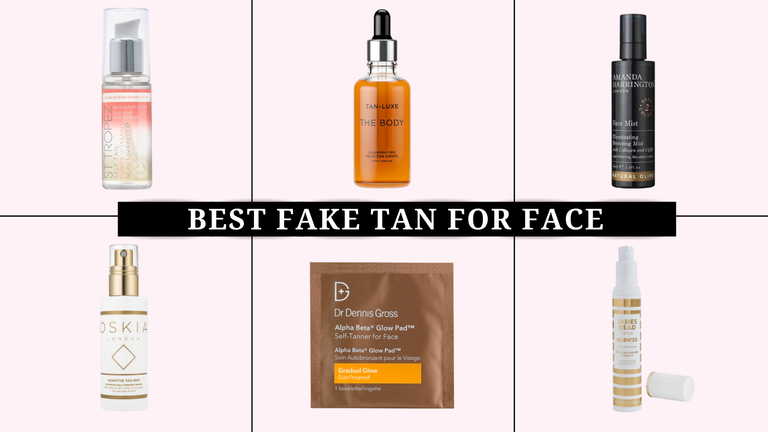 (Image credit: Future)
A good fake tan for face will do a number of things for your complexion. Of course, a just-hopped-off-the-plane glow comes as standard, but it'll also reduce the appearance of dark circles and blemishes. It is, in short, a holiday in a can, leaving you looking healthy and rested—no long-haul flight required.
So, how does it do it? "Self-tanners contain an ingredient called Dihydroxyacetone (also known as DHA) which is derived from plant sources such as sugar cane and by the fermentation of glycerin," explains professional tanner James Read. "When applied to the skin, it reacts with dead cells in the skin's surface layer to temporarily darken the skin and simulate a tan."
Unfortunately for our skin, DHA is very drying. To counteract this, the latest innovations in tan for the face are formulated with added hydrating ingredients such as hyaluronic acid. By blurring the lines between fake tan and skincare, the results are more natural and longer-lasting, as well as creating a smoother base beneath your best foundation.
Speaking of skincare, some popular ingredients don't play nicely with fake tan. "Avoid retinol or any enzymatic skincare as these can accelerate the fade time of tan," says body artist and expert tanner Amanda Harrington. "And steer clear of any oil-based skincare products too. Oil breaks down tan and causes it to separate on our skin." Bad news for our fresh new glow, but that does mean that oil is your go-to ingredient for fading tanning mistakes in a hurry. Another way to remove fake tan is "with AHA's and a warm cloth," adds James. Do this before applying fresh tan, too, to avoid any streaking.
When it comes to formula, using the same fake tan, you would on your body just won't do. "Just like you wouldn't use shower gel to wash your hair, using body tan on your face is no different," says Amanda. "The skin on our faces is vastly different to our bodies. It is very thin and more delicate therefore naturally needs to be treated differently to body skin, which is thicker and generally more robust."
"Face tanners are produced to be non-comedogenic and give a slightly lighter result," continues St Tropez Tanning Expert Michaella Bolder. "This makes them an ideal solution for all skin types to use without concerns of congestion or being too dark." It's for this reason that fake tan for the face tends to come in spray, serum, or mist form. By keeping the formulation light, it's less likely to settle into pores or the natural creases of the face.
Best fake tan for face, as chosen by our beauty team
1. Tan Luxe The Face Illuminating Self Tan Drops
Best fake tan for face drops
Specifications
RRP: £35
Texture: Drops
Key ingredients : Raspberry seed oil, Vitamin E
Reasons to buy
+
Plays nicely with other skincare products
+
Choice of shades
Instead of stocking up on a wardrobe of fake tans to cover all seasons and occasions, this clever little bottle lets you customize your color at every use. Mix just one or two drops with your moisturizer for a light tan, two to three for medium, or use neat if you really want to fake two weeks in the Med overnight. The tone itself is natural, not orange, and the color fades evenly.
2. Amanda Harrington Face Mist Illuminating Bronzing Mist
Best fake tan for face mist
Specifications
RRP: £28
Texture: Mist
Key ingredients: Camellia Sinensis Leaf Extract, CQ10
Reasons to buy
+
Doesn't settle into pores
+
Different colour options available by tone
Natural is the aim of the game for Amanda Harrington, and this mist definitely delivers the most seamless glow of the bunch. Instead of a one-size-fits-all approach, you can choose between three different shades, each designed to flatter different skin tones. There's natural rose for a very light glow and natural olive for a deeper tan. Natural honey sits in the middle and would be a good place to start unless you're naturally very pale. For best results, we'd recommend stocking up on The Face Buffer Brush as well, in order to fully buff, blend and contour the formula.
3. Isle of Paradise Night Mist
Best tan for face for using overnight
Specifications
RRP: £15.95
Texture: Hyaluronic acid, glycerin
Key ingrdients: Mist
Reasons to buy
+
Soothing scent
+
Packed with skincare ingredients
Reasons to avoid
-
Can't follow with moisturiser
If you're a fan of Isle of Paradise Tanning Drops, we're willing to bet you'll rate their latest launch too. Taking the fluff out of fake tan, all you need to do is close your eyes and mist a couple of times onto clean skin. The hard work happens while you snooze, delivering a gentle color that can be layered up over a number of evenings depending on your desired shade. The soothing scent is a real selling point too. Thanks to infused jasmine and lavender, it's aromatic and calming, smelling more akin to a fancy pillow spray than sweet.
4. Dr Dennis Gross Alpha Beta Glow Pad Gradual
Best fake tan for face for glow
Specifications
RRP: £36
Texture: Wipe
Key ingredients: Lactic acid, willow bark extract
Reasons to buy
+
Skincare and tan in one formula
+
Slots easily into your routine
Reasons to avoid
-
Individual sachets could be more eco-friendly
Remember when we said fake tan and acids don't mix? Well, what if we told you that dermatologist Dr. Dennis Gross had formulated the ultimate 2-in-1. Thanks to AHAs and BHAs, it still works hard to whisk away dead skin cells but tops up your tan at the same time, so you don't have to compromise on glow. Simply sweep the cloth over clean skin in circular motions before following with your regular moisturizer.
5. James Read Glow20 Face Tan Serum
Best fake tan for face for dry skin
Specifications
RRP: £25
Texture: Serum
Key ingredients: Vitamin C, Aloe vera
Reasons to buy
+
Develops in as little as 20 minutes
+
Hydrating formula
Short on time? No problem. This super-speedy tanner reveals a light tan in as little as 20 minutes and will continue to develop after you've rinsed it off. Perfect for last-minute invites or on days when your skin is feeling a little lackluster. A great choice for anyone who finds fake tan can leave their skin parched, the addition of hyaluronic acid and aloe vera helps replenish any moisture lost to the process.
6. Oskia Adaptive Tan Mist
Best fake tan for face for tanning novices
Specifications
RRP: £55
Texture: Mist
Key ingredients: White tea, pro vitamin B5
Reasons to buy
+
Easy to use
+
No biscuity scent
Reasons to avoid
-
Colour needs to be built up, which some may not like
If you're new to tanning, allow us to point you in the direction of this easy-to-use mist. Just around 30cm away from the face and spritz a couple of times onto skin. You may want to buff in with a brush or mitt. If left overnight, the guide color can be a little scary in the morning, but once rinsed, the result is natural and light. It might not suit those that favor a deep or intense glow but can be built up over a number of days until you reach your desired shade.
7. St Tropez Self Tan Purity Vitamins Bronzing Water Face Serum
Best fake tan for face serum
Specifications
RRP: £22
Texture: Serum
Key ingredients: hyaluronic acid, Vitamins C and D
Reasons to buy
+
Boosted by vitamins
+
Natural result
St. Tropez calls this "sunshine in a bottle," and we're inclined to agree. A joy to use, it glides on nice and easily with your fingers—don't forget to wash your hands afterward to avoid streaky palms. When used sparingly, the result is a natural, could-have-just-got-back-from-holiday glow. Skin feels smoother and looks clearer, too, thanks to the addition of vitamin C and hyaluronic acid.
8. Bondi Sands Pure Self Tanning Face Mist
Best fake tan for face with skincare benefits
Specifications
RRP: £22
Texture: Mist
Key ingredients : Hyaluronic acid, Vitamin C and E
Reasons to buy
+
Can be layered
+
Won't clog pores
Reasons to avoid
-
Mist action can be temperamental
If you're a keen tanner, chances are you've given Bondi Sands a whirl over the years. Their latest launch, PURE, delivers the same impressive glow as its predecessors, with the added benefit of 100% recyclable packaging. Even the pump bottle can be recycled, which is notoriously tricky to do. They've added hyaluronic acid and Vitamin E into the formula mix, too, helping to boost hydration as you get your glow on. The mist needs to be worked in with a mitt after application to ensure an even finish and develops into a strong color in as little as four hours.
Jess Beech is an experienced fashion and beauty editor, with more than eight years experience in the publishing industry. She has written for woman&home, GoodtoKnow, Now, Woman, Woman's Weekly, Woman's Own and Chat, and is currently Deputy Fashion & Beauty Editor at Future PLC.
She caught the magazine bug during a stint as Fashion Editor of her university newspaper alongside her English degree, and hasn't looked back since. As for the fashion bug, that came as part and parcel of growing up in the 90s, but the less said about that the better!
Jess' average day in the office is spent researching the latest fashion trends, chatting to industry tastemakers and scouring the internet to bring you this season's must-buy pieces - as well as advice on how to wear them. Weekends are equally fashion-focused, and Jess has been known to visit no less than five Zara stores in a single day in search of the perfect occasion dress.
The only thing that comes close to a buzz of finally tracking down that much-coveted dress is the joy of discovering a new beauty wonder product or hero ingredient. A beauty obsessive, Jess has tried everything from cryotherapy to chemical peels (minus the Samantha in Sex and The City-worthy redness) and interviewed experts including Jo Malone and Trinny Woodall.