14 of the best Christmas markets in Europe & the UK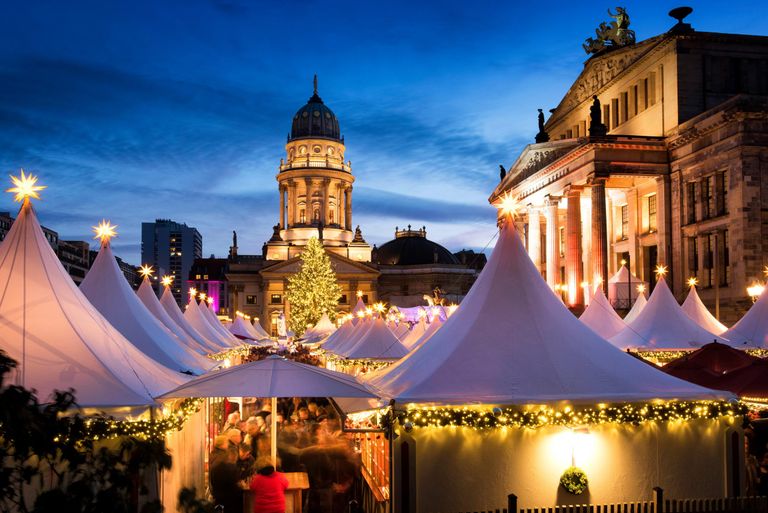 At home and abroad, these are the most colourful, festive Christmas markets Europe and the UK has to offer.
It wouldn't be the festive season without at least one trip to a Christmas market – but it's important to get a good deal too. Data from 2018 compiled by Skyscannerrevealed that the best time to book a Christmas getawayis 13 weeks before you depart, which could see you saving up to 29% on the cost of flights.
If you're hoping for a holiday bargain this Christmas, don't fly on Christmas Day, says Skyscanner. While December 25th has often been considered the cheapest day to fly, their data reveals that this year it's actually the most expensive, with the average flight price from the UK costing around £660.
These are the best Christmas markets in Europe – and what to eat, drink and buy while you're there...
1. Prague,Czech Republic
Take in the festive atmosphere of the Christmas Markets in the Stáromestské námestí (Old Town Square), illuminated by thousands of lights. The city's main markets are at the Old Town Square and Wenceslas Square (five minutes apart) but there are also smaller markets dotted around the city, notably on Republic Square, at Havel's Market, on Kampa Island in the Lesser Town, and by St. George's Basilica at Prague Castle.
Best buys include brightly decorated huts sell all manner of Czech handicrafts, including puppets and dolls dressed in traditional costumes, and you will be able to sample barbecued klobása sausages (£1.50) or hot, sugary trdelník pastries (£2/3).
2. Cologne, Germany
A quick Eurostar connection in Brussels takes you to the heart of Cologne, where you can indulge in a traditional pretzel while exploring one of the seven Christmas markets on offer. The Christmas Market at the Cologne Cathedral is the most impressive, due to the backdrop of the magnificent cathedral.
Beneath the cathedral and the largest Christmas tree in the Rhineland, you can find well over 160 festively designed wooden pavilions. Watch artisans at work, enjoy original gluhwein served in festively decorated Christmas mugs, or choose from an unlimited choice of sweets and local delicacies.
Book it: Riviera Travel's Enchanting Rhine and Yuletide Markets cruise is the ultimate way to see Europe's most Christmassy destinations. You'll be able to browse Christmas markets in Cologne, Koblenz and Bonn, and there'll be plenty of glühwein on the riverboat.
3. Winchester Cathedral Christmas Market, Hampshire, UK
Winchester's Christmas Market, in the grounds of the medieval cathedral, can rival the best in Germany. Founded in 2006, it's quickly grown into a must-do on the UK Christmas calendar.
Go shopping for locally-produced textiles, glass work and jewellery, before letting the kids loose on the real ice rink. The market usually runs from late November through to the weekend before Christmas (Thurs-Sat).
More like this:10 of the best places to visit in December
4. Reims, France
The first French Christmas celebrations took place here in AD 496 when King Clovis and his 3000 warriors were baptised on Christmas Day. Reims' Christmas market involves more than 125 fairy-lit chalets, offering Christmas gifts and local produce. Street entertainers such as carol singers and magicians entertain the crowds, and there is a grotto where children can meet Father Christmas.
Look out for Biscuits Rose de Reims, 'pink biscuits' traditionally dipped into Champagne - the distinctive feature of these biscuits is they don't break even when wet.
It would be a crime not to visit some of the esteemed Champagne Houses, as well as exploring the smaller producers, where you are able to purchase a bottle of Grand Cru Champagne for as little as €15 a bottle - the perfect opportunity to stock up for the festivities!
5. Castres, France
Head for this incredibly beautiful Pyrenean village, where for two weeks before Christmas there is an enormous market. The area is nearly 5,000 sq metres, and you can stroll through the 'village' with its 30+ chalets, guided by the scents of hot wine, gingerbreads and tartiflette.
Enter the wonderful world of the 'Enchanted Forest': it's a delight for children and adults alike.
6. Lincoln Christmas Market, Lincolnshire, UK
Fast-becoming one of Britain's biggest Christmas fares, Lincoln city centre is transformed every December in to a chocolate box winter wonderland scene for a weekend, with stalls covering the cobbles of the city's medieval square. Lincoln cathedral provides the perfect backdrop for Christmas music, mulled wine and present shopping. Thursday 3rd to Sunday 6th December, visit Lincoln-ChristmasMarket.com for more info.
7. Bruges, Belgium
Bruges' charm only intensifies when it is illuminated by thousands of twinkling lights during the Christmas market season. The whole family will love the ice rink that takes centre stage in the main square, and traditional market stalls on the cobbled lanes, making the festivities seem like a city-wide maze of magic, complete with traditional brass bands and nativity scenes.
Look out for authentic Belgian handicrafts and tasty treats at reasonable prices, but make sure you take time to climb to the top of the imposing Belfry tower for wonderful views over the rooftops, and indulge in traditional Belgian beer, Flemish cuisine and sugar-sprinkled waffles!
More like this:The best places to avoid Christmas
8. Copenhagen, Denmark
The Danish capital is the perfect place to celebrate Christmas and to get into the yuletide spirits. In Copenhagen you will feel the sense of true Danish "hygge" at Christmas; a season steeped in unique traditions and magical experiences.
Christmas in Tivoli Gardens is particularly special. True to tradition, the whole of Tivoli will be decorated for the season with spruce and myriads of fairy lights. The lights, the stalls, and the Christmas music permeating the park together creates the unique festive atmosphere.
9. Nuremberg Christkindlmarkt, Germany
One of the most famous Christmas markets in Germany and the world, visitors from all over the globe travel to Nuremberg Christkindelsmarkt each year for the month-long spectacular. Munch on traditional spicy gingerbread while you pick up wooden nativity sets and tree ornaments. It's worth the trip just to gawp at the amazing illuminations! The market generally runs from late November through to Christmas Eve. Check the website for opening hours.
10. Basel, Switzerland
The Christmas market here is the largest and one of the prettiest in Switzerland. It can be found on Barfüsserplatz and Münsterplatz, at the heart of the festively decorated Old Town.
More than 180 traders and artisans offer their goods for sale in small, rustic wooden chalets and there are culinary delights aplenty - waffles, glühwein, delicious Swiss raclette or grilled sausages. Speciality items include Basel Läckerli, a traditional hard spice biscuit originating from the region.
More like this: No travel partner? No problem! Introducing the ultimate holiday for solos
11. Zagreb, Croatia
The Advent Festival in the Croatian capital is a city-wide celebration of Christmas. Enjoy vibrant Christmas markets at every corner of the city, including a traditional Christmas fair in the streets surrounding the Jelačić Square.
One of the highlights of the festival is a spectacular ice park on King Tomislav Square, set against the backdrop of an illuminated Croatian National Theatre.
The Christmas markets sell a variety of seasonal gifts and souvenirs made by Zagreb's craftsmen and artists. Other speciality items include the local cuisine, with several stalls selling fried apples and baked štrukle, Croatian delicacies.
A skate on the ice rink costs £2.50 per person (plus £1.30 for renting skates). All other Christmas fairs/entrance to the different markets are free of charge.
More like this:9 of the best foodie cities in France – and what to eat and drink while you're there
12. Berlin, Germany
There are no fewer than 60 different markets for you to explore and enjoy in the German capital. Choose traditional or trendy, and you'll find an enormous variety of craft stalls, things to buy and treats to sample.
One of our favourites is the Lucia Christmas market, which commemorates St Lucy's Day (13 December) with a festival of light. The market focuses on Nordic traditions and offerings, while for entertainment the Luciakör offers Swedish Christmas songs, as well as other music from Denmark, Finland, Iceland and Norway.
13. Salzburg, Austria
The city's streets give way to bustling markets and rousing festive cheer for the month before Christmas. The peel of church bells, the smell of hot chestnuts and gingerbread, and the excited chatter of shoppers combine to create an unforgettable atmosphere.
Salzburg's markets are famous for their wooden toys and for 'Krampus', the 'Christmas Devil' made out of dried fruit.
14. Hyde Park Winter Wonderland, London, UK
Those in the capital should make their way to Hyde Park for a whole flurry of frosty activities at the Winter Wonderland. Along with the wooden food, drink and festive chalets, you can ride the giant observation wheel, ice skate in the largest rink in London, watch live ice sculpting, or just sit back and enjoy Zippo's circus. Opens in late November and closes early January, 10am-10pm. Entrance to the park is free, but charges on rides and stalls apply. Why not make a night of it in one of London's top spa hotels?
3 essential travel tips for your Christmas adventure
1. Beat the rush
The research also showed that the Saturday before Christmas, which falls on the 22nd in 2018, is the busiest day to travel. If you want to beat the rush, you should book flights for the quietest day, December 17th.
2. Mix and match airlines
To get the best price, Skyscanner recommends exploring multi-airline options. Don't just look at return flights from a single airline when browsing for your break – you could knock a hefty chunk off your airfare if you travel out with one airline and return with a different one.
MORE:10 of the best Christmas markets in Europe
3. Check for other airports
If you're using Skyscanner's search tool, use the "nearby airports" option to check for alternative airports around your destination. Flying into a smaller, lesser-known airport and travelling by public transport to your final destination could save you hundreds.