A First Timer's Guide To River Cruise Holidays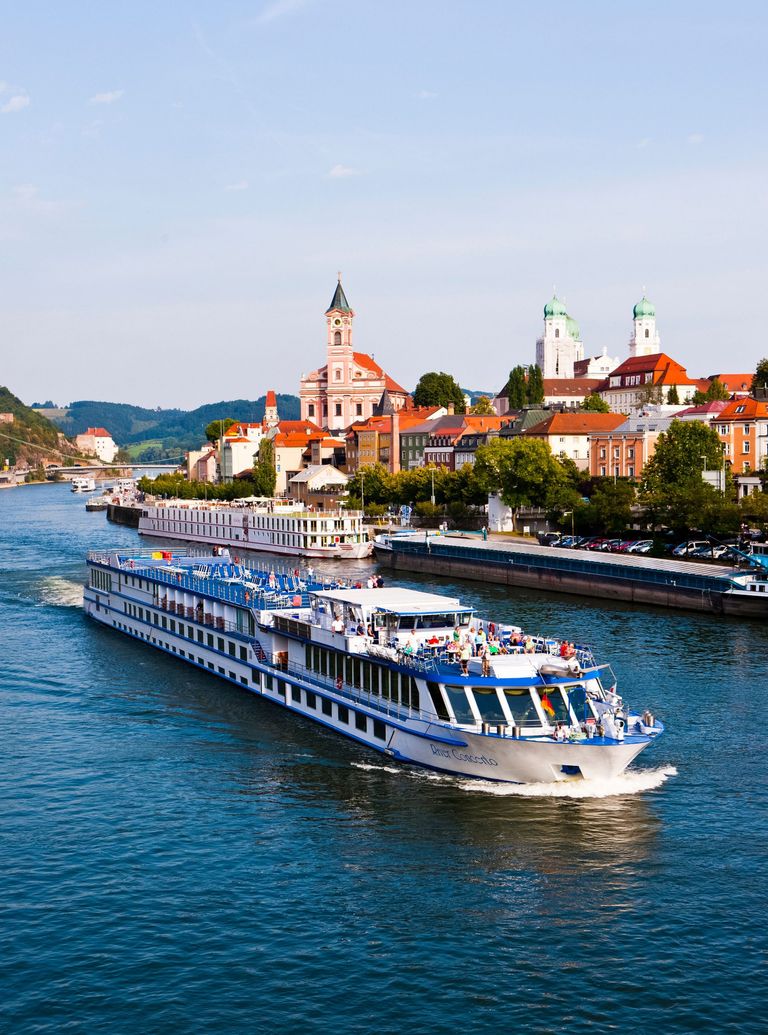 Will I get motion sick? What are the cabins like? Our expert Jane Archer shares everything you need to know about river cruises...
What are river cruise boats like?
In looks, they are either long and thin to fit through locks (Europe), colonial style (Asia) or with a paddlewheel (the US). On board facilities include a restaurant, lounge and bar, plus a sun deck where you can enjoy fresh air and the best views while sailing. Newer vessels in Europe variously have swimming pools (some even convert into a cinema in the evening!), alternative restaurants and cafés, and even interactive kitchens where you can learn to cook.
Don't miss our new Danube River cruise - starring Strictly Come Dancing's Vincent and Flavia! With dance masterclass, exclusive performance and more... See the details
How many passengers do they hold?
The average capacity in Europe is 150 people, but some carry fewer than 100 while others accommodate 200. In Asia, vessels mostly hold fewer than 100 passengers.
River cruise ship on the Moselle River, Germany (Alamy)
What are river cruise cabins like?
They are not huge but are generally comfortable for two people. River cruise lines often use the term 'suites' for what are invariably just slightly larger cabins, but there are also some seriously swanky rooms out there if more space appeals.
Checking the deck plan is a good way to be sure of what you are booking. Cabins on newer vessels have either a walk-out balcony or French windows; some have both. Consider a balcony if cruising the Man-Danube Canal, or Main or Rhône Rivers, as sundecks have to close for long periods due to low bridges so outdoor seating is limited. Cabins on the lowest deck have fixed windows and no view.
More like this: 9 of the world's most relaxing river cruises
Will I get motion sick on a river cruise?
There are no waves so mal de mer is never a worry.
River cruise ship on the Mississippi River, USA (Alamy)
Where can I go on a river cruise?
The choice is bewildering. You can tick off Holland, Germany, France and Switzerland on a Rhine cruise, and Austria, Hungary, Croatia, Serbia and other eastern European states on the Danube. There are cruises on the Seine, Rhône and Garonne, Gironde and Dordogne Rivers in France, and the Douro in Northern Portugal.
Choose the Elbe to visit Germany and the Czech Republic. Cruise in Russia to sail the rivers, lakes and canals that link Moscow and St Petersburg. Further afield there are cruises on the Mississippi, the Amazon in Brazil and the Mekong, Irrawaddy, Yangtze, Ganges and Brahmaputra in Asia and India.
More like this: 4 fabulous celebrity cruise holidays you won't want to miss this year
What will I see?
Everything from wild rhinos (maybe even tigers!) in India and pandas in China, to historic European towns and cities with ornate palaces, Gothic cathedrals and baroque architecture. Paris and St Petersburg have the world-class Louvre and Hermitage museums.
In France and Portugal, there are tours and tastings at famous wine estates. Holland is popular in spring for the tulip displays at the Keukenhof Gardens (like our tulips cruise through Holland with Charlie Dimmock!); choose Germany and Austria in December for the Christmas markets. There are countless more specialist themes, too - like our fun antiques-buying Rhône cruise with Bargain Hunt presenter Tim Wonnacott.
River cruise ship on the Mekong, Cambodia (Alamy)
Do I have to dress up?
River cruises are very relaxed, so pack what you're comfortable in. Some folk like to dress up a bit for the Captain's gala dinner but it's not obligatory.
More like this:
7 amazing cultural holidays that will change how you see the world
What's included in the price of a river cruise?
All prices include food and accommodation. A few companies also include flights, transfers, all drinks, excursions, gratuities and Wi-Fi. Some serve free wine or beer with meals and offer selected excursions, while others exclude flights and tours but include drinks.
A few offer just bed and board. All-inclusive lines are expensive but bear in mind that the cost of tours, drinks and gratuities will add to the initial price.
What happens at meal times?
Mostly it's a buffet for breakfast and lunch, with a few served 'specials', and waiter-service in the evenings. BBQs on the sundeck and a Bavarian lunch with bratwurst and beer are always fun. Alternative restaurants usually serve lighter fare, local dishes or a dégustation menu.