When do holiday drinks start at Starbucks in 2022 and what delicious treats are in store this year?
The Starbucks 2022 holiday drink and food menu is here and it includes a new treat you just have to try!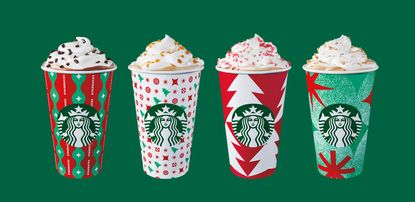 (Image credit: Starbucks)
It's the most wonderful time of the year! The Starbucks 2022 holiday drink menu has officially been released and fans are already flocking to the chain's many locations to try all the returning (and new!) treats.
Just a few months after the Starbucks Pumpkin Spice Latte return date was confirmed, the chain announced that its holiday drink lineup will be available in stores starting November 3. Woo hoo!
There are a total of six holiday drinks on the Starbucks menu this year, plus the usual Christmas Blend coffee that is sure to bring joy to any coffee lovers.
The Starbucks 2022 holiday drink menu:
Caramel Brulée Latte
Chestnut Praline Latte
Peppermint Mocha
Toasted White Chocolate Mocha
Irish Cream Cold Brew
Iced Sugar Cookie Almond Milk Latte (the first non-dairy option on Starbucks' holiday menu!)
Caramel Brulée Latte
The drink is made with espresso, steamed milk and caramel brulée sauce topped with caramel brulée bits and whipped cream. Unfortunately, this is the one order that cannot be made dairy free since there is actual milk in the caramel sauce.
Chestnut Praline Latte
Topped with whipped cream and spiced praline crumbs, this menu item is relatively easy to make (at least compared to the directions involved in the preparation of the other concoctions). The recipe is pretty simple: espresso, steamed milk of your choice and chestnut praline syrup.
---
Peppermint Mocha
The classic Peppermint Mocha is actually celebrating its 20th anniversary this year, which is enough of a reason to order one for yourself the next time you're inside a Starbucks. Keep in mind that it was originally created as a hot drink but can also be ordered iced or in Frappuccino form.
Toasted White Chocolate Mocha
Espresso, steamed milk of choice, toasted white chocolate sauce, whipped cream, and sprinkles make this a go-to option for many patrons. To note: there's no way to make this dairy-free.
Irish Cream Cold Brew
This is basically a classic Starbucks cold brew, albeit spiked with Irish cream syrup and topped with some cocoa powder and a cold foam of vanilla sweet cream. Yes, it's as delicious as it sounds.
Iced Sugar Cookie Almond Milk Latte
Made with almond milk, blonde espresso, sugar-cookie flavored syrup and topped with red and green sprinkles, the festive drink is served iced but can also be made hot.
Are there any food items on the holiday menu?
Food-wise, you can expect more of the same with traditional holiday bakery items like cake pops, including a reindeer-shaped one, festive cookies, and the sugar plum Danish that was around last year.
Do be on the lookout for a new entry, though! The Chocolate Pistachio Swirl is made with creamy chocolate filling boasting notes of cinnamon and coffee that is swirled into a brioche-inspired dough with mint chocolate chips and topped with chopped pistachios, yum!
Will the red Starbucks holiday cups also be available?
On November 3, the same day that the holiday drinks and food will be available at Starbucks stores, the iconic red holiday cups will also make their first appearance of the season.
As noted in an official press release (opens in new tab), the four new Starbucks holiday cup designs "offer the comforts and cheer of the season, each wrapped up like a gift." The color palette specifically features classic seasonal colors with a flair of mint green.
Anna Rahmanan is a New York-based writer and editor who covers culture, entertainment, food, fashion and travel news. Anna's words have appeared on Time Out New York, the Huffington Post, Fortune, Forbes, Us Weekly, Bon Appetit and Brooklyn Magazine, among other outlets.