Is Starbucks getting rid of cups? The coffee company looks to phase out single-use paper cups
In a pretty epic eco-friendly move, Starbucks unveils plan to eliminate single-use cups and encourage customers to bring their own mugs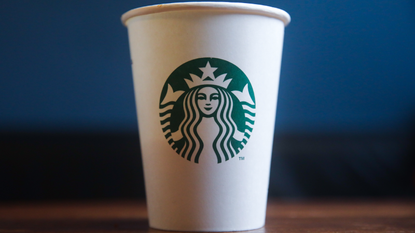 (Image credit: NurPhoto / Contributor)
Global coffee powerhouse Starbucks is making big environmental moves: the company has announced plans to allow all customers in the United States and Canada to use their own mugs for every mobile order and at drive-throughs by the end of next year. Patrons are already encouraged to bring their own cups when ordering in store.
Starbucks tested out a reusable cup program in the past but this latest decision would make the company even more sustainable.
The changes are already in motion. The chain's disposable cups have been replaced by reusable ones at the company's headquarters in Seattle.
STARBUCKS REUSABLE CUPS
To help reach the company's goal of reducing waste by 50% by 2030, Starbucks is "shifting away from single-use plastics and piloting reusable cup programs in six markets around the world," reads an official press release about the news.
"By the end of next year, customers will be able to use their own personal reusable cup for every Starbucks visit in the U.S. and Canada—including in café, drive-thru and mobile order and pay. Our goal, by 2025, is to create a cultural movement towards reusables by giving customers easy access to a personal or Starbucks provided reusable to-go cup for every visit, making it convenient and delightful to reuse wherever customers are enjoying their Starbucks experience."
This isn't Starbucks' first or only green project. A decade ago, it announced an initiative to turn leftover pastries and coffee grounds into plastics and laundry detergents, and, in 2018, it committed to getting rid of plastic straws.
---
In addition to the potential phase-out of single-use cups, the company has also introduced a new pilot program alongside Volvo Cars that would "electrify" the driving route from the Colorado Rockies to the Starbucks Support Center in Seattle. You can expect Volvo-branded electric vehicle chargers to take over 15 Starbucks stores along the 1,350-mile route by the end of 2022.
In other surprising news, Starbucks CEO Kevin Johnson also made public his decision to retire after five years in the role (he's been working there for 14 years in total). Howard Schultz, the former CEO, will return to head the company beginning April 4 until a permanent replacement is selected.
"When you love something, you have a deep sense of responsibility to help when called," Schultz said in a statement. "Although I did not plan to return to Starbucks, I know the company must transform once again to meet a new and exciting future where all of our stakeholders mutually flourish."
Anna Rahmanan is a New York-based writer and editor who covers culture, entertainment, food, fashion and travel news. Anna's words have appeared on Time Out New York, the Huffington Post, Fortune, Forbes, Us Weekly, Bon Appetit and Brooklyn Magazine, among other outlets.