Why Meghan Markle would never send Archie and Lilibet to school in the UK
Meghan has revealed why sending Archie and Lilibet to school in the UK could never be an option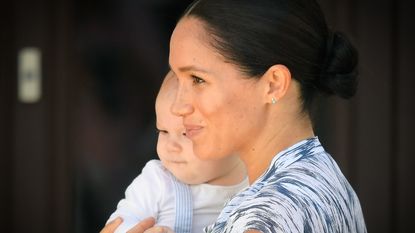 (Image credit: Getty Images)
Meghan Markle has opened up about the education of her and Prince Harry's two children, explaining why she feels they could never attend a school in England.
Meghan shared candid details of the Sussex family's life during a tell-all interview with The Cut.
She admitted that sending her and Prince Harry's children to school in the UK is just not something she can envision.
In other royal news, Meghan hinted that she is returning to Instagram after quitting for her own 'self-preservation'.
---
Having swapped life at Windsor's Frogmore Cottage for their new California home after quitting the royal family back in 2020, Prince Harry and Meghan Markle are raising their children, Archie, three, and Lilibet, one, in the States away from the spotlight of The Firm.
Speaking to The Cut about their happy life in America, Meghan opened up about why she feels Archie going to school in the UK was not an option she felt content with.
Allison P. Davis, who sat down with Meghan for the honest chat, penned, "Earlier in our conversation about her goals for the life she's creating here, she'd remarked upon how, if Archie were in school in the UK, she'd never be able to do school pickup and drop-off without it being a royal photo call with a press pen of 40 people snapping pictures."
"Sorry, I have a problem with that. That doesn't make me obsessed with privacy. That makes me a strong and good parent protecting my child," Meghan said, admitting that the most attention she gets at the school gates now is a handful of parents doing a "double take".
The Duchess of Sussex also touched on why she feels so protective over which images of her children are shared with the public, confessing she was particularly selective about it when she and Harry were still working royals.
It was such a privilege to celebrate the 1st birthday of Lilibet with my family and hers! Joy and face painting all around ❤️🎂🎉 pic.twitter.com/bg3RY6MOEuJune 6, 2022
See more
"There's literally a structure by which if you want to release photos of your child, as a member of the family, you first have to give them to the Royal Rota," she said.
"Why would I give the very people that are calling my children the N-word a photo of my child before I can share it with the people that love my child?
"You tell me how that makes sense and then I'll play that game."