Meghan Markle hints she's returning to Instagram after quitting for 'own self-preservation'
Meghan Markle has teased a big return to Instagram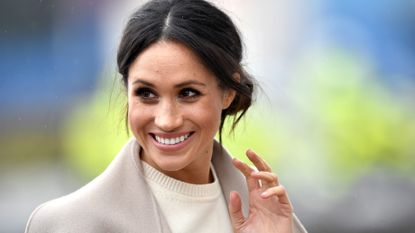 (Image credit: Getty Images)
Meghan Markle has hinted she is set to make her return to Instagram after years away from social media.
Meghan Markle has announced her return to Instagram, hinting that she will be launching a brand new personal account.
The Duchess of Sussex removed her personal account from the internet when she began dating Prince Harry and only had a social media presence on the official Sussex Royal accounts.
---
As part of her in-depth interview with The Cut, Meghan divulged that her return to social media could be on the horizon.
Speaking to the publication, the Duchess of Sussex said, Do you want to know a secret? "I'm getting back...on Instagram."
Prior to becoming a part of Prince Harry's life, Meghan was an avid social media user, regularly posting snippets of her life on Instagram and inner thoughts her blog, The Tig.
Meghan took her accounts down when she became a royal family member, previously revealing it was for her "own self-preservation".
"For my own self-preservation, I have not been on social media for a very long time," she told People back in 2020.
"I had a personal account years ago, which I closed down, and then we had one through the institution and our office that was in the U.K. that wasn't managed by us, that was a whole team.
"So I think that comes with the territory for the job you have."
Opening up about how it felt to abandon her personal online presence when she became a working member of The Firm, she went on to tell The Cut, "It was a big adjustment.
"A huge adjustment to go from that kind of autonomy to a different life."
Meghan, who had a new victory as her new podcast Archetypes reached instant success, also opened up on why she feels so strongly about keeping the majority of images of her children, Archie and Lilibet, private when she was following the royal family's social media rules.
"There's literally a structure by which if you want to release photos of your child, as a member of the family, you first have to give them to the Royal Rota," she explained.
"Why would I give the very people that are calling my children the N-word a photo of my child before I can share it with the people that love my child?"