We can't stop thinking about Kate Middleton's blue and gold enamel earrings
We're adding these to our must-have list immediately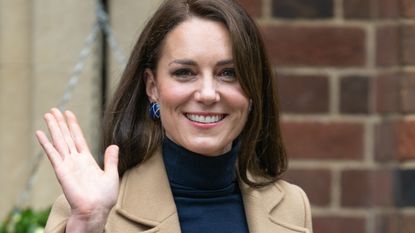 (Image credit: Getty Images)
Kate Middleton's blue and gold enamel earrings that she sported on a recent royal engagement are firmly on our jewelry wish list.
Kate Middleton looked super chic in head-to-toe navy and a classic camel coat as she paid a visit to a nursing home back in February.
The Princess of Wales teamed the timeless outfit with a pair of gorgeously unique blue and gold earrings that we can't stop thinking about.
---
Kate Middleton is always taking our breath away with her exquisite, timeless styles. From her classic black cigarette pants, to her fun Le Chameau wellies that she sports on a rainy day, the Princess always looks perfect from head to toe.
One of the biggest parts of putting together an outfit is, undoubtedly, the accessories. Sometimes, it can be hard to find the perfect pair of earrings or the perfect necklace to pair with your outfit, especially if you want every detail to be perfect - and as we all are well aware, Kate's outfits truly are always perfect.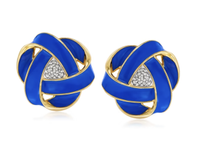 .10 ct. t.w. Diamond and Blue Enamel Love Knot Earrings in 18kt Gold Over Sterling, $100 | Ross Simons
A timeless motif is reinvented with bold color in this classic pair of earrings with a twist. Here, .10 ct. t.w. diamond rounds in white rhodium glimmer from the center of blue enamel love knots. Set in polished 18kt yellow gold over sterling silver, they're super similar to Princess Catherine's.
Recently, Kate visited Slough, England, to visit Oxford House Nursing Home. On her visit, she wore a truly chic outfit that we just can't stop thinking about - especially those gorgeous earrings.
For a top, she sported a classic, navy blue turtleneck sweater, and paired a camel-color wool coat on top to keep warm - an outfit pairing that works every time.
For bottoms, she wore an amazing pair of matching navy blue trousers - and as we know, Kate loves to wear a pair of trousers. She paired the trousers with a navy blue belt featuring gold hardware to perfectly tie the outfit together.
Accessories-wise, Kate paired the most elegant pair of gold and blue enamel earrings with her outfit, along with a small blue purse. The earrings, which are large without making too much of a statement, add the perfect element of fun to her business-appropriate outfit - totally giving us workwear inspiration for spring 2023.
Kate, who always stuns with her fashion choices, also stunned recently with a body language choice she made to Prince William. During a parade on St. Patrick's Day, she apparently gave Prince William a "seriously cold" stare. This look seemed to have been exchanged while she and Prince William were standing on a platform as she prepared to take the salute of the regiment for the first time since succeeding him as Colonel.
"After some signature signals of affection and fun between the couple during this outing, it's interesting to see the dramatic change as Kate adopts a more serious look. She stands fully to attention as she fixes William with what looks like a seriously cold, hard stare," a body language expert told woman&home.
Madeline Merinuk is woman&home's US lifestyle news writer. She covers celebrity, entertainment, fashion, and beauty news but is also obsessed with internet trends - you can find her reciting trending TikTok sounds out loud at any given time.
After winning multiple student journalism awards for her investigative work, she graduated from Hofstra University in 2021 with a B.A. in Journalism. After graduating, she worked at today.com, the digital site for the Today Show, where she wrote pop culture news and interviewed big-name personalities like Emily Ratajkowski, Haley Lu Richardson, Emma Corrin, and more.
Her personal interests, in no particular order, are: cheese, Joni Mitchell, reading, hot yoga, traveling, having multiple chapsticks in every handbag at all times, and dancing to ABBA songs as if she were in the Mamma Mia movies.