Queen Camilla 'hated' Meghan Markle's favorite snack but now eats it 'most days' thanks to a game-changing addition
Queen Camilla shares Meghan Markle's love of this fashionable food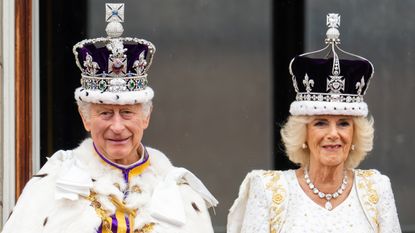 (Image credit: Getty Images)
Queen Camilla once revealed that she used to 'hate' one particular food known to be one of Meghan Markle's favorites - but one 'exotic' addition changed her mind completely.
Queen Camilla once opened up about all of her foodie favorites and culinary woes during a chat with her food writer son, Tom Parker Bowles.
The new Queen Consort revealed that she used to hate avocados, until she tried them in a new 'exotic' combination that totally changed her mind.
---
Having revealed her favorite 'fuss-free' meal that is so unroyal but so relatable, along with the one food she 'can't bear' during the all-things-food chat with her son, Queen Camilla also admitted that she once had a hatred for avocados.
Despite admitting that the creamy green fruit, which is known to be one of Meghan Markle's superfood favorites, is a staple in her everyday meals now, Camilla recalled that she certainly wasn't a fan of the trusty avo when she first encountered it.
Prior to life with Prince Harry, Meghan chatted all about her penchant for avocados on her blog, The Tig, drooling over the "soul-satisfying bite" that is avocado on toast.
Speaking to her son for You magazine, Camilla explained that it was experiencing avocado served with prawns that swayed her opinion and turned her into a fan of nature's trendiest foodie creation.
"I remember how excited I was when I first ate prawn and avocado, at Alexander's in Chelsea," Camilla said, recounting the deliciously memorable London dining experience.
Camilla, who mainly resides at Clarence House with King Charles, added, "The combination seemed impossibly exotic."
"I'd eaten avocados at home and hated them at first. But I now eat them most days," the Queen Consort continued.
Meanwhile, Camilla, who is mother to son, Tom, and daughter, Laura Lopes, also touched on how dining out is a key part in how she spends time with her children now they are grown up, with her leading a busy royal life.
"These days, restaurants are a way to see my children. They pick the restaurants, I pay the bill. I don't like too much noise but we tend to go to the same places," she said.
Camilla also gave a shout out to His Majesty King Charles's gardening skills, sharing that plenty of their home-cooked meals feature produce the pair have grown themselves.
"I do still cook for myself when at home. Simple things like fish en papillote with butter and herbs. And vegetables from the garden: kale, purple sprouting broccoli, carrots, courgettes, and lots of peas and beans because they freeze so well," Camilla detailed.
"I love the vegetable garden, and summer in particular. I'm very proud of my white peaches. My husband is an excellent gardener, and we're quite competitive about our fruit and vegetables."