Camilla Parker Bowles children: Who are they and how many does she have?
Meet Camilla Parker Bowles children and King Charles's stepchildren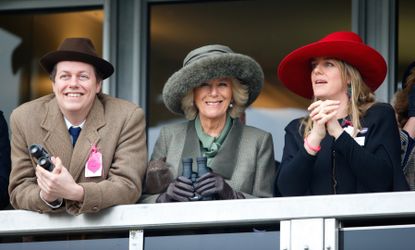 (Image credit: Getty)
With King Charles's coronation day fast approaching, royal fans are starting to ask, who are Camilla Parker Bowles's children?
Anticipation is building over the historic event, with everything from Queen Camilla's coronation crown to details of King Charles' coronation medal being announced. But with speculation over what role King Charles's children, William and Harry, may undertake on the day, many are questioning who Queen Camilla's children are and what role they might have in the Coronation.
Camilla Parker Bowles became the UK's Queen Consort upon the accession of King Charles III in September 2022, after the death of Queen Elizabeth II.
But while Camilla has been on our radar for many years having married the then-Prince Charles back in 2005, her children, Tom and Laura, have stayed out of the spotlight.
So who are Camilla Parker Bowles's children and what do we know about them?
How many children does Camilla Parker Bowles have?
Camilla Parker Bowles has two children, Tom Parker Bowles and Laura Lopes, from her first marriage to Andrew Parker Bowles.
Camilla Shand, as she was known at the time, married her first husband Andrew Parker Bowles in 1973. The couple met in the 1960s through Andrew's younger brother Simon.
They had on-again-off-again relationship but were finally married in 1973 in a ceremony attended by the Queen Mother, Princess Margaret and Princess Anne and the reception was held at St James's Palace.
The couple welcomed their son, Tom, in 1974 and their daughter, Laura, in 1978.
After 21 years of marriage, Camilla and Andrew Parker Bowles' relationship came to an end in 1994 on the grounds that they had been living separately for many years before their divorce. Their divorce was finalized in 1995.
Who is Tom Parker Bowles?
Queen Camilla's oldest child, Tom Parker Bowles was born on December 18, 1974 and is primarily known as a successful food writer and restaurant critic.
Throughout his career Tom has authored several cookbooks, served as The Mail on Sunday's restaurant critic, has been a contributor to Esquire UK and often appears as a judge on culinary reality shows and in competitions.
Speaking about his career in food writing, Tom has said, "When I was younger I got sacked all the time. I was naughty, partied a bit hard. But I loved eating and could just about string a sentence together, so I thought I could write about food."
Tom not only has King Charles as a stepfather, but also his godfather and only has positive things to say about the monarch. "I've always adored my stepfather; he's always been a kind and good and lovely man," he said in 2015. "He is a man of warmth, intelligence, and humanity, and I think if it ever happens, he will make a fantastic King."
Tom Parker Bowles has two children (Queen Camilla's grandchildren) with his ex-wife, fashion editor Sara Buys. Their daughter, Lola, was born in 2007, while their son, Freddy. was born three years later in 2010.
After his divorce, Tom found love again and dated journalist Alice Procope for two years, before she tragically passed away from cancer at age 42.
Who is Laura Lopes?
Laura was born on New Year's Day in 1978 and is the youngest child of Camilla and Andrew. Laura lives a more private life than her older brother and hasn't given public interviews like Tom has. A History of Art graduate from Oxford Brookes University, Laura managed the Space Gallery in London before co-founding Eleven, a fine art gallery in Belgravia, in 2005.
A year later, in 2006, Laura married Harry Lopes, a former Calvin Klein model-turned-chartered accountant. Prince William and Harry both attended their wedding in Wiltshire and are said to get on well with their step-sister.
Laura and Harry have three children together. Their daughter, Eliza, was born in 2008 and was a bridesmaid in William and Kate's wedding in 2011 at the age of four, where she was seen being lifted by Charles on the balcony so that she could see the crowds. The couple also have twin boys, Gus and Louis, who were born in 2009.
Robyn is a celebrity and entertainment journalist and editor with over eight years experience in the industry. As well as contributing regular to woman&home, she also often writes for Woman, Woman's Own, Woman's Weekly and The Sun.