Queen Camilla's favorite 'fuss-free' meal is so unroyal but so relatable
You won't believe what Queen Camilla's go-to easy comfort meal is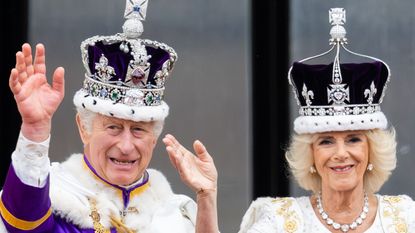 (Image credit: Getty Images)
Queen Camilla's 'fuss-free' answer to a casual comfort meal is totally unroyal but actually really quite relatable - especially for Brits.
Queen Camilla once shared an insight into her foodie habits during an interview with her own son, Tom Parker Bowles.
During the chat, the Queen Consort opened up about her love for some British culinary classics and admitted she doesn't like anything too 'mucked about' or 'fiddly'.
---
King Charles and Queen Camilla no doubt have access to the finest culinary delights the world has to offer, with the pair being privileged enough to benefit from royal chefs and kitchen staff when it comes to meal times.
And while King Charles, who mainly resides at London's Clarence House with wife Camilla, is said to skip lunch and be partial to a boiled egg and meat-free meals, Camilla is a big fan of one of the UK's most popular staple dishes.
Speaking all things food to her son for You magazine last year, Camilla revealed, "One of my favourite foods is baked beans on toast. Always Heinz."
When it comes to fast food, it's another wholesome classic for Camilla, who shared her love for the real deal when it comes to a chip shop takeaway.
"Freshly cooked fish and chips, wrapped in paper. That smell. You cannot beat proper fish and chips," the newly-crowned Queen said, aligning with the late Queen Elizabeth II and even Meghan Markle with the go-to takeout order.
While Camilla is of course treated to plenty of top quality chef-cooked meals in her royal life, she likes to get into the kitchen herself too, confessing, "I do still cook for myself when at home. Simple things like fish en papillote with butter and herbs. And vegetables from the garden
Touching on her no drama attitude when it comes to food and cooking, Camilla added that "nothing too mucked about, or fussy or fiddly" is her thing, with her cooking being all about "good ingredients".
She admitted that she's certainly not a pro, though, declaring that potatoes particularly are a weak point.

"I could fill a book with all my cooking disasters. I'm not a natural baker, to say the least. As for baked potatoes… many a poor, incinerated specimen has been found in the bottom of the Aga, put in, then forgotten about."