King Charles's bizarre reaction to this household item will make you chuckle
King Charles was taken by surprise when he encountered this everyday item for the first time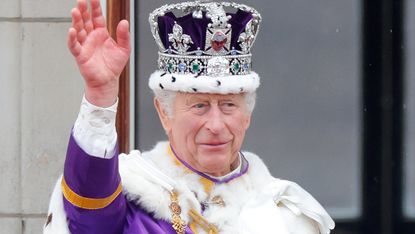 (Image credit: Getty Images)
King Charles once had no idea what cling film was and 'shrieked' when he encountered it for the first time, having to be reassured by Queen Camilla in a hilarious moment, according to a royal author.
Despite his hopes to create a monarchy that doesn't feel detached from the public, it's been claimed that King Charles was once taken by surprise by the sight of cling film.
The new King reportedly 'shrieked' at the sight of the household item, with Queen Camilla having to explain what it was.
---
In his 2018 book, Rebel Prince, royal author Tom Bower recounted the moment King Charles, who passed his Prince of Wales title onto Prince William when Queen Elizabeth II died, encountered food covered in cling film for the first time in his life.
According to Tom, one of King Charles's father's pet peeves about his eldest son was his disconnect from reality and the life of non-royals, with Prince Philip's concerns seemingly proved to be valid with Charles's alleged reaction to cling film.
A passage in the book reads, "He walked into the dining room and shrieked. Fearing the worst, Camilla dashed in after him. 'What's this?' asked her husband, pointing at the food."
"It's cling film, darling," Camilla is said to have told Charles, whose wild morning routine is said to include acrobatics.
The excerpt was originally published in The Guardian prior to the book's release, however Clarence House declined to comment at the time.
Despite Prince William and Princess Catherine's plans to be totally different to the 'unreachable' Queen Elizabeth II as part of Charles's modern monarchy, there is certainly aspects of the King's life that sets him apart from us regular Joes.
According to Princess Diana's former butler, Paul Burrell, King Charles likes everything from his shoelaces to his tooth paste to be just right.
Appearing on Amazon Prime documentary Serving the Royals: Inside the Firm, Paul claimed, "His pyjamas are pressed every morning, his shoelaces are pressed flat with an iron, the bath plug has to be in a certain position and the water temperature has to be just tepid."
King Charles even "has his valets squeeze one inch of toothpaste onto his toothbrush every morning," Paul went on to reveal.