Queen Camilla 'can't bear' this one particular food - and another no-go is one Queen Elizabeth hated too
Queen Camilla admitted there's one particular food she simply 'can't bear'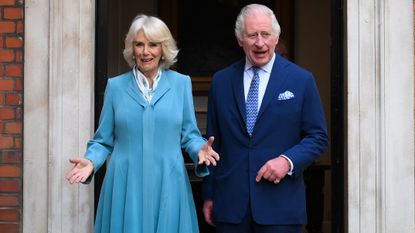 (Image credit: Getty Images)
Queen Camilla may be lucky enough to have access to top notch royal chefs and delicious meals, but there's one very specific food she's said she 'can't bear'.
Queen Camilla 'can't bear' one food in particular, whether it's raw or cooked - and she hates offal too, although we can't say we blame her for that one.
There's another meal time no-go for Camilla that the late Queen Elizabeth II is said to have hated too.
---
The Queen Consort once shared a whole array of foodie insights with her son, Tom Parker Bowles, and it turns out there's a few things she really doesn't like to see on her plate.
While Queen Camilla and King Charles are no doubt served luxury culinary delights during official royal dinner parties and daily meal times at the likes of Clarence House and Highgrove, the monarch's wife can't stand to see a pepper in her food.
Although Camilla's favorite 'fuss-free' food of beans on toast might seem surprising, her hatred of peppers is likely pretty common among those who aren't keen on veggies.
Speaking to Tom for You magazine last year, Camilla shared that she loves fruit and veg but "can't bear peppers, raw or cooked".
"I'm not a fan of offal either, aside from very good liver," she added, confirming that she isn't in the same camp as Kate Middleton, who confessed that she "loves kidneys" earlier this year.
Camilla also said that she "avoids chilli and garlic too", hinting that she agrees with the late Queen Elizabeth II when it comes to whether garlic should be in food, with the long-reigning monarch reportedly having a firm stance on the stuff.
Former royal chef Darren McGrady, who cooked for the Queen for over a decade, has revealed that garlic was banned at Buckingham Palace, telling the Daily Mail, "When she was at the table, there was no garlic at all."
Darren continued, "She was very Victorian and believed when she was brought up that you don't eat garlic, because if you were holding an audience the next day, you didn't want to be breathing garlic. It was seen as antisocial."
Camilla also admitted that while she still likes to cook for herself at home, she's certainly not opposed to a takeaway treat from the chippy.
"Freshly cooked fish and chips, wrapped in paper. That smell. You cannot beat proper fish and chips," she said.