Prince George's very unexpected music taste Prince William said he's 'very much into'
Prince George's favorite band might not be what you expected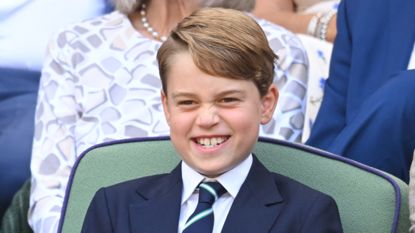 (Image credit: Getty Images)
Prince George's unexpected music taste has been revealed by his dad, Prince William, with the young heir to the throne said to be a big rock fan.
Prince William has reportedly shared details of Prince George's favorite bands and you might be surprised.
The nine-year-old future King is said to love two certain rock bands - while he previously raved over Craig David's bedazzled tracksuit.
---
Prince William has shared a rare insight into his first-born son's music taste, revealing that Prince George is a little rocker in the making.
With George, who is second in the line of succession, having been in the coronation spotlight as King Charles's Page of Honor, it's been revealed the eldest of the Wales children likes to let loose at home in Adelaide Cottage by rocking out with his dad.
As he met with attendees ahead of the King's coronation concert, Prince William opened up about the 'diverse' music taste within his household.
After William chatted to Caroline Mulvihill, who is a member of the Rock Choir, she told PA, "We were talking about the kind of music we do in Rock Choir and Will was telling us in their household they have a very diverse music taste and George is very much into AC/DC and Led Zeppelin.
"It was quite interesting to hear that," the musical royal fan added.
Prince George no doubt takes after his dad with his interest in AC/DC, as William mentioned his penchant for one particular song back in 2021 during his Apple Fitness+ Time To Walk recording.
"There's nothing better than, on a Monday morning, when you're a bit bleary-eyed after the weekend and trying to get yourself back into the grind of the week, listening to AC/DC, Thunderstruck," he said.
William sharing his son's love of music comes after it was revealed that Prince George was wowed by British music icon Craig David during his Platinum Jubilee concert performance, thanks to his glitzy stage outfit.
Craig was invited to what he called a "little soiree" at Buckingham Palace after his Jubilee performance and managed to exchange some words with Prince William.
"[My mother] was gripping my hand and I could tell what she was going to say, she said, 'we're in the Queen's house'," the 7 Days hitmaker recalled.
"Prince William walks over, he comes over, says, 'my son George was going crazy for the blue sequinned outfit that you were wearing'."