Princess Charlotte's 'special bond' with Princess Catherine that's set to prevent her from becoming a 'spare'
Princess Charlotte's 'special bond' with Princess Catherine was clear to see at the coronation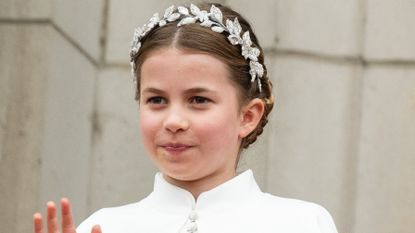 (Image credit: Getty Images)
Princess Charlotte's special bond with her mother, Princess Catherine, is set to protect her from feeling like Prince George's 'spare' as she grows older, according to a royal insider.
---
Princess Charlotte is said to be super 'switched on' when it comes to the realities of what royal life holds for her, Prince Louis and Prince George, reportedly well aware of the line of succession and what it means for her older brother.
According to a royal source, the coronation allowed eight-year-old Charlotte to see the difference between Prince George and her and Prince Louis's roles in The Firm on full display, with the heir to the throne involved in King Charles's coronation proceedings as a Page of Honor.
However, it's claimed that Princess Catherine is keen to ensure that her close bond with her daughter protects her from feeling second best.
Speaking to New Idea, a royal source explained, "Charlotte is a very switched-on girl, and has always known about the line of succession.
"She understands George's status as second in line, but seeing it was another situation altogether," with the insider adding, "She knows George is different to her and Louis."
The royal commentator went on to point out that Kate is treading cautiously to make sure that Princess Charlotte, who matched with her mom in matching tiaras at the coronation, doesn't feel forgotten about, what with Prince George set to be King and Prince Louis known for being the sweet, cheeky one of the Wales children.
"Kate is navigating everything very carefully. She wants Charlotte to know that, while George and their dad will always have a special bond, she has that with her mom," they told the publication.
The source added that Princess Charlotte following in Prince Harry's footsteps to go on to feel like a 'spare' to her brother is what Kate and William are hoping to prevent.
"She has seen what happened to the last two 'spares' and is not letting Charlotte go down the same path," they said.