Adelaide Cottage, Windsor—the residence that could become Prince William and Kate Middleton's new home
The Cambridges reportedly have their eye on Adelaide Cottage, Windsor and it's just minutes away from the Queen's Berkshire home...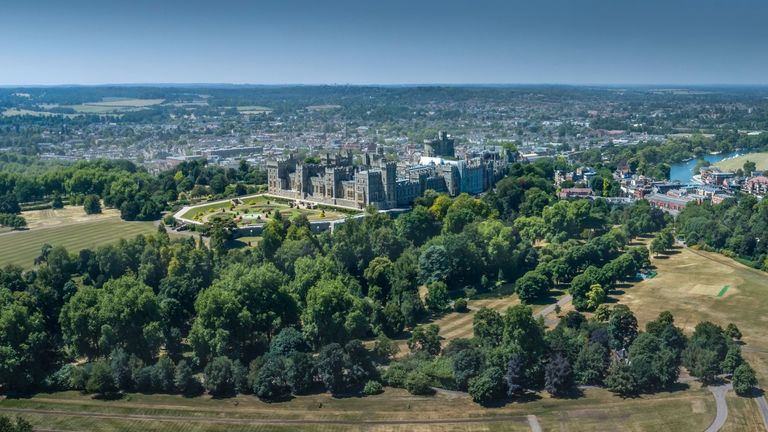 (Image credit: David Goddard via Getty)
Adelaide Cottage, Windsor might not be the most well-known of the royal residences, but it could reportedly be in the running to become the Duke and Duchess of Cambridge's new home.
The Duke and Duchess of Cambridge are said to be considering a move to Berkshire to be nearer the Queen.
Now it's claimed that Adelaide Cottage might be at the top of their house-hunting list and it's got quite the royal history behind it.
---
The Queen is known for having several historic residences in picturesque spots throughout the country. Though in recent years she has spent most of her time at Windsor Castle, with reports suggesting that the Queen is leaving Buckingham Palace for good. In light of this, it's perhaps no surprise that one of the Queen's grandchildren, Prince William, and his wife Kate Middleton could supposedly be looking to make the move to Berkshire to be closer to her.
Currently the Cambridges split their time between Kensington Palace and Anmer Hall but it's now been suggested that Prince William and Kate are eying up a new cottage, Adelaide Cottage, which could be the perfect family home. Located in Windsor, it would mean that the future King and Queen consort and their children would be near to Her Majesty whilst retaining their own space.
But when was Adelaide Cottage, Windsor built, who lives there now and how close is it to the Queen? We reveal what you need to know about this idyllic home…
Where is Adelaide Cottage, Windsor?
Adelaide Cottage is in Windsor Home Park, a private royal park which is looked after by the Crown Estate. It's located on the eastern side of the Windsor Castle grounds and is very close to St George's Chapel, where Prince Philip's funeral was held last year and where Prince Harry and Meghan Markle's wedding was held in 2018.
Adelaide Cottage is reportedly just a 10 minute walk away from Windsor Castle making it ideal for the Duke and Duchess of Cambridge and their three children if they are indeed considering a move to Berkshire.
When was Adelaide Cottage built?
Just like the other royal residences fans are so intrigued by, Adelaide Cottage also has a rich history. It was built in 1831 and commissioned by King William IV for his wife Queen Adelaide, whom the cottage was named after. Since the days when they would spend relaxing day trips, Queen Victoria also reportedly enjoyed visiting this peaceful cottage which was apparently previously called Adelaide Lodge.
It's been suggested that the Queen's great-great-grandmother would often have tea and breakfast there. According to the Royal Collection Trust, it was built by architect and garden designer Jeffry Wyatville and incorporated building material from the nearby Royal Lodge too.
Today the property is said to be a Grade II-listed building which means that it's considered to have great historical or architectural significance and is accordingly protected by the law.
Though Adelaide Cottage, Windsor supposedly underwent major renovations back in 2015, with Town&Country reporting that the residence is said to boast some rather elaborate decorative elements inside. These reportedly include gilded dolphins and rope decoration on the ceiling of the master bedroom, which is said to have been recycled from an 19th century royal yacht.
Adelaide Cottage is even believed to have a marble Graeco-Egyptian fireplace adding another sumptuous and historic aspect to the décor.
Who owns Adelaide Cottage?
Adelaide Cottage, Windsor is understood to be a grace-and-favor property which would mean that it belongs to the Queen because of her position as the monarch. Her Majesty is then able to lease it rent-free to other people, either as part of some kind of employment package, or due to gratitude for services to her.
However, she doesn't privately own Adelaide Cottage like she does Sandringham House and Balmoral Castle, which she could one day choose to sell or pass on to any members of her family if she chooses.
Who lives at Adelaide Cottage now?
It's thought that no-one currently lives at Adelaide Cottage, though reports have suggested that Prince William and Kate Middleton consider this Windsor home their "best option" when it comes to the properties on the Windsor Estate.
Opening up to The Sun, a royal insider claimed that, "Finding a way to make Adelaide Cottage work seems to be the best and only option. There are issues with all the other houses, so Adelaide will be the favorite."
The Duke and Duchess of Cambridge have yet to directly confirm a possible Berkshire move, though if they do choose to settle at Adelaide Cottage this would certainly make sense. Not only is it within walking distance of Her Majesty at Windsor Castle, but it's been relatively newly renovated, likely meaning it's much more up-to-date for their needs as a family of five.
The Duchess also grew up in Bucklebury village in Berkshire and although it's been claimed Carole Middleton visits in her land rover regularly at Kensington Palace, a move to Windsor would also mean the Cambridges were close by to Carole and Michael Middleton.
Who used to live at Adelaide Cottage?
Whilst it's thought that Adelaide Cottage could be set to become the new home of Prince William and Kate Middleton in the future, this royal residence has had its fair share of prominent residents since it was first built. Perhaps the most notable in recent years was Group Captain Peter Townsend, who will likely be a familiar name to not only royal fans but avid watchers of Netflix hit, The Crown.
As equerry to King George VI—the Queen's father—Peter reportedly lived there with his wife in 1945. The couple later divorced in 1952 and the world was left astounded when the news broke that Peter and Princess Margaret were in a romantic relationship with one another.
Before 2018 when rumors began to circulate that the Duke and Duchess of Sussex were going to make Adelaide Cottage their home, someone else with a strong royal connection was apparently living in the property. Simon Rhodes, the son of the late Margaret Rhodes, the Queen's first cousin and a Lady-in-Waiting to the Queen Mother, is said to have previously resided there.
Of course, the residence also remained a popular choice, if not permanent home, for visits from King William and Queen Adelaide when it was first built. So much so, that the late Queen supposedly had her pet spaniel, Dash, buried in the grounds there.
Despite the speculation that once surrounded the idea of a Sussex move, Prince Harry and Meghan never went on to make Adelaide Cottage either their part-time or full-time residence. Instead, Frogmore Cottage remains their official UK base and is also located on the Windsor Estate.
If Prince William, Kate Middleton and their family do indeed end up making Adelaide Cottage their home in the not-too-distant future, this already historic residence will likely become even more iconic in the minds of many fans.
Emma is a Senior Lifestyle Writer with six years of experience working in digital publishing. Her specialist areas including literature, the British Royal Family and knowing all there is to know about the latest TV shows on the BBC, ITV, Channel 4 and every streaming service out there. When she's not writing about the next unmissable show to add to your to-watch list or delving into royal protocol, you can find Emma cooking and watching yet more crime dramas.