Meghan Markle's horoscope suggests a house move might be on the cards after she stayed home during coronation
Could this be a good time for the Sussexs to relocate? Here's what an astrologer thinks...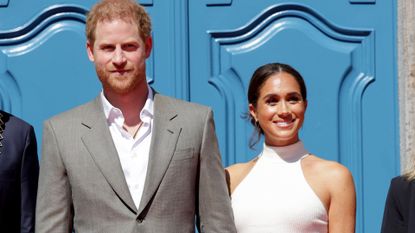 (Image credit: Getty)
According to Meghan Markle's horoscope, now might be a good time for her and her family to relocate.
Whether you believe firmly in horoscopes and astrology or not, you likely still feel a sense of intrigue when someone claims to have your weekly horoscope. We especially love learning about what our horoscopes have to say about our careers, love lives, and even our family lives - and Meghan Markle's most recent horoscope just revealed something rather fascinating.
Meghan is a Leo, one of the fire signs - Leos are often associated with confident and big-hearted personalities.
According to woman&home's astrologers, Leos should have one focus for the week of May 8-14: their home.
"The focus is on your home. Perhaps it's time to rearrange furniture or redecorate your living space. A move may be on the horizon. Feeling at home is most important," astrologist Sally Trotman revealed.
Well, this certainly makes sense, seeing as Meghan opted to stay home in Montecito, CA with Archie and Lilibet during the coronation of King Charles, while Harry attended the event solo.
But, the next part of Meghan's horoscope is what really got us, "If you're ready to jump ship or make a move to bring a short, sharp end to a situation, do it and mean it. Under these stars, there's no going back."
There's no question that Harry and Meghan's relationship with the rest of the royal family is strained, especially since late 2022, when Harry released his tell-all memoir, Spare, and they released a collaborative and intimate Netflix documentary about their lives, aptly titled Harry & Meghan.
At the coronation, Harry did not walk in with his brother, Prince William - instead, he entered with two other non-working royals, Princess Beatrice and Princess Eugenie. Harry did notably have a few 'moments of sadness' throughout, according to a body language expert.
While Harry was in London at Westminster Abbey, Meghan was at home, hiking early in the day with friends, and then preparing a celebration for Archie's fourth birthday. As soon as the coronation ceremony was over, Harry was seen getting into a car by himself that took him to the airport so that he could catch a flight back to California to make it to Archie's low-key birthday party.
So far, Meghan has not said anything regarding the coronation ceremony or why she was not in attendance.
Madeline Merinuk is woman&home's US lifestyle news writer. She covers celebrity, entertainment, fashion, and beauty news but is also obsessed with internet trends - you can find her reciting trending TikTok sounds out loud at any given time.
After winning multiple student journalism awards for her investigative work, she graduated from Hofstra University in 2021 with a B.A. in Journalism. After graduating, she worked at today.com, the digital site for the Today Show, where she wrote pop culture news and interviewed big-name personalities like Emily Ratajkowski, Haley Lu Richardson, Emma Corrin, and more.
Her personal interests, in no particular order, are: cheese, Joni Mitchell, reading, hot yoga, traveling, having multiple chapsticks in every handbag at all times, and dancing to ABBA songs as if she were in the Mamma Mia movies.