Harry's 'moments of sadness' at the coronation revealed
A body language expert unpicks Prince Harry's actions during the coronation ceremony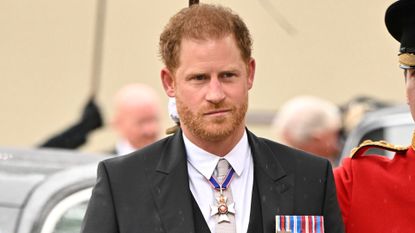 (Image credit: Getty)
Prince Harry attended the coronation of his father, King Charles III, on May 6, without his wife, Meghan Markle.
A body language expert has revealed what they found of Harry's mannerisms during the ceremony.
It was the first time Harry had seen his family since the funeral of Queen Elizabeth II.
---
The Duke of Sussex arrived without his family at Westminster Abbey just a half hour before the official coronation ceremony of King Charles began. He walked in with fellow non-working royals, Princess Eugenie (who's hot pink dress paid tribute to her daughter) and Princess Beatrice, who also attended the ceremony with their husbands.
A body language expert took the time to analyze Prince Harry's body language during the ceremony - and we were very curious about what the verdict was.
When Harry showed up to the ceremony, he was all smiles, greeting dignitaries and royals from across the globe who also attended the momentous occasion, and making brief interactions with the royal family.
Speaking on behalf of Betfair Bingo, body language expert Darren Stanton gave woman&home the down-low about Prince Harry's actions during the ceremony.
Harry, of course, was happy for his father. "Harry was confident and seemed genuinely quite elated throughout the ceremony. He showed signs of pride towards his father," Darren says.
However, due to the continually rising tensions between Harry and his still-working royal family members, there was some sadness, says Darren.
"During the procession as King Charles passed Harry on his exit from the Abbey, Harry displayed fleeting moments of sadness within his facial expressions," he said. "As he was on the outside looking on, it seemed Harry experienced feelings of nostalgia too."
Darren went on to say that it appeared as though Harry was looking for a companion while seated at the ceremony, someone to help him reassure himself - seeing as the Duke's immediate family, his biggest support system, was in California celebrating their son Archie's fourth birthday.
"A noticeable moment was when Harry was seated in the Abbey, he was looking for a reassuring figure and appeared slightly out of sync compared to everyone else," Darren notes. "We saw him adjusting his sleeves in a bid to reassure himself - a tell-tale pacifying gesture."
He does note that, as the ceremony progressed and Charles was officially coronated, he began to feel more at ease and was able to relish in the festivities of this momentous day.
"He displayed signs of emotion and compassion throughout the ceremony, which was no doubt challenging for him at times," Darren says. "However, as the ceremony played out, we saw Harry ease, in his stance and his expressions. He relaxed and gained more confidence, appearing how he did when he first arrived."
After the ceremony, Harry was seen getting in a car to take him to the airport so that he could fly back to California for Archie's birthday celebration.
Madeline Merinuk is woman&home's US lifestyle news writer. She covers celebrity, entertainment, fashion, and beauty news but is also obsessed with internet trends - you can find her reciting trending TikTok sounds out loud at any given time.
After winning multiple student journalism awards for her investigative work, she graduated from Hofstra University in 2021 with a B.A. in Journalism. After graduating, she worked at today.com, the digital site for the Today Show, where she wrote pop culture news and interviewed big-name personalities like Emily Ratajkowski, Haley Lu Richardson, Emma Corrin, and more.
Her personal interests, in no particular order, are: cheese, Joni Mitchell, reading, hot yoga, traveling, having multiple chapsticks in every handbag at all times, and dancing to ABBA songs as if she were in the Mamma Mia movies.