Harry and Meghan will donate $1 million to American women through a project 'inspired by the Duchess' Archetypes podcast'
Harry and Meghan will distribute $1,000 grants to American women through their Archewell Foundation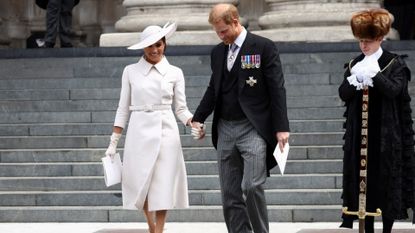 (Image credit: Getty)
The Duke and Duchess of Sussex have just announced their latest charity initiative through the Archewell Foundation: a pledge to donate $1 million to VING, who will then distribute $1,000 grants to women all across the United States of America.
This is the couple's latest charitable effort since leaving their royal titles behind and moving to the United States
Teenagers between the ages of 14 and 18 will be able to nominate women around the country
Inspired by her own Spotify podcast, Archetypes, in which female guests discuss matters concerning gender, stereotypes and race, Meghan recently went on the record about the new initiative.
"Two things that bring me great joy are supporting women, and the spirit of giving," the Duchess said in an official statement. "With the return of Archetypes, Archewell Foundation and VING have come together to create the perfect combination of these loves. By donating $1million in grants to women in need, our hope is not only to provide support where it may be felt deepest, but also to empower young adults to embrace the gift of giving at an early age. I'm very proud of this partnership and the good we hope to see come from it."
Specifically, the Archewell Foundation has committed to donate $1 million to VING, who will then give out the various $1,000 grants to nominees. As for who can be nominated, choices must be US citizens and cannot be part of the nominator's family.
Past charitable efforts by the couple include a donation of diapers to a charity in Los Angeles and another to a fund set up to support the Zajfen family, also in Los Angeles, whose son died suddenly.
The couple has recently spoken up about their work for their own foundation. In a relatively recent interview with The Cut (opens in new tab), Meghan and Harry revealed that they share a home office, for example, where they work from two plush club chairs placed side by side behind a single desk.
"Most people that I know and many of my family, they aren't able to work and live together," Harry said to the outlet. "It's actually really weird because it'd seem like a lot of pressure. But it just feels natural and normal."
Anna Rahmanan is a New York-based writer and editor who covers culture, entertainment, food, fashion and travel news. Anna's words have appeared on Time Out New York, the Huffington Post, Fortune, Forbes, Us Weekly, Bon Appetit and Brooklyn Magazine, among other outlets.