Carole Middleton's subtle summer hair go-to that helps add a 'youthful glow'
Carole Middleton's summer hair go-to keeps her looking glowing and youthful, an expert says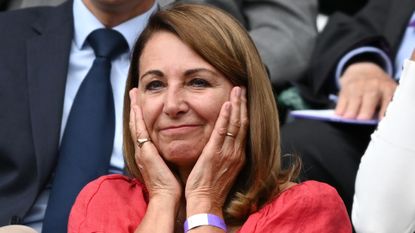 (Image credit: Getty Images)
Carole Middleton's go-to summer hair provides her with a 'youthful glow' that is easy to replicate at the salon, a hair expert says.
Carole Middleton's warm, subtle highlights in her perfectly-shaped long bob haircut provides her with a look that ages her 'gracefully' and helps her complexion to glow, a hair expert has said.
Kate Middleton's mom no doubt passed on the gift of her thick brunette locks to the Princess of Wales and keeps hers styled with a cut that compliments her face shape.
---
It's often Carole Middleton's impeccable style that wows fans of Kate Middleton's mother, with the likes of her sleek style hack and her fashion staple for royal weddings never failing to impress.
However, it's Carole's subtle touch to her thick brunette locks that really gives her a certain air of on-trend glamor and a 'youthful glow', a hair expert has said.
Carole likes to keep her long, layered bob warm and bright with subtle highlights, especially in the spring and summer months - something that Kate Middleton has been known to rock over the years as part of her hair transformation.
According to Nicole Petty, hair expert at Milk + Blush, Carole's enviable style is achieved with simple coloring and a strategic cut to suit her face shape - and it's easy to replicate at your pre-summer trip to the hair salon if you're not quite ready to embrace some of the slightly bolder hair trends of 2023.
"In her younger years, Carole wore her naturally dark hair in a thick shoulder-length bob cut, with a heavy brow-length side-fringe," Nicole told woman&home, adding, "However, more recently, she has updated her look, adding warm tone highlights to her chestnut locks, and opting for a lob, layers and lighter pieces around the face."
Pointing out that the warm, blonde-toned highlights in Carole's tresses are strategically placed to boost their power, Nicole continued, "Her highlights are concentrated around the crown of her head and towards the front of her face, which work beautifully to add warmth and soften her facial features.
"The addition of lighter hues around the crown also creates a lifting effect which adds tonal texture and volume to her hair which may otherwise appear flat. The result gives her a more youthful look and is what allows her hair to age gracefully."
Nicole also explained that Carole's cut perfectly compliments her "squarer" face shape and bone structure, with her "lob haircut as the soft layering and gentle curl at the ends" helping to "soften her angular features and elongate her face".
If you're a brunette keen to replicate Carole's warm and golden look, Nicole recommends discussing the best tones for your complexion with your stylist, as well as the placement of your new highlights.
She said, "For a lifted look like Carole's, focus the highlights on the crown of the head and ask your stylist to blend the colour by applying a freehand balayage technique through the mid-lengths to ends for a natural look.
"You can also ask for face-framing 'money pieces' which soften your features and add more direct warmth to the complexion."