Who is still together from Love is Blind season 4?
If you're wondering who is still together from Love is Blind season 4 then here's all we know so far ahead of the wedding ceremonies airing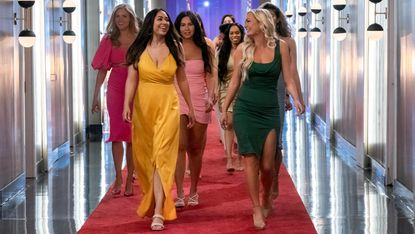 (Image credit: Cr. Monty Brinton/Netflix © 2023)
"Who is still together from Love is Blind season 4?" might be the question on your mind since watching the first two parts of this explosive new season.
From the moment the prospective couples meet in the pods to their first glimpse of each other, many of us can't help wanting to jump ahead to the Love is Blind finale episodes to learn if the romances will stand the test of time. Sadly, the staggered releases of the season mean that's not possible and we just have to anxiously wait to find out if our favorite couples will make it. There are several couples who are still married from Love is Blind as well as multiple divorces from previous seasons too. Following hot on the heels of the drama in Love is Blind season 3, the latest season is even more dramatic and shocking.
Here we reveal all we know so far about who is still together from Love is Blind season 4 and what has been hinted at ahead of the remaining episodes…
*Warning: Spoilers ahead*
Who is still together from Love is Blind season 4?
Are Zack and Irina still together?
Ever since Zack and Irina set eyes on each other and their shockingly awkward first meeting it's no surprise that many people have been wondering if Irina and Zack from Love is Blind season 4 are still together. Ordinarily, we would have to wait to find out whether they are still together by the end but thanks to episode 5 of season 4 we already have an answer. Zack and Irina aren't still together and they broke it off in episode 5.
Talking (once again) across their bed. sitting as far away from each other as possible Irina told Zack that she thought it would be better if they didn't sit next to each other on the plane home. This followed a conversation earlier in the day where Zack had asked what they were doing and whether they could work through their issues, suspecting he wasn't Irina's type.
After Irina's statement about the plane, Zack declared, "I think we're on the same page. I think we should call it. I don't think it's going to work out."
He described the past week as "horrible" and Irina admitted, "Like, you got the worst part. This is like…I've never made anyone feel this way. I'm literally treating you so poorly. Like I know it. Like, I won't even look at you, like touch you."
Lack of chemistry or physical attraction from Irina's side towards Zack had been a recurring theme for the Love is Blind season 4 couple after they left the pods. During their break-up conversation Irina said she didn't "regret" picking Zack but also confessed to having an amazing conversation with her best friend Micah's fiancé Paul and how it made her question why she hadn't had that with Zack.
Things ended relatively amicably between Zack and Irina after they got everything off their chests. Irina even told Zack she hoped he'd have a chance to see Bliss (who he almost picked in the pods) when he got back to Seattle. This actually came to pass at the end of the episode ahead of the credits when Bliss arrived at a diner to meet with Zack outside the pods for the first time.
Are Zack and Bliss still together?
Surprising though it might seem, Bliss gave Zack another chance after he picked Irina over her in the pods and Zack and Bliss are firmly back together, just when you thought both of their Love is Blind season 4 journeys were over. After meeting for the first time after Zack and Irina broke up, he explained what a mistake he thought he'd made and although Bliss was responsive, it wasn't immediately clear that they'd be meeting up again. They enjoyed another date at his apartment where he cooked her some delicious-looking shrimps.
In an unexpected twist, Bliss and Zack slow-danced in his home and then next thing we knew they were enjoying a romantic boat date. Zack proposed and Bliss accepted, although there were still a few moments from the couple in the most recent episodes which suggest that Zack choosing her only after initially choosing Irina might still weigh on Bliss' mind. They eventually turned up to a party held for Chelsea's birthday - much to the shock of everyone else who didn't know that they were back together or engaged.
Whilst we will have to wait and see whether Bliss and Zack are still together by the end of Love is Blind season 4, they aren't following each other on Instagram. This might be a sign that after their even more accelerated love story and route to the aisle, they decided to part ways. Especially after Bliss told Zack in the preview for the next few episodes, "It's ok to change your mind in things" after talking about wanting it to be "right" given both their parents' got divorced.
Are Kwame and Chelsea still together?
As far as the episodes that have aired so far are concerned, Kwame and Chelsea are still together in Love is Blind season 4. In real-life contestants keep things pretty subtle so as not to spoil the show finale but the signs perhaps aren't good. Kwame doesn't have any pictures of Chelsea on his Instagram but then Chelsea doesn't have any of him either. Chelsea is following many of her women cast mates including Irina, Bliss and Tiffany on Instagram, but doesn't appear to be following her Love is Blind beau.
Kwame doesn't look to be following Chelsea either and though they might just be keeping things low-key until the season is over their social media distance could be a sign that they're not going to say, "I do". When Love is Blind season 4 first started Kwame was head over heels for Micah in the pods and was devastated when she said she thought they should pursue other connections.
Micah ended up accepting Paul's proposal (after he picked her over Amber) and Kwame had a blossoming connection with Chelsea and proposed to her. He and Chelsea seemed made for each other but things got a little rocky when the couples socialized together for the first time outside the pods.
Micah and Kwame had a long conversation together that started after Micah had proposed to take a shot with the cheers, "To a failed proposal". Kwame hadn't technically proposed to her and he was deeply hurt. The pair then had a conversation by the pool with a lot of deep looks into each other's eyes and talking about how much they care for each other and how real their pod connection was. Chelsea noticed and was upset about how lengthy the conversation was.
She and Kwame later discussed it and she eloquently explained why she felt that talk was unnecessary and wanted him to move on. He agreed and all seemed fine and Chelsea's dad seemed to get on with Kwame when they met. Kwame did suggest he wanted to travel which might potentially be an issue later on and his mom was upset about his engagement news when he phoned her and she hasn't met Chelsea yet.
The preview for the next lot of Love is Blind season 4 episodes suggested that this could potentially be a factor in whether they tie the knot. We see Chelsea getting emotional trying on a wedding dress and then hear Kwame saying, "I love you with all my heart."
Then Chelsea asks an all-important question, "Will you say yes to me without your mom's approval?"
Kwame's answer isn't given in the preview but he definitely looks pensive as he considers his fiancée's question.
Are Brett and Tiffany still together?
Brett and Tiffany look like one of the strongest couples who could still be together from Love is Blind season 4 and have consistently appeared to be the couple on the same page the most. In real-life it's currently looking likely that they are still together as both follow each other on Instagram. Brett's last grid post is also a picture of the moment he saw Tiffany outside of the pods for the first time and was overwhelmed with happiness which couldn't be more adorable.
The only really dramatic moment which perhaps got people wondering if they would go the distance came when they were still in the pods. Brett was pouring his heart out to Tiffany, not realizing that she'd fallen asleep on the sofa in her pod and couldn't hear a word. Thinking she'd walked out mid-conversation Brett left his own pod and the other women came in to wake Tiffany up and broke the news that Brett was gone and the date was over.
Tiffany had feared that he wouldn't show up to their next date but he did and after hearing what happened he forgave her. Since then they've been closer than ever and seem to be the most solid couple outside the Love is Blind pods. So much so that Kwame even brought them up when he and his fiancée Chelsea were talking about who they think will make it.
"Brett and Tiff, I think they're gonna survive. I just have so much hope in them. My goodness if Brett and Tiff don't make it, it will eat me alive," Kwame declared.
So it seems like they've got the cast members' seal of approval but once again whilst the signs look good, we'll only know if Brett and Tiffany got married after the final episode drops. There was certainly nothing in the recent preview to suggest that a break-up could be on the cards as Tiffany looked delighted to be surprised with photos of her wearing her engagement ring from Brett.
Are Micah and Paul still together?
Micah and Paul don't have any pictures together on their grids but they are still following each other on Instagram, just like Brett and Tiffany. After they came out of the pods Micah and Paul seemed pretty happy together, though if Micah's conversation with Kwame upset Chelsea it's possible deep down Paul was a little unsure about this too.
In recent episodes we saw Micah's friend Shelby telling her that she's "meant to have the best wedding" before exclaiming tearfully, "This isn't it!" after meeting Paul for the first time. Despite this their family meetings seemed to go very well and all looked on track, however the preview for the final episodes could perhaps suggest that they might have doubts on the wedding day itself.
"It's a big decision," she says. "I just don't know, like, what he's going to say."
Paul is then seen before the ceremony saying he's "stressed" and when Micah is face-to-face with him in the ceremony, she decides that it would be "best" for him to give his "yes" or "no" answer before her.
"I think that the best thing I can do for us is to give you the opportunity to answer first," she declares.
Their guests look shocked at this, but given they're still following each other, Micah and Paul might have moved past any uncertainty. If so, they would be a couple who is still together from Love is Blind season 4.
Are Marshall and Jackie still together?
In terms of who is still together from Love is Blind season 4 Marshall and Jackie seemed pretty loved-up in the pods but there have been a few emotional moments, such as when as they anticipated their return to real life outside the experiment. Jackie broke down in tears, seemingly afraid worried about how Marshall was going to fit into her life and with family.
He in turn reassured her that he was there for her and remained solidly by her side and supportive as she cried. Outside of this moment they've been generally pretty happy together although in real-life whilst Marshall still follows Jackie on Instagram, she doesn't follow him.
In recent episodes we saw Marshall return to their shared apartment after leaving following an argument. As he described it, Jackie had asked him to be "more aggressive" and assertive with her, which upset Marshall. Since then things have been difficult between them and at Chelsea's birthday party she met Josh from the pods again. He insisted he was a better fit for her and straight up asked Jackie if she was going to marry Marshall - all while Marshall was across the room.
We never heard his answer but the preview shows Josh telling Jackie that losing her was his "biggest regret" before Marshall says to his fiancée, "I need answers".
"I think you're so sweet," Jackie goes on to say, hugging an upset-looking Marshall before urging him, "Just love me."
It's not known how things stand by their wedding day and Jackie and Marshall aren't following each other on Instagram. Perhaps this is really just a small moment and the couple are still building a relationship, though this might not be a good sign ahead of the next few episodes.
Love is Blind is available to watch via Netflix, with new episodes coming Friday, April 7 and the finale episode coming Friday, April 14.
Sign up to our free daily email for the latest royal and entertainment news, interesting opinion, expert advice on styling and beauty trends, and no-nonsense guides to the health and wellness questions you want answered.
Emma is a Royal Editor with seven years of experience working in digital publishing. Her specialist areas including literature, the British Royal Family and knowing all there is to know about the latest TV shows on the BBC, ITV, Channel 4 and every streaming service out there. When she's not writing about the next unmissable show to add to your to-watch list or delving into royal protocol, you can find Emma cooking and watching yet more crime dramas.