Virgin River season 5: cast, plot and all we know so far after *that* season 4 ending
If you're eagerly waiting for Virgin River season 5 you're probably not alone as there are plenty of loose ends to be tied up in the next series...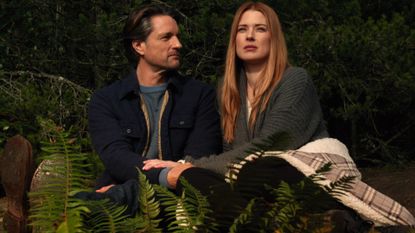 (Image credit: Cr. COURTESY OF NETFLIX © 2022)
Virgin River season 5 likely can't come soon enough for long-time fans of the hit drama as they reel from the twists and turns of the season 4 finale.
Virgin River has more than delivered on the drama front over the years, giving long-time fans plenty of romantic entanglements and intense mysteries to lose themselves in. From the matter of whether Brady dies in Virgin River to who *actually* shot Jack, anyone who reminded themselves about some of the show's biggest questions with a Virgin River season 3 recap likely had big expectations for season 4. Viewers had to wait over a year for this latest instalment to land on July 20th and anyone who's already raced through to the finale is likely already wondering about Virgin River season 5.
Here we reveal whether the show has been renewed, who might be in Virgin River season 5 and what we can expect following on from that shocking final episode…
*Warning: spoilers ahead!*
Will there be a Virgin River season 5?
There's been a flurry of renewals of hit shows so far this year from The Tourist season 2 to confirmation we'll see The Responder cast return and Virgin River fans will be delighted to know that the drama will also be back. Long-time viewers might already have known for a while as news broke last year that Virgin River was confirmed for seasons 4 and 5 in one go.
At the time, Virgin River cast members Ben Hollingsworth (Dan Brady) and Colin Lawrence (John 'Preacher' Middleton) took to Instagram to announce the exciting news. They revealed also that season 4 would be having 12 rather than the 10 episodes the show's previous seasons had consisted of.
"So excited to share with you that our little show has been picked up for two seasons!!!! Thank you all for being the best fans ever!!!!!" Colin wrote in the heartfelt caption.
So whilst Virgin River season 4 has left us with plenty of serious questions to be answered, it hopefully won't be long before season 5 arrives and draws us back into the complex and captivating world of the Virgin River residents.
When will Virgin River season 5 be released?
Sadly, there is currently no Virgin River season 5 release date confirmed though the show took to Instagram on July 18 to announce that production on this next series has now begun. It's recently also reportedly been confirmed by Alexandra Breckenridge and Zibby Allen that the fifth instalment will follow the pattern of season 4 and be 12 episodes long.
Both seasons 3 and 4 have been released in the month of July in the past, while season 1 was released in December 2019 and season 2 in November 2020. With Virgin River season 5's production having only recently started, it could be that fans might potentially have to wait until 2023. Until news is officially announced, we'll just have to hope the new series arrives in the not-too-distant future.
Who will be in the Virgin River season 5 cast
The full Virgin River season 5 cast has yet to be confirmed but there are certain stars who we can expect to be back in action for the next instalment. Martin Henderson who plays Jack Sheridan has already spoken about being back filming with Mel Monroe's actor Alexandra Breckenridge. They will also be joined in the next season's cast by Tim Matheson as Vernon 'Doc' Mullins and Annette O'Toole as Virgin River Mayor Hope McCrea.
And whilst not announced officially, a recent snapshot of the cast during a Virgin River season 5 table read shared by the show on social media has dropped some heavy hints about who else could be returning.
Amongst those seen on screen are Benjamin Hollingsworth as Dan Brady, Mark Ghanimé as Cameron Hayek, Colin Lawrence as John 'Preacher' Middleton, Marco Grzzini as Mike Valenzuela, Chase Petriw as Christopher, Sarah Dugdale as Lizzie, Kai Bradbury as Denny Cutler and Zibby Allen as Brie Sheridan, as well as several others.
This would certainly make sense given where Virgin River season 4 left off and the plot threads surrounding many of these characters that we can expect to be developed going forwards.
What do we know about the Virgin River season 5 plot?
Unlike other long-running hit shows like This Is Us and Silent Witness which often have fluid timeframes or begin new seasons months after the last one ended, Virgin River season 5 will reportedly pick up where season 4 left off.
Opening up to TVLine (opens in new tab), the incoming showrunner for the new season, Patrick Sean Smith, revealed that there will be no time jump as he hopes to create a smooth transition between the two latest instalments.
"There's no time jump between four and five," he said. "There is a lot going on, and it took me a while to get my head around what [the characters have] all been through, where they're heading and where I'd like them to go. I wanted it to be as seamless as possible."
So whilst we might not know much for certain about Virgin River season 5's storyline, the recent season 4 finale could give us plenty of hints about what to expect. In the season 4 finale, two pregnancies took centre stage plot-wise and there was relief all round for Mel and Jack fans as after all the uncertainty all season long, he was revealed to be her baby's father.
Newly-engaged and with a new arrival on the way, Mel and Jack's journey to build a family together will likely be a major plot point in Virgin River season 5. Though if Virgin River has taught us anything it's that the road probably won't be a smooth one as Charmaine's betrayal rocked viewers in the final episode of season 4.
After claiming that Jack was the father of her twins, Charmaine confessed that she'd lied about the paternity after he found her lying on the floor in extreme distress. She described this as "karma" for what she'd done as a shocked Jack and Mel reel from the news and the credits start to roll.
This leaves Virgin River season 5 to (hopefully!) resolve the matter of who the father really is and although Charmaine's confession makes Jack and Mel's own family situation a little less complex, they will also have to come to terms with the lie she told.
And that wasn't the only devastating twist in the Virgin River season 4 finale as viewers finally learnt why Doc's grandson Denny won't commit to a future with Lizzie. He's revealed he has Huntington's Disease and described himself as not having a future himself any longer and won't tie himself to Lizzie knowing this.
Meanwhile, Paige narrowly avoided being killed by Vince, all thanks to Preacher. Though it's not known what state Vince was left in, alive or dead, she at least escaped the season alive ahead of Virgin River season 5.
With all of this and more leaving fans on tenterhooks, Virgin River season 5 has so many avenues to explore and endless dramatic possibilities. It's already been described by Jack's actor Martin Henderson as the "best" yet during an enlightening interview with Glamour (opens in new tab).
"Season five's great, by the way. It's the best season yet. I'm amazing in it," he teased, before going on to share that he does know who the father of Charmaine's twins is, though, of course, he's not telling as things could change…
"I was told who it was supposed to be in the writer's minds, but I haven't seen it written," Martin said. "One thing I know around here is you can't count your chickens until they're hatched in terms of plot lines, because there's this sense that it could be who you think, but then what's the more shocking choice? I don't know where they've landed on that, but the one I heard is really, really good. It's juicy."
The star also expressed his belief that Virgin River season 5 will see Jack and Mel grow closer than ever - music to the ears of long-time fans of their romance.
"[F]rom what I understand this season, you're going to also see Mel and Jack get really close. Some of the stuff they're going to go through is really going to cement their bond," he explained, before later adding, "What I'm hoping in season 5 is actually seeing them get closer together through adversity rather than being pushed apart, because I actually think the audiences love that."
Whatever happens plot-wise in Virgin River season 5 it's clear that all the romance, drama and intrigue that made the show such a hit aren't going anywhere…
Emma is a Senior Lifestyle Writer with six years of experience working in digital publishing. Her specialist areas including literature, the British Royal Family and knowing all there is to know about the latest TV shows on the BBC, ITV, Channel 4 and every streaming service out there. When she's not writing about the next unmissable show to add to your to-watch list or delving into royal protocol, you can find Emma cooking and watching yet more crime dramas.