The Madonna biopic is on an indefinite holiday - and people have thoughts
The Madonna biopic is no longer in production as of January 24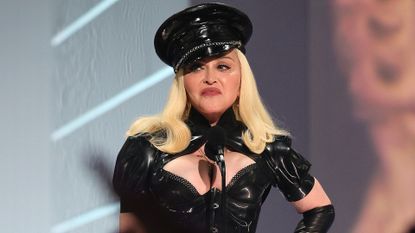 (Image credit: Theo Wargo/Getty Images for MTV/ViacomCBS))
Julia Garner was poised to star as Madonna in an upcoming biopic, but the production stopped after Madonna announced her upcoming world tour.
If you thought Madonna's new music video that announced her 40th anniversary tour was the most updated news on the pop star recently, think again. On January 24, multiple sources told Variety that the Madonna biopic would not be moving forward with production after Madonna announced her upcoming world tour.
Biopics are a dime a dozen nowadays, with the booming popularity of flicks like Elvis and Bohemian Rhapsody - but the difference between biopics of years past and Madonna's was that this movie was set to be directed by Madonna herself.
According to Variety, Madonna's sole focus for 2023 was her tour, and because of it, they would have to halt production until a later date - but didn't specify any date or year in particular. However, insiders did say that the Madonna biopic team is still wholly dedicated to making the biopic happen one day.
The Madonna biopic was set to star Ozark and Inventing Anna star Julia Garner as Madonna - but she wasn't the only actor considered for the role. Rumored to have been considered are the likes of The Wonder star Florence Pugh and Sydney Sweeney from HBO's Euphoria - who all were rumored to have attended a "Madonna bootcamp" (we wonder if they had to mimic Madonna flashing her thong) to see who was most fit to play the role. Turns out, Madonna bootcamp probably wasn't so necessary after all.
Although it's understood the movie production was halted prior to the tour announcement, Variety's sources said that the primary reason for the cancellation was so Madonna could focus on her tour - which will be taking up a lot of time, seeing as she'll be doing shows in 35 cities in North America and Europe. The tour is set to include a selection of Madonna's best hits over the past 40 years, so fans can expect to see performances of Vogue, Like a Prayer, Like a Virgin, Holiday, and more.
Although the movie never had an official release date, fans who were looking forward to the film have been sharing their reactions on social media.
"People have spent the last year shoving the Madonna biopic down everyone's necks only for it to be scrapped at the last minute," someone tweeted.
Someone hilariously commented under Variety's Instagram post that broke the news, "THE MADONNA BOOTCAMP WAS FOR NOTHING?!?"
Others are sharing their thoughts about what the biopic would've been like had it come out sooner, saying that she may still be too young for a biopic about her life to be released. "Too soon for a Madonna biopic. Once she retires from the stage she should consider it," someone commented under a TikTok. But, as Madonna once said, she never thinks about her age - so the biopic probably wasn't an exception.
"I was looking forward to it but her life & career is so unique I can't imagine what angle the movie would've taken," one person commented under another TikTok that broke the news of the cancellation.
Madeline Merinuk is woman&home's US lifestyle news writer. She covers celebrity, entertainment, fashion, and beauty news but is also obsessed with internet trends - you can find her reciting trending TikTok sounds out loud at any given time.
After winning multiple student journalism awards for her investigative work, she graduated from Hofstra University in 2021 with a B.A. in Journalism. After graduating, she worked at today.com, the digital site for the Today Show, where she wrote pop culture news and interviewed big-name personalities like Emily Ratajkowski, Haley Lu Richardson, Emma Corrin, and more.
Her personal interests, in no particular order, are: cheese, Joni Mitchell, reading, hot yoga, traveling, having multiple chapsticks in every handbag at all times, and dancing to ABBA songs as if she were in the Mamma Mia movies.