Madonna admits that she 'never' thinks about her age—especially when she's performing
The pop legend has had a career spanning 30 years and hasn't ever shied away from controversy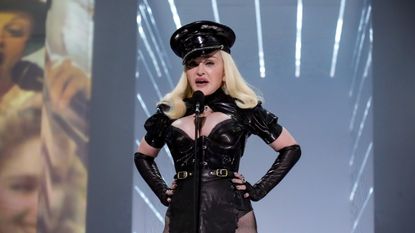 (Image credit: Jeff Kravitz/MTV VMAs 2021/Getty Images for MTV/ViacomCBS))
She's a true icon, and her career has spanned 30 years, but despite being in her 60s, Madonna has said she 'never thinks about her age'—especially when she's on stage.
The Like A Virgin singer, who has recently released a documentary about her Madame X tour (opens in new tab), spoke to V magazine (opens in new tab), about her career and opinions, and accompanied the interview with some exclusive, Marilyn Monroe-inspired photos.
The singer, who recently bought a 19-million-dollar mansion off another A-list celebrity (opens in new tab), also spoke about cancel culture and how people are scared to discuss anything publicly, for fear of being 'canceled'.
The singer, who has just celebrated her 63rd birthday said, "I don't even think about my age, to tell you the truth. I just keep going. Even when I performed almost my entire tour in agony, I had no cartilage left in my right hip, and everyone kept saying, 'You gotta stop, you gotta stop.' I said, 'I will not stop. I will go until the wheels fall off.'"
Madonna admitted in the interview that she never thinks about the 'limitations of time,' and went on to say, "I only think about it when extremely ignorant people say to me, 'Don't you think you've earned the right to just sit back and enjoy all of your success and all things that you've achieved... I say to them, 'Wait a second. Why do you think I do what I do?' 'Why do you do what you do? Do you have a stop date for yourself?'"
The Vogue singer also had a lot to say about 'cancel culture' and believes that some of us are being 'censored for fear of being canceled'. She said, "I believe that our job [as artists] is to disturb the status quo. The censoring that's going on in the world right now, that's pretty frightening."
"No one's allowed to speak their mind right now. No one's allowed to say what they really think about things for fear of being canceled, cancel culture. In cancel culture, disturbing the peace is probably an act of treason," she added.
The singer recently released her documentary, titled Madonna's Madame X (opens in new tab) —which is an account of her Madame X tour which supported her 14th album of the same name. The documentary captures the icon in her element, on stage performing for sold-out audiences and touring around the world.
The incredible show featured 48 on-stage performers from all over the world. Performers including Madonna's children, musicians, and dancers joined forces to showcase her brand new music as well as all the classics too! The documentary was filmed in Lisbon, Portugal in January 2020, just a few months before the world shut down thanks to the COVID-19 pandemic.
Sarah is a freelance journalist - writing about the royals and celebrities for Woman & Home, fitness and beauty for the Evening Standard and how the world of work has changed due to the pandemic for the BBC.
She also covers a variety of other subjects and loves interviewing leaders and innovators in the beauty, travel and wellness worlds for numerous UK and overseas publications.
As a journalist, she has written thousands of profile pieces - interviewing CEOs, real-life case studies and celebrities - interviewing everyone from Emma Bunton to the founder of Headspace.