Madonna Madame X Documentary—how to watch it and all you need to know about the superstar
Madonna has captured fans' imaginations for over three decades, but there's much more to the hitmaker than you might realize…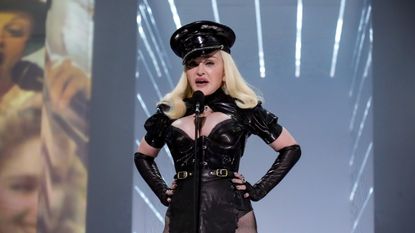 (Image credit: Jeff Kravitz/MTV VMAs 2021/Getty Images for MTV/ViacomCBS))
The Madonna documentary, Madame X, is sure to delight and thrill her die-hard fans and those of us looking to know more about the mysterious and sometimes controversial star.
How old is Madonna and is this her real name are the questions that are likely still on fans' minds as the performing legend continues to brilliantly entertain on everything from the stage to social media.
From her 80s hits to her modern fashion looks, Madonna is a true icon of the entertainment world and it seems there's little the singer hasn't achieved. And with the recent Covid-19 pandemic making family time all the more precious, her personal insights have resonated with fans like never before.
The proud mom shared an intimate video of her campervan vacation with her family and regularly shows the world how supportive she is of her six children. The star is known for pushing societal norms and It looks like the family are maintaining her legacy. For example, her son David Banda sent out a powerful message when he wore a stunning dress and confidently rejected gender fashion norms during memorial weekend, 2021.
After 40 years of performing greatness, Madonna has recently celebrated her milestone 63rd birthday. But while many Madonna fans might think they're already clued up on the singer and her family, there's much more to her than meets the surface.
From her brand new documentary, to her six children, her Golden Globe-winning performances and the roles she regrets turning down, here's everything you need to know about Madonna's age, family, and career...
---
Madonna Madame X Documentary
Madonna's Madame X documentary is an account of her Madame X tour which supported her 14th album of the same name. The documentary captures the icon in her element, on stage performing for sold-out audiences and touring around the world.
The incredible show featured 48 on-stage performers from all over the world. Performers including Madonna's children, musicians, and dancers joined forces to showcase her brand new music as well as all the classics too!
It was filmed in Lisbon, Portugal in January 2020, just a few months before the world shut down thanks to the COVID-19 pandemic.
On the documentary, Madonna said, "Sharing my vision with global audiences has been profoundly meaningful to me. The opportunity to bring its message and the incandescent artistry of all involved to an even wider audience comes at a time when music is so deeply needed to remind us of the sacred bond of our shared humanity."
The film will be streaming on Paramount+ on Friday, October 8, 2021 in the US, Latin America, Australia, the Nordics, and Canada.
UK viewers can watch it at 10pm on MTV UK, Friday October 8, 2021.
How old is Madonna and when is her birthday?
Madonna is 63 and she celebrated her birthday on August 16, 2021, remaining just as iconic as ever, after first rising to fame in the 1980s with hits such as Express Yourself and Papa Don't Preach. When previously asked about her opinion regarding ageism in the music industry during a wide-ranging interview with Billboard magazine (opens in new tab) upon being made Woman of the Year, the then-58-year-old Madonna was very clear in her response that the matter of how old she is does not in any way dictate things for her.
"I don't care. It's the rest of society that cares. I don't ever think about my age until someone says something about it," she revealed. "I feel that I have wisdom, experience, knowledge and a point of view that is important."
Five years later and Madonna celebrated her 63rd birthday in style, taking to Instagram to post an exciting selection of snaps as she unwrapped her gifts.
Captioning the post simply, 'Opening Birthday presents ………….. 💙 🍾 🎂 🎁', she looked beautiful as she shared the special moment with fans, her blonde hair braided and secured with stunning crystal-studded clasps.
But whether it's a bouquet of pink roses, a summer-staple straw hat or even a dramatic red bag, Madonna certainly kicked off her 63rd year with some fabulous and thoughtful gifts.
What is Madonna's real name and where was she born?
Madonna was born Madonna Louise Ciccone in Bay City, Michigan to a large and loving Italian-American family.
Best known throughout the past four decades by her professional moniker, Madonna, some fans might be surprised to learn that this is in fact her real name.
She is understood to have been named after her mother, who was herself called Madonna Louise. Though that wasn't the only name Madonna has had throughout her life.
In tribute to her and her family's Catholic faith, Madonna is said to have also taken the confirmation name Veronica during her younger years. The decision to retain her own first name for performing was perhaps a wonderful way for Madonna to honor her late mother, who tragically passed away from breast cancer when her daughter was just 5 years old.
Opening up during a 1995 Primetime interview about the impact her mother's death had upon her path in life, Madonna explained that it truly changed everything for her.
"I'm sure that it has influenced every decision that I've made and sort of left me with a feeling of hunger and longing; a feeling of emptiness and growing up afraid to love things because they're going to leave you," she poignantly shared.
Were Madonna and Sean Penn married?
As all die-hard Madonna fans will know, Madonna and Sean Penn were married for four years. The former couple tied the knot in 1985 on what was her 27th birthday and they even went on to act opposite each other in adventure film Shanghai Surprise, released a year later. Sadly, it wasn't to be for the talented stars, however. Madonna and Sean went on to divorce in 1989, with the singer citing irreconcilable differences.
Though Sean has since expressed his belief that his first wife will always hold a special place in his heart. In 2018, the actor appeared on The Late Show in a segment entitled "Sean Penn-y For Your Thoughts", where he was asked by host Steven Colbert to choose between Britney Spears and Madonna.
"Ah, I love my first wife very much," Sean responded, adding, "There's no [comparison]… you don't compare those things", before affirming that he would choose Madonna.
Whilst the singer previously described Sean as the "coolest guy in the universe" after dedicating her third album, True Blue, to him in the sleeve notes.
Was Madonna married to Guy Ritchie?
Madonna and British film director Guy Ritchie married in a stunning ceremony held just three days before Christmas in 2000. According to Grazia (opens in new tab), despite the high profiles of the bride and groom, the event was kept private, with the only glimpse of the couple around this time being when they took their son Rocco to be christened at Dornoch Cathedral the day before.
Madonna and Guy married at Skibo Castle near Dornoch in the Highlands of Scotland, with guests thought to have included Sting, Trudie Styler, Stella McCartney, Donatella Versace and Gwyneth Paltrow, who acted as maid of honor.
In a nod to his Scottish heritage, Guy reportedly opted for a kilt for their big day and in a touching gesture, with Grazia suggesting that Madonna's gown featured a sash of the very same tartan, coordinating perfectly with her husband-to-be.
After eight years of marriage, however, Madonna filed for divorce from Guy in 2008 and the former couple have rarely been glimpsed together ever since.
As reported by the Daily Mail (opens in new tab), Madonna previously suggested during a candid interview with Newsweek magazine that the romance had simply begun to fade from her and Guy's marriage as the years went on.
"Because when you start off, everything's great and lovely, and the person you've married is flawless, and you're flawless," she explained. "Then time goes by, and you share a life, you have children, and there are cracks in the veneer.
"It's not as romantic as it used to be. You think, 'This isn't what I thought it was going to be,' and 'How much am I willing to sacrifice?'"
Whilst Madonna hasn't frequently discussed the breakdown of her and Guy's marriage, the two remain devoted parents to their children all these years later.
How many children does Madonna have and who are they?
Madonna has six children—Lourdes Leon (24), Rocco Ritchie (21), David Banda (16), Mercy James (15), and twins Estere Ciccone and Stelle Ciccone (9).
Lourdes is Madonna's eldest child and her daughter from her relationship with actor and fitness trainer Carl Leon. Following in her mother's performing footsteps, Lourdes graduated from LaGuardia School of Performing Arts in New York.
Now having graduated, Lourdes has begun to make a name for herself in the fashion world and has starred in campaigns for everyone from Stella McCartney to Miu Miu, and Marc Jacobs.
Though that hasn't stopped her also continuing her education, Lourdes studied for four years at the University of Michigan, Madonna's old alma mater.
Madonna's second child, Rocco, was born in 2000 and though he mostly prefers to remain out of the spotlight, he often delights fans when he appears on social media alongside his famous parents.
Rocco is Madonna's son from her marriage to British film director Guy Ritchie and now 21 years old, Rocco is considered the spitting image of his father.
Back in 2018, Guy and Madonna's custody battle over where Rocco should reside was won by his father and now Rocco largely lives in London, though he's thought to have remained close with his mother and siblings.
David Banda is six years younger than his brother Rocco and was adopted by Madonna and her then-husband Guy from Malawi in 2006 when he was just a baby.
Now 16, David is making a career for himself as a soccer player, with Madonna moving to Lisbon, Portugal in 2017 reportedly to help him achieve this dream.
Opening up about adopting David in a past interview with Vogue (opens in new tab), Madonna revealed her belief that her second son has inherited her work ethic.
"What he has more than anything is focus and determination," she explained. "I'm pretty sure he got it from me. He's the one I have the most in common with. I feel like he gets me; he has more of my DNA than any of my children so far. Let's see what happens—it's still early days for everyone."
After adopting David, Madonna went on to adopt now-15-year-old Mercy James from Malawi in 2009. Mercy can often be seen making appearances on her famous mother's social media accounts, showcasing her own singing talents.
Four years after welcoming Mercy into her loving family, Madonna's family grew once more as she adopted twins Estere and Stella from Malawi in 2017. Now 9, it seems that they had a particularly hilarious response whenever someone asked about their iconic mom.
Speaking to Radio.com in 2019, Madonna shared that although her older children "could care less" about her celebrity status, her younger children think it's "funny".
"Today my 6-year-old twins said to me, 'Mom, everyone's always asking us if Madonna's our mother. And we tell them, 'No, Madame X is our mother'", the singer revealed.
Whilst they might not all live under one roof any longer, last year, Madonna shared a rare family video featuring all six of her children in honor of Thanksgiving.
'A Beautiful Souvenir .............Giving Thanks. 🙏🏼', Madonna's heartfelt caption declared, alongside the photo of the family beaming at the camera.
Each of Madonna's children looked effortlessly elegant as they posed in what looked to be the star's magnificent home. Settled amongst them all, Madonna herself looked relaxed and happy to have her entire family back together again after the difficult recent times.
Which movies has Madonna been in?
Madonna might be best known for her music, but the star also has an extensive list of acting credits to her name. From Desperately Seeking Susan, to Body of Evidence, Madonna has put her skills to the test in everything from comedies to thrillers.
Perhaps one of the most instantly recognizable of her on-screen performances was in baseball-focused classic, A League of Their Own, which will soon be back as a new TV show on Amazon after being rebooted. In the original film Madonna starred alongside Hollywood legends Geena Davis and Tom Hanks and Madonna's memorable performance as Mae Mordabito brings a sense of nostalgia every time.
Although she hasn't been nominated for an Oscar for her acting performances, Madonna did receive a Best Song nomination for Evita. She ended not only her vocals but also her acting prowess as the lead role of Argentinian First Lady, Eva Perón. This role earned her a coveted Golden Globe.
What roles did Madonna turn down?
During her interview with Jimmy Fallon, Madonna confirmed the old rumors that she turned down the roles of Catwoman in Batman Returns and Nomi Malone in Showgirls.
While she was fine with saying no to the latter, she did regret passing on the Catwoman role, which she described as "fierce."
However, the biggest shock was when she opened up about the one role she seriously regrets saying no to.
"I also turned down the role in The Matrix.," she told Jimmy. "Can you believe that? I wanted to kill myself."
Madonna didn't specify which character she was asked to play, but Trinity was the only lead female role.
Emma is a Senior Lifestyle Writer with six years of experience working in digital publishing. Her specialist areas including literature, the British Royal Family and knowing all there is to know about the latest TV shows on the BBC, ITV, Channel 4 and every streaming service out there. When she's not writing about the next unmissable show to add to your to-watch list or delving into royal protocol, you can find Emma cooking and watching yet more crime dramas.