A League of Their Own is back as a new TV show on Amazon
A television series inspired by the film aims to fuel nostalgia while highlighting issues of race and sexuality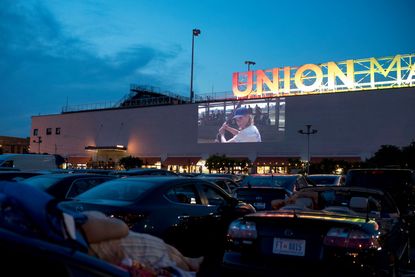 (Image credit: Getty)
Beloved film A League of Their Own is about to get a television reboot. Amazon Studios announced that co-creators Abbi Jacobson and Will Graham will bring the series to life with a new cast of characters.
Jacobson, of Broad City fame, will also star in the show, alongside Chanté Adams of Roxanne Roxanne, D'Arcy Carden of The Good Place, Gbemisola Ikumelo of Brain in Gear, Kelly McCormack of Killjoys, Roberta Colindrez of Vida, and Priscilla Delgado of The Protected.
"Twenty-eight years ago, Penny Marshall told us a story about women playing professional baseball that up until then had been largely overlooked," Graham and Jacobson said in a statement. "We grew up obsessed with the film, like everyone else. Three years ago, we approached Sony with the idea of telling a new, still overlooked set of those stories. With the help of an enormously talented team of collaborators, an amazing cast, and the devoted support of Amazon to this project, we feel beyond lucky and excited to get to bring these characters to life. It took grit, fire, authenticity, wild imagination and a crackling sense of humor for these players to achieve their dreams. We're hoping to bring audiences a story with all of those qualities."
A League of Their Own reached the silver screen in 1992 and told the story of the All-American Girls Professional Baseball League created during World War II to give Americans at home baseball while many of the country's players were overseas. The show is already expected to be a major hit, especially for anyone who's favorite show is leaving Netflix soon.
Geena Davis, Madonna, Rosie O'Donnell, and Tom Hanks all held starring roles. For O'Donnell it was a breakout role, and she's coming back for a guest appearance in the series. During an appearance on Everything Iconic with Danny Pelligrino she revealed that she will play a "bartender in one of the scenes at a local gay bar."
Getting her to participate wasn't a hard sell.
"I had a great experience on A League of Their Own," O'Donnell told Pellegrino. "I love the Broad City women and when I was told [Abbi] was doing League, she called me up and said, 'Ro, would you do it?' And I said, 'In a minute.' "
The new series will widen the film's original women empowerment lens to also include themes of race and sexuality. A premiere date has not yet been released.
Rebecca Holland is a travel and food writer based in Chicago. She has written for the Guardian, New York Times, Architectural Digest, Food & Wine, Wine Enthusiast and more. She is currently a graduate student at Northwestern's Medill School of Journalism. When not working, you can find her eating her way through Chicago's neighborhoods, or in non-pandemic times, traveling around the world.