How to watch Elvis at home and when does Elvis come to HBO Max?
If you haven't been able to catch Baz Luhrmann's musical biopic Elvis at the theater, here is how (and when!) you can watch Elvis on PVOD or stream it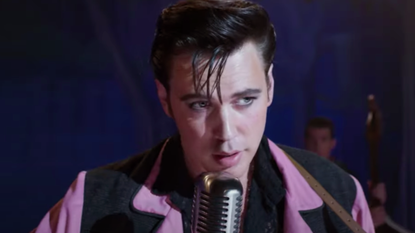 (Image credit: Warner Bros.)
Baz Luhrmann's musical biopic Elvis has been at the forefront of all cinephile conversations for the past few months.
Given the fact that Elvis' former wife Priscilla Presley has called Austin Butler's portrayal of Elvis "incredible," it comes as no surprise that folks that have not been able to catch the film in a theater are now wondering about when Elvis will be on PVOD and whether HBO Max will soon stream the project, as initially promised.
What is Elvis about?
Baz Luhramann's Elvis explores the life of the King of Rock'n'Roll through three time frames: his childhood, his years in the spotlight, and the final days of his life before passing at the age of 42 back in 1977.
With a run time of 2 hours and 40 minutes, the movie is certainly a heavy one, especially given the fact that it is told from the perspective of Elvis' controversial manager, Colonel Tom Parker.
The length of the film might be one of the reasons why folks are curious about when they'll be able to catch Elvis on PVOD and on various streaming services like HBO Max.
Elvis on PVOD
Elvis will be on PVOD, premium video on demand, starting August 9. Specifically, the film will be on sale for $24.99 or for a 48-hour rental window at a cost of $19.99 on platforms like Amazon Prime Video, Google Play, YouTube and Vudu starting tomorrow.
If you want to wait for the 4K version of the movie, set a reminder for September 13, which is when Elvis will also be available on Blu-ray and DVD.
As a reminder, Elvis is still playing in theaters at the moment.
Elvis on HBO Max
As film buffs might remember, Warner Bros. previously announced plans to make its entire 2022 movie slate available on HBO Max after 45 days of playing in theaters. That, unfortunately, is no longer the case.
Decider (opens in new tab) reports that, after reaching out to Warner Media about streaming plans in connection to Elvis, a representative said that the company will now use "a case by case approach to determining when their theatrically-released films will land on [HBO Max]."
Baz himself announced that the movie would not be on HBO Max until "the fall." No word yet on an exact date, though.
As a result, your best chance at catching the critically acclaimed film is either at an actual theater, through a DVD purchase, or when Elvis will be on PVOD.
Who stars in Elvis?
The Elvis movie received a 12-minute standing ovation at Cannes, in part thanks to the movie's excellent cast, led by the wonderful Austin, who was, until now, best known for appearing in Quentin Tarantino's Once Upon a Time in Hollywood and for his role in the Sex and the City prequel, The Carrie Diaries.
Fun fact: Austin actually sings throughout the production. The actor's vocals are blended with the singer's original recordings in scenes portraying the later years but Austin himself is featured in most "younger Elvis" vocal scenes.
"When I began the process, I set out to get my voice to be identical [to Elvis']," the actor said in an interview. "That instills fear. So that got the fire burning. For a year before we started shooting, I was doing voice coaching."
The star-studded cast is rounded out by Tom Hanks as Colonel Tom Parker, Maggie Gyllenhaal as Elvis' mom Gladys Presley, Olivia DeJonge as Elvis' wife Priscilla Presley, and Alton Mason as rock icon Little Richard.
Anna Rahmanan is a New York-based writer and editor who covers culture, entertainment, food, fashion and travel news. Anna's words have appeared on Time Out New York, the Huffington Post, Fortune, Forbes, Us Weekly, Bon Appetit and Brooklyn Magazine, among other outlets.