Madonna flashes thong on TikTok to a mixed reaction from fans—'I hope I have this much confidence at her age'
Madonna flashes fans on TikTok wearing a thong, proving she still knows how to get a reaction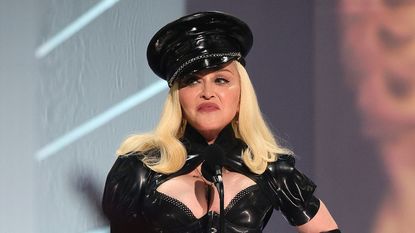 (Image credit: Theo Wargo/Getty Images for MTV/ViacomCBS/Getty)
She's well-known for striking a pose but Madonna's latest bit of posing has been met with a mixed reaction from fans online.
Anyone expecting anything other than shocking antics from Madonna might not have been paying attention for the last four decades.
The Queen of Pop is revered for her ability to push against boundaries, infusing a blend of sexual freedom, female empowerment, and unashamed confidence in all she's done throughout her legendary, long-lasting career.
---
However, when she's off the stage or away from an audience, she's still got the power to shock.
In her latest TikTok, Madonna is posing in a tight corset and a tiny lace thong.
With a filter on to give her face a freckled effect, Madonna pans the camera down to reveal her lacy thong.
Some were surprised at opening the app to be flashed by the pop icon. One simply wrote, "Madonna, it's 5 in the morning."
Another added, "Madonna I haven't even had my coffee yet."
However, there were hundreds of comments praising Madonna for, well, continuing to be Madonna.
Defending the trailblazer, comments include, "Y'all bashing her but I hope I have this much confidence at her age."
Praising Madonna's confidence, one fan also questioned why she should be expected to change because of her age. "This is Madonna. Just because she is now in her 60s, she should not be expected to change her personality or demeanour."
Pointing out the obvious—that this is Madonna doing what she's always done—another fan stated, "I cannot with these negative comments. Apparently none of you saw Madonna in the 90s. She had a book and everything. Let her be."
The book they were referring to was Madonna's infamous Sex book, a coffee table book where Madonna explored the many taboos of sexuality.
Proving she always gets the last laugh, Madonna proved her business acumen with the book.
The coffee table book sold over 150,000 copies on its first day in the United States alone, and topped the New York Times Best Seller list for three consecutive weeks.
In just a matter of days, the Sex book went on to sell more than 1.5 million copies worldwide and remains the best and fastest-selling coffee table book in history.
Her latest TikTok proves she's still got the same spirit, thirty years later. And, as she wrote herself on an earlier TikTok, she still has "so many tales to tell."
Jack Slater is not the Last Action Hero, but that's what comes up first when you Google him. Preferring a much more sedentary life, Jack gets his thrills by covering news, entertainment, celebrity, film and culture for woman&home, and other digital publications.
Having written for various print and online publications—ranging from national syndicates to niche magazines—Jack has written about nearly everything there is to write about, covering LGBTQ+ news, celebrity features, TV and film scoops, reviewing the latest theatre shows lighting up London's West End and the most pressing of SEO based stories.