The Insider's Guide To An Easier Christmas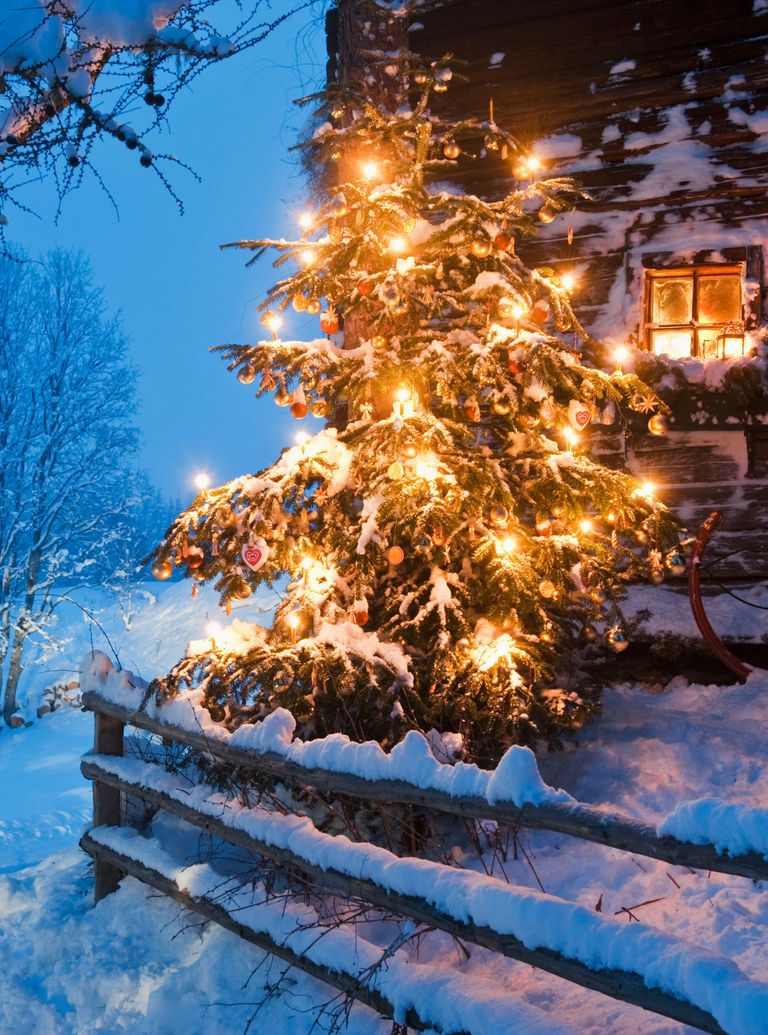 Christmas can be a stressful time, so who wouldn't want to ease the pressure a little bit?
If you feel like you need a bit of help on how to get through the big day unscathed, our experts from the food, retail and gift-wrapping world are here to help!
Read on for advice on how to get yourself an easier Christmas than ever before...
Dan Cooper is John Lewis' "Mr Christmas". As Christmas buyer, he chooses new products and themes.
He says, "Whether your tree is artificial or real, put a thick piece of card under its base to make it easier to manoeuvre once in position.
"If you're using a tree skirt, put it on before you put the tree into the stand. Lights, you need to get the lights right into the centre of the tree. Use one set spiralling up the trunk (to give it an inner glow), then use another to cover the branches, going in and out rather than just wrapping them around the outer branches. I'd recommend 100 lights per foot of tree.
"LEDs are cheaper than traditional lights, give off less heat and there are no issues with blown bulbs. To make life very easy, buy a pre-lit tree, which has everything in situ."
"Decorations - I'd never buy fewer than six of the same tree decoration unless it's a very special bauble.
"Hang the most basic baubles first, zig-zagging them down the tree for a more balanced arrangement. Don't ignore the back of the tree you may not think people will notice but having lights and decorations all the way around makes the tree look much more stunning overall."
Kay Plunkett-Hogge is a food writer, über-hostess and the author of Aperitivo (Mitchell Beazley).
"For casual hosting make higgledy-piggledy eating areas with two to four seated at each space. Use big floor cushions and turn the coffee table into a sort of magic carpet eating space.
"Provide dishes that guests can help themselves from at a central food station. This also helps people mingle."
"If you're expecting more sleepover guests than you have beds, invest in air mattresses and a pump. AeroBeds are very good (available from John Lewis and Argos). Ask guests to bring a sleeping bag and a blanket.
"Draw up witty rules. Make a bathroom rota, designate washing up to one family, scrambling eggs for breakfast to another, rolling up sleeping bags to another. Table too small? Rent or borrow trestle tables and benches, and drape with beautiful tablecloths and cushions."
Jane Means is a gift-wrapping guru who has beautified presents everywhere from Chanel to Fortnum & Mason. She's also the author of Giftwrapped (Jacqui Small).
"Use flexible wrapping like cellophane or tissue for awkward shapes. Put the gift in the middle, pull up the sides and secure at the top.
"Similarly, use paper tablecloths for oversized items. Make your own gift bag by using stiff paper or wallpaper. Wrap up a box but leave one end open. Remove the box, then fold over the top and secure with a decorative tag.
"Keep a roll of brown paper on standby and use if running low on giftwrap. Add ribbon, tie in some foliage from the garden such as bay, rosemary, laurel, ivy or ferns. It's very effective.
"Use less paper - the biggest mistake people make is using too much paper at the sides and it's bulky when they come to fold it - you only need a little overlap."