Shetland season 8 cast: Ashley Jensen confirmed as the atmospheric BBC drama's new lead detective but which regular characters are returning alongside her?
Ashley Jensen has joined the Shetland season 8 cast after Douglas Henshall's departure from the BBC drama but who will be back?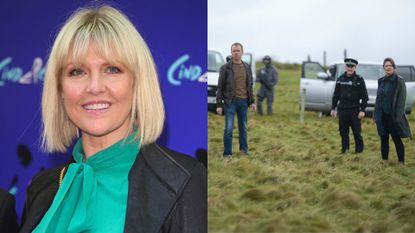 (Image credit: Future// Image 1:Photo by Karwai Tang/WireImage via Getty // Image 2: BBC/Silverprint Pictures/Mark Mainz)
The Shetland season 8 cast has been confirmed as Ashley Jensen steps up to take on the role filled for so long by the brilliant Douglas Henshall as DI Perez.
From the moment it was confirmed that Douglas Henshall's Shetland journey was coming to an end long-time fans were likely left anticipating who could step into his iconic shoes in Shetland season 8. Of course, the Shetland season 7 ending dropped a few breadcrumbs that could've led many people to believe that Alison 'Tosh' McIntosh could be the person who replaces DI Jimmy Perez in Shetland. This promotion would certainly have been a welcome step-up for the fan-favorite character after what happened to Tosh in Shetland season 7 and her dedication.
However, it's now been confirmed that Ashley Jensen is replacing Douglas from Shetland season 8. Not only that, but we now know which regular stars will be back.
But who will new Shetland season 8 cast member Ashley Jensen play, who's returning and what can we expect? All we know so far…
*Warning: Spoiler alert!*
Who will new Shetland season 8 cast member Ashley Jensen play?
Scottish star Ashley Jensen, known for everything from hit US show Ugly Betty to Ricky Gervais' dark comedy After Life and one of the best Christmas movies on Netflix, Nativity!, will be playing DI Ruth Calder. She joins the Shetland season 8 cast replacing Douglas Henshall and according to the BBC, Ruth is every bit as experienced as the beloved former detective.
They state that DI Calder is a native Shetlander who has worked for 20 years in London with the Metropolitan Police but has now returned to the Islands.
And whilst we might have become rather accustomed to the relationships between the characters played by the wonderful series regulars, Ashley has revealed that - understandably - the dynamic will be "different" when Ruth arrives as their new boss.
"There will be a different dynamic with Ruth amongst the regular characters and a few more new interesting characters to enjoy," she teased. "However the integrity of the show and the world that has been created will remain very much in the same tone as the last seven seasons. It's a real privilege to be asked to lead this show into a new chapter."
New chapter it may be but given Ashley Jensen's remarks it seems that Shetland season 8 won't be straying too far away from the themes, tone and atmospheric locations where Shetland is filmed that makes the BBC drama so unique. The new series is set to start filming in Shetland and mainland Scotland from spring 2023.
Who's returning to the Shetland season 8 cast?
Shetland season 8 returning cast:
Alison O'Donnell as DS Alison 'Tosh' McIntosh
Steven Robertson as DC Sandy Wilson
Lewis Howden as Sergeant Billy McCabe
Anne Kidd as Dr Cora McLean
With Douglas Henshall departing after Shetland season 7 it's all-too-easy to wonder whether the other regulars in the Shetland season 7 cast would be back for the eighth instalment. Thankfully the answer to that is a firm yes and viewers are set to see some very familiar faces in the Shetland season 8 cast. Chief of this is, of course, Tosh who almost perished in season 7 and who had one of the most touching final farewells with former boss Jimmy.
Her actor Alison O'Donnell will be in Shetland season 8, according to the BBC, as will Steven Robertson as DC Sandy Wilson, Lewis Howden as Sergeant Billy McCabe and Anne Kidd as Dr Cora McLean.
All the returning cast members' characters have had close bonds with DI Perez and so it will certainly be intriguing to see how they react to the arrival of Ashley Jensen's DI Ruth Calder. Especially Tosh, who was the second most senior officer after Jimmy and could potentially have wanted to follow in his footsteps and apply for his job.
Actors that aren't expected to be back in the Shetland season 8 cast include Mark Bonnar, Erin Armstrong and Lucianne McEvoy. This is because they all played characters that were in some way connected to Jimmy Perez - Mark played his friend (and the biological father of his step-daughter) Duncan Hunter, Erin played his stepdaughter Cassie and Lucianne played his love interest Meg.
How did Douglas Henshall leave Shetland as Jimmy Perez?
Douglas Henshall left Shetland as Jimmy Perez in the finale of season 7 after making a decision that would ultimately have cost him his career anyway and knowing that by leaving his job behind him he could finally give things a proper go with nurse Meg Pattinson. After apprehending not one, but two killers, the DI found himself in a difficult position. Artist Lloyd Anderson was in custody and although he was innocent of the murders that took place in season 7 of the BBC drama, he was discovered to really be Walter Edwards who was wanted by the FBI.
The FBI believed that Lloyd/Walter murdered a man in the US and escaped although Lloyd protested his innocence to Jimmy who believed him. Although Procurator Fiscal Rhona Kelly sympathized with Jimmy's disgust at the prospect of sending Walter back to potentially face execution, she maintained that they had to do it.
Jimmy disagreed and in the finale he gave Lloyd back his passport and allowed him to escape to Norway, saying that if he was asked about why he let the artist go he'd claim it was a "genuine mistake" of judgment. Rhona immediately saw through this and the DI didn't try hard to convince her. Instead the weary detective told her he was "done" with his life as a policeman.
He said that if the last thing he ever did in his career was to help an innocent man, then he was "good with that". Shortly afterwards, Jimmy had an emotional final scene with Tosh where he told her she was "ready" to do the job without him and said goodbye to Sandy and Billy.
In the final moments of Shetland season 7 we saw Jimmy and Meg meet and he told her that he'd quit his job. Initially horrified believing he'd done it just for her, he convinced Meg that it was the right thing for him too. If the kissing scene ahead of the credits was anything to go by, it definitely was as Jimmy finally managed to find happiness with Meg.
What can we expect from Shetland season 8?
At the moment given Ashley Jensen has only just been announced as Douglas Henshall's Shetland replacement and that the next series hasn't started filming yet, we can only speculate about what could lie ahead in Shetland season 8. Though season 7 and the arrival of DI Ruth Calder do provide some hints about what we might get to see.
DI Perez's words to Tosh about her being "ready" and the length of their farewell vs his with the others did seem to hint she might get a promotion. We know that hasn't happened, but as the next senior officer there could of course be some friction between her and DI Ruth if Tosh felt she deserved to take Jimmy's place as leader.
Even if she didn't want it, though, Ruth is coming into a very long-established and tight-knit team of detectives. Jimmy's absence will likely be felt by them deeply long into season 7 and Ruth will be facing that and all the pressure that comes with replacing someone so integral. It could take a little while for the police officers to accept her and for her to understand and appreciate the way they do things.
After all, she might be a Shetlander but Ruth has been away fighting crime in the UK's capital for 20 years and there are bound to be procedural and investigative differences between her and the other police officers.
Plus, with a long time away comes a past to be confronted and though we don't know why Ruth left the Shetland Islands, there could be a very dramatic reason that could emerge over Shetland season 8. Or else we could get to learn more about her reasons for returning and wanting to reconnect with the past and take up Jimmy's role.
Whatever happens in the new series, fans now have plenty of time to speculate about what Ashley Jensen joining the Shetland season 8 cast as DI Calder will mean for the new season and our favorite regular characters. Until then, why not catch up on the best moments from season 7?
Shetland seasons 6 and 7 are available to watch via BBC iPlayer.
Sign up to our free daily email for the latest royal and entertainment news, interesting opinion, expert advice on styling and beauty trends, and no-nonsense guides to the health and wellness questions you want answered.
Emma is a Royal Editor with seven years of experience working in digital publishing. Her specialist areas including literature, the British Royal Family and knowing all there is to know about the latest TV shows on the BBC, ITV, Channel 4 and every streaming service out there. When she's not writing about the next unmissable show to add to your to-watch list or delving into royal protocol, you can find Emma cooking and watching yet more crime dramas.