Who could replace Douglas Henshall's DI Jimmy Perez in Shetland? The hint from the BBC drama's intense ending and what we know so far
If you're wondering who could replace DI Jimmy Perez in Shetland you're probably not alone after those emotional ending scenes…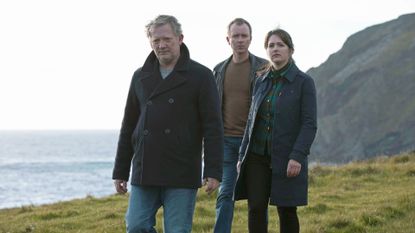 (Image credit: BBC/Silverprint Pictures/Mark Mainz)
When it comes to who could replace DI Jimmy Perez in Shetland some fans have likely been speculating ever since *that* emotional season 7 finale saw Douglas Henshall depart the hit series.
After almost ten years, the Shetland season 7 ending marked Douglas Henshall's Shetland journey reaching its perfect conclusion as DI Jimmy Perez bowed out of the Scottish-set show. Over the course of seven series, Douglas' character anchored the show and for many people came to define it as much as the beautiful locations where Shetland is filmed do. Now as fans say a sad goodbye to Jimmy, there still remains the question of who could be his replacement in the next instalment.
But when might fans know who will succeed him and who could replace DI Jimmy Perez in Shetland? We reveal what we know so far and explore the hint that could be seen to have appeared in the season 7 finale...
*Warning: spoilers ahead!*
When might we know who Jimmy Perez's Shetland replacement is?
Ultimately, the matter of who could replace DI Jimmy Perez in Shetland following the emotional exit of the long-standing lead character currently remains a matter of speculation and it's not yet known when a replacement will be revealed. When the news of Shetland season 7 cast member Douglas Henshall's departure from the show was announced ahead of the latest series' premiere, the BBC confirmed that Shetland season 7 wouldn't be the last.
They also stated that a new lead character would be unveiled "in due course" for the season 8 of the hit mystery drama, which started in 2013.
"The crime drama will return for an eighth series in 2023 with a new lead to be announced in due course," the BBC revealed (opens in new tab) at the time, before teasing that, "Series eight of Shetland will start filming from spring 2023 in locations on Shetland and across Scotland."
So it seems that Shetland fans will just have to be patient to get official confirmation of who exactly might take on the immensely exciting task of following in Douglas Henshall's footsteps from Shetland season 8.
With filming not due to start until next year and some viewers likely still reeling from the Shetland season 7 finale and not quite ready to bid Jimmy Perez farewell just yet, it could be that the BBC wait until nearer the time of production to announce his replacement.
Though that won't stop many people from speculating about how could be taking up the mantle as the Shetland Islands' new and ever-determined Detective Inspector. After all, eagle-eyed fans might just have spotted a potential hint in *those* tear-inducing moments in the Lerwick Police Station in the finale…
Who could replace DI Jimmy Perez in Shetland after the season 7 finale?
When it comes to who could replace DI Jimmy Perez in Shetland, there's one moment in the Shetland season 7 finale that could've set up a possible avenue for season 8. After seeing DI Perez and the team finally uncover who was responsible for the murders of Connor Cairns, his girlfriend Bryd Fleming and US tourist Bill Rodgers and prevent a major bomb attack, the time finally came for Douglas Henshall's exit storyline to be revealed.
Ever since it was revealed that American artist Lloyd Anderson was actually Walter Edwards - a man wanted by the FBI for murder - Jimmy struggled with feelings of guilt. Lloyd maintained he was innocent and DI Perez believed him, torn over what Procurator Fiscal Rhona Kelly told him they were officially bound to do (return him to the US where he potentially faced the death penalty) and what he felt was right.
Torn, Jimmy's conscience won in the end and he allowed Lloyd to leave with his passport, telling Rhona that it was "worth it" and he was "done" with life as a DI. He then met up with nurse Meg Pattison and confirmed his feelings for her, seemingly beginning afresh with her as a couple.
Returning to his desk, Jimmy was confronted by a tearful DS Alison 'Tosh' MacIntosh, who had heard the news of his resignation.
"I'm not sure I can do this without you," Tosh told him, only for her former boss to tell her simply, "Tosh, you're ready. Trust me."
She admitted that she did, but just didn't have his confidence - leading to DI Perez delivering a rousing response that showcased just how far she'd come.
"What, you kidding on? Do you remember that young woman who walked in here wearing braves and couldn't even remember the words to a caution? That's not who you are anymore. Look at you now. After everything you've been through you can do this job in your sleep."
Of course, nothing is known for sure, but it could be seen that DI Perez's confidence-inspiring words might potentially be paving the way for his DS to succeed him. Whilst he might simply have only meant she's "ready" to be a DS without him and that she's brilliant at her current job, his praise of her skillset was very touching.
Saying that she could do her "this job" easily, even if Jimmy was talking about her role as Detective Sergeant, it could be setting up that she's ready to take on a new challenge. Plus, after having Jimmy Perez anchoring the show as the main character for so long, it would be a lovely touch for fans to know that he gave his blessing to a possible replacement. These two were also the only characters to have a one-on-one farewell, with the others joining later.
The DS also had a lot of focus in Shetland season 7, from what happened to Tosh with the bomb threat, to the way one of their suspects, Carole Anne, was connected to her personal life with partner Donnie and their daughter Louise, meaning there's plenty of depth to the character that could go on to be explored.
And she certainly seems to have got many fans' seal of approval, with people taking to Twitter to share how much it would mean to them if Tosh were the one who could replace DI Jimmy Perez in Shetland going forwards.
"There's only one person who comes close to filling the void that Jimmy will leave", one wrote alongside a picture of Tosh.
"So glad that Jimmy got his happy ending but still gutted you'll no longer be in the series! I've loved Perez leading the team and Shetland won't be the same without you! But at [the] same time, Tosh", another commented with a heart emoji.
Meanwhile, someone else added, "[W]hat a brilliant programme, have watch[ed] this since it first aired on TV, compelling viewing, sad Perez is leaving, if he does I hope Tosh fills Perez shoes."
So although the matter of who could replace DI Jimmy Perez in Shetland has not yet been resolved, it seems many fans would be more than a little thrilled if DS MacIntosh were to become DI MacIntosh from Shetland season 8 onwards. Until an announcement is made by the BBC, however, viewers will just have to wait and see.
It could be that a completely new character is introduced, giving the potential to explore conflicts between them and the established team as they grow used to each other and work their next case. Or Shetland could even potentially consider bringing a previously-introduced secondary police officer back.
Whatever happens, there's now plenty of time for fans to form their own theories and re-watch all of their favorite unmissable moments as they say goodbye to DI Perez and prepare to meet his replacement in season 8…
Emma is a Senior Lifestyle Writer with six years of experience working in digital publishing. Her specialist areas including literature, the British Royal Family and knowing all there is to know about the latest TV shows on the BBC, ITV, Channel 4 and every streaming service out there. When she's not writing about the next unmissable show to add to your to-watch list or delving into royal protocol, you can find Emma cooking and watching yet more crime dramas.