Is Shetland season 7 the last of the hit BBC drama, when is the finale episode on and what needs to be resolved ahead of DI Perez's exit?
Many viewers might be wondering is Shetland season 7 the last as they anticipate what looks set to be a seriously unmissable series finale...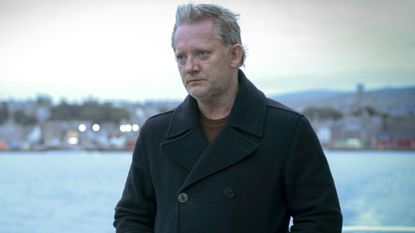 (Image credit: BBC/Silverprint Pictures/Mark Mainz)
If you're wondering is Shetland season 7 the last then you're probably not alone as fans await the exit of Douglas Henshall as DCI Jimmy Perez and the resolution of this dramatic storyline.
From the atmospheric locations where Shetland was filmed to the brilliant performances and high-stakes mystery of Shetland season 7, this latest series has been one to remember. Following on from season 6 where it looked like DCI Jimmy Perez's career might be over, season 7 saw him and the team attempt to track down missing vulnerable man, Connor Cairns. Only what started as a disappearance has soon turned into a dangerous murder investigation with multiple characters falling victim to an as-yet-unidentified killer, as well as one into bombing threats.
But is Shetland season 7 the last, how many episodes are there and what still needs to be resolved by the end? We reveal what we know so far ahead of the season 7 finale…
*Warning: Spoilers ahead!*
Is Shetland season 7 the last?
For anyone wondering whether Shetland season 7 is the last they'll see of the BBC drama then never fear! Season 7 isn't the last instalment of Shetland currently planned as despite the news that Douglas Henshall is leaving as DCI Jimmy Perez after this, it was also confirmed that a Shetland season 8 is very much happening.
The BBC revealed (opens in new tab), "The crime drama will return for an eighth series in 2023 with a new lead to be announced in due course", before later adding, "Series eight of Shetland will start filming from spring 2023 in locations on Shetland and across Scotland."
So although Shetland season 8 will likely feel very different to viewers who've loved and watched the show from the very beginning given the absence of DI Perez, the show fans love so much is far from being over.
Depending on what happens in the Shetland season 7 finale and whether there are any shocking twists regarding the fate of certain members of the main Shetland season 7 cast, it's of course possible that all of the other regulars will be back in action in Shetland season 8.
How many episodes are there of Shetland season 7 and when is the last?
There are six episodes of Shetland season 7, following the pattern established by all but the first of the previous series. Each episode of season 7 is broadcast at 9pm on BBC One on Wednesdays and then becomes available to catch-up on via BBC iPlayer. The Shetland season 7 finale is set to air on Wednesday September 14th and promises to be a seriously suspenseful send-off for DI Perez as he races against time to not only identify a killer, but potentially prevent a devastating attack on the islands.
What needs to be resolved in the Shetland season 7 finale?
How might DI Perez's Shetland journey come to an end?
Much to the devastation of long-time fans, Douglas Henshall's Shetland journey is almost at an end. Although season 7 isn't the last season of Shetland, the lead star announced earlier this year that it would be his final outing as DI Jimmy Perez. This means that the biggest burning question many fans have ahead of the season 7 finale revolves around his exit and how this character will be written out of the show.
Since season 1 the determined detective has had more than his fair share of heartbreak, losing both his parents, Mary and James, as well as discovering his one-time love interest was involved in a human trafficking ring he was investigating.
And that's not even including everything those who've delved into the series fresh from a Shetland season 6 recap might have just re-watched - his arrest for involvement in the death of convicted murderer Donna Killick. Although DI Perez has weathered these considerable storms and survived a tribunal, Shetland season 7 has seen him take on one of the team's most dangerous cases yet.
With bomb threats becoming ever more serious in the latest season, whilst we might now know what happened to Tosh in Shetland after *that* inferno at the end of episode 3, it's clear that they're not safe yet. It's of course possible that Jimmy could be caught in a similar blast and that this time, there would be no last-minute reprieve, as we now know that there's another bomb-maker out there.
However, in light of how much of a significant role he's played in the show and the fandom's sadness at Douglas' imminent departure, Shetland could decide to take a less deadly direction. Blamed by Rachel Cairns for failing to find her vulnerable son Connor in time (the young man was found murdered and tortured and seems to have been involved in bomb-making himself), Jimmy has felt a huge amount of guilt.
This, coupled with having Tosh's almost-death on his conscience as her superior officer, has been playing heavily on his mind. Plus, his potential romance with Meg Pattison has been strained by his unwavering commitment to his demanding job. It could be that Jimmy simply decides enough is enough and that he wants to start over afresh - possibly, with Meg - after all that's happened.
That would also mirror the decision taken by Duncan Hunter, who was sent to prison for his own involvement in Donna's death, and who is not only Jimmy's friend but the biological father of the detective's step-daughter Cassie. During a prison visit in the opening scenes of Shetland season 7, he announced that when he's released he won't be coming back.
Already DI Perez has a lot of reasons to do the same and with the risk to life and series-long mystery only getting more intense, who knows if the last episode of Shetland season 7 could solidify a similar decision to leave the Shetland Islands.
Who could've killed Connor Cairns?
Alongside the matter of how DI Jimmy Perez will leave Shetland, the next biggest question that viewers need answered in the Shetland season 7 finale is, of course - who killed Connor Cairns? This series began with the investigation into his disappearance, only to later discover he'd been held, tortured and later murdered.
Along the way Jimmy had gone on to view him as prime suspect after Connor's girlfriend Bryd was found dead - something Connor's mother Rachel was more than a little upset about.
So far in season 7, Connor, Bryd and under-surveillance American tourist, William Rodgers, have all died and were all suspected to be involved in taking things to a terrifying level to raise awareness of climate change. Connor was hugely passionate about the environment and it's thought that this could've been his motivation for getting involved in committing terrorist acts. It was the caravan that Connor rented that was rigged with explosives, almost killing Tosh and prompting Jimmy to consider him a suspect.
And he's not the only one believed to be involved, with the final moments of Shetland season 7 episode 5 showing Jimmy attempting to stop another explosion, only to discover he's got the wrong suspect.
Ahead of the credits rolling, fans saw another anonymous bomb-maker crafting another device and yet to be identified by the police. The team already believe another attack is being planned and the season finale could see their horrifying prediction come true.
It could be that this mysterious person was also involved in killing Connor, who might well have gotten in too deep and come to regret what he was involved in. There's also a supposed killer in the community as painter Lloyd Anderson is actually Walter Edwards who's wanted by the FBI for murder in the US. He claims he's innocent, but until the Shetland season 7 finale, all bets are off until we learn who exactly killed Connor.
All fans can do now is wait and piece together the evidence to form their own theories about what really happened to Connor and what he was involved in. And with the news that season 7 isn't the last season of Shetland, we can't wait to see not only the resolution to this series' mystery and Jimmy's exit, but what plot threads it could possibly set up going forwards!
The Shetland season 7 finale will air on BBC One at 9pm on Wednesday September 14th.
Emma is a Senior Lifestyle Writer with six years of experience working in digital publishing. Her specialist areas including literature, the British Royal Family and knowing all there is to know about the latest TV shows on the BBC, ITV, Channel 4 and every streaming service out there. When she's not writing about the next unmissable show to add to your to-watch list or delving into royal protocol, you can find Emma cooking and watching yet more crime dramas.