Shetland season 7 cast and characters: the team investigating the drama's latest chilling case and newcomers revealed
The Shetland season 7 cast features plenty of familiar faces as well as new stars bringing the BBC drama's latest chilling mystery to life...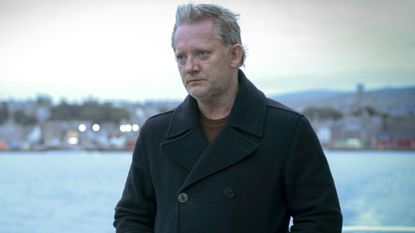 (Image credit: BBC/Silverprint Pictures/Mark Mainz)
The Shetland season 7 cast has seen many favorite characters return alongside brilliant guest stars as DI Jimmy Perez and his team throw themselves into the investigation into missing man, Connor Cairns.
Whilst Shetland season 7 might be somewhat bittersweet for long-time fans of the hit BBC drama following the news that it would be lead cast member Douglas Henshall's final outing as DI Jimmy Perez, it's already clear this will be a season to remember. Intense as ever, anyone who was quick to seek out a Shetland season 6 recap knew that the last season finale left things looking pretty bleak for him.
Now in season 7, Jimmy and the team are doggedly investigating a truly heart-wrenching case as they attempt to find out what happened to missing man, Connor Cairns. From the locations where Shetland is filmed to the suspenseful storytelling and brilliant acting, Shetland is hugely atmospheric.
Here we reveal who's in the Shetland season 7 cast, who their characters are and who the guest stars for this season are as the search to find Connor continues…
*Warning: spoilers ahead!*
Who's in the Shetland season 7 cast and who are their characters?
DI Jimmy Perez played by Douglas Henshall
Shetland just wouldn't be Shetland without DI Jimmy Perez, played by the wonderfully talented Douglas Henshall. Very sadly, it was already confirmed that whilst he would be returning as a Shetland season 7 cast member, it would be his final season on the show. Douglas Henshall's Shetland journey will soon be at an end with co-star Alison O'Donnell describing herself as "bereft" at him going.
But throughout his time on the show, Jimmy has experienced some seriously intense moments. As season 7 begins it's revealed that his father James Perez has passed away and season 6 opened with Jimmy attending his mother Mary Perez's funeral.
The character's family situation has ever been an emotional one on the show, with Jimmy initially finding himself at loggerheads when the father of his stepdaughter Cassie, Duncan Hunter became part of their lives again following the death of his wife Fran. Over the course of the seasons Jimmy and Duncan have come to view each other as friends, albeit of a complex kind, as they raise Cassie.
Though their bond almost spelt disaster in Shetland season 6 when Duncan was manipulated into helping terminally-ill convicted murderer Donna Killick, who'd returned to the Shetland Islands to die, into taking her own life.
Determined to seek revenge against Duncan *and* Jimmy, she persuaded an unwitting Duncan to post a letter to her solicitor implicating the pair of them if she were to be found dead. In the season 6 finale, Jimmy's whole reputation as a police officer was in tatters as he was arrested in front of his entire team at Lerwick police station.
Fans were left to fear the worst for him ahead of Shetland's seventh instalment, knowing he had actually assisted Duncan in covering up his involvement in Donna's death. Thankfully, his suspension was revoked in the opening episode of Shetland season 7 and it wasn't long before our favorite DI was back on the case as he attempts to track down missing Connor Cairns.
However, Douglas has revealed to the BBC that all that happened with Donna and the resulting consequences has given him serious "doubts".
"It's sullied his view of what he does. I think he's getting to that point of his career where he's beginning to doubt whether he has a future doing what he does," Douglas shared. "Perez is becoming a bit disenchanted with his life the way it is - those little doubts have started to creep in and he's questioning whether he's doing the right thing or not. There are lots of things niggling him."
---
Duncan Hunter played by Mark Bonnar
If you loved watching Mark Bonnar playing selfish lawyer Max in Guilt season 2 then you'll be thrilled to have seen him in the Shetland season 7 premiere. However, Duncan's time in the series so far has been severely limited given his arrest for his part in Donna's death last season and there have even been hints that Duncan will also be bidding the Shetland Islands farewell.
In the opening episode, Jimmy visited Duncan in prison, where his friend declared, "I've been thinking. When I get released from here I'm not going to come back to Shetland."
When asked why by the DI, Duncan responded that there are "plenty" of people who think he "let Donna Killick off the hook". And even Jimmy didn't attempt to persuade him otherwise after what went down in season 6. Although her exact motivations weren't explained, Donna likely wanted to make Duncan pay after she went to prison for murdering local girl Lizzie Kilmuir years before.
Trapped in an abusive marriage, Donna had begun an affair with Duncan and became pregnant with his son, only for Lizzie to find out about the illicit relationship. After she threatened to tell, Donna acted to protect herself and her child, letting someone else take the fall and go to prison for the teenager's murder until Jimmy eventually uncovered the truth.
Perhaps perceiving Duncan as complicit in her crime and seeing that he was never forced to face punishment like she did, Donna's revenge plan went full steam ahead in season 6. Many of the locals were furious to have the convicted killer back on the island, especially the Kilmuir family, leading to Duncan's admission about people's opinions of him.
In light of his decision not to return to Shetland after his release, it's not known whether fans might see him again this series, or even if his story will be woven into Douglas' exit storyline. Though there will no doubt be many fans hoping to see Duncan given a fond farewell to the show as a character.
---
DS Alison 'Tosh' MacIntosh played by Alison O'Donnell
DI Jimmy Perez might be the determined leader of the Shetland Islands' police force, but he couldn't do it without his right hand officer, DS Alison 'Tosh' MacIntosh. In season 6 she discovered that she was pregnant with her first child shortly before the nightmare scenario of her boss being arrested rather took the shine off the moment.
In Shetland season 7, which opens a year later, Tosh has welcomed a baby girl with her partner Donnie. But as a highly focused police officer, balancing her family and work commitments isn't easy.
"She's trying to balance the two identities which I, and I'm sure many other working parents, can really relate to," Alison explained to the BBC. "She couldn't do any of this without Donnie's amazing support but of course those big changes are challenging for him too so we see that all play out over the course of the series."
The Shetland season 7 star also hinted that there are still big moments to come in this latest instalment, including a potentially hazardous situation for one of the regular characters. And it's not Jimmy she was talking about…
She continued, "This series is jam-packed with twists and high-octane drama. It's not to be missed! Our guest cast is absolutely outstanding, as ever, and there are some big moments for the core cast too, with Perez's ending and another series regular being thrown into serious jeopardy."
If that doesn't get you seriously excited for the remaining four episodes, we don't know what will!
---
DC Sandy Wilson played by Steve Robertson
Also back as a returning star in the Shetland season 7 cast is Steven Robertson as DC Sandy Wilson and just like his colleagues he faced plenty of personal and work challenges last season. Sandy was close to the Kilmuir family and was one of those staunchly opposed to Donna being back on the Shetland Islands given her crimes.
This caused some conflict within the team and Sandy even betrayed Jimmy's trust by leaking information about the murder case they were investigating, though it looked like Jimmy and Tosh were going to let this go after what they'd been through.
Discussing the implications of this with the BBC, Steven said, "There's a different level of confidence in Sandy. After his previous indiscretions, he's more self-aware and with less to prove to others. We all reach a point in our lives and careers when you're doing it for yourself and not for others."
He added, "If the more senior detectives in the office didn't respect Sandy, he wouldn't be there. Seeing Perez having his rights read to him highlighted to Sandy and everyone else that we're all fallible, and sometimes that's okay."
---
Meg Pattison played by Lucianne McEvoy
Meg Pattison, played by Lucianne McEvoy, was Donna Killick's end-of-life nurse and carer and formed a close bond with Jimmy as she also took care of his father on some occasions. She's back in Shetland season 7 and some fans will perhaps be hoping that Douglas Henshall's departure means that Jimmy finally gets the happy-ever-after he's deserved for so long.
"You never know, but as with anything to do with Perez and the opposite sex, it's never straightforward. Meg's got his head like a washing machine," Douglas told the BBC. "I think once you get to a certain age there're a lot more questions that you have to ask of yourself, of a significant other. I think the conversations you have are a lot different because there's baggage there. But as long as there's hope, there's a way forward."
Hope is all fans might need to hold on to for now as they anticipate how Jimmy will leave the Shetland Islands.
---
Other Shetland season 7 cast members who've returned from previous seasons include Anneika Rose. Line of Duty fans might recognize Anneika Rose who starred in the show's last season and here she's back as Maggie Kean in Shetland. She was the one who requested a full investigation into Donna's death which later led to Duncan and Jimmy being arrested.
Tosh's partner and the father of her daughter, Donnie, played by Angus Miller is also back. He's been a huge support to the DS since their child was born. Love blossomed between the couple in Shetland season 6 and it's wonderful to see Angus back again for season 7.
Duncan's daughter and Jimmy's stepdaughter Cassie Perez, played by Erin Armstrong, is also a familiar face in Shetland season 7. Meanwhile Lewis Howden as Sergeant Billy McCabe and Conor McCarry as PC Alex Grant are also part of the team again this season, with Anne Kidd returning as Dr Cora McLean.
New Shetland season 7 cast members and where you've seen them before
New Shetland season 7 cast members:
Andrew Whipp as Danny Cairns
Shauna Macdonald as Rachel Cairns
Nicholas Nunn as Connor Cairns
Lauren Conroy as Abbie Cairns
Alexandra Finnie as Clana
Pauline Turner as Sheena Davidson
Simone Lahbib as Jill Stevens
Gordon Brown as Cameron Waldron
Dawn Sievewright as Nicole Waldron
Laurie Brett as Alison Woods
Stuart McQuarrie as Murray Rankin
Sorcha Groundsell as Byrd Fleming
Patrick Robinson as Lloyd Anderson
Ladi Emeruwa as Martin Otina
Grant O'Rourke as Jamie Narey
Laura Cairns as DCI Melanie Reid
As all long-time fans of the compelling BBC drama will already know, the Shetland cast might be anchored by the likes of Douglas Henshall, Mark Bonnar and Alison O'Donnell as regulars, but it wouldn't be the same without its talented guest stars.
For the same reason people were left wondering who Tom Faulkner is in Silent Witness when the 2022 season landed, some might be a little confused by the number of newcomers to the Shetland season 7. Like Silent Witness each instalment of Shetland follows a different mystery, though for the Scottish drama this central case lasts across an entire season.
This means DI Jimmy Perez and his dedicated team require plenty of new suspects to question and a victim whose life isn't all it initially appears to fight for justice for. In Shetland season 7 the plotline focuses on the disappearance of a vulnerable young man, Connor Cairns, with his mother Rachael especially desperate to find out what happened. They are played by new Shetland season 7 cast members Nicholas Nunn and Shauna Macdonald respectively.
Shauna is perhaps best known for her roles in Spooks, the BBC's The Cry and The Descent, and she also appeared in Outlander season 6 as Flora MacDonald. Whilst Nicholas is no stranger to dramas, having starred in Clique and The Victim.
His sister is played by Lauren Conroy in what is believed to be her first TV role, with his father, Danny played by Andrew Whipp, known for Starz show The White Princess, as well as Emmerdale.
Once a police officer, Danny was convicted of corruption and spent time in prison. Andrew and Lauren are joined as guests to the Shetland season 7 cast by another Clique star, Sorcha Groundsell as Connor's girlfriend Bryd Fleming.
Whilst EastEnders alum Simone Lahbib has moved from playing Katy Lewis in the soap to the role of Jill Stevens in Shetland. Jill was Danny's partner in the police and his time as an officer made him plenty of enemies. This includes Cameron and Nicole Waldron who hold him responsible for a family tragedy and are played by Deadwater Fell star Gordon Brown and theatre actor Dawn Sievewright.
EastEnders' Jane Beal actor, Laurie Brett, plays Alison Woods who headed up the search party looking for Connor Cairns and The Last Kingdom star Patrick Robinson plays artist Lloyd Anderson who taught drawing to the missing man.
Ladi Emeruwa, Stuart McQuarrie and Pauline Turner are also newcomers to the Shetland season 7 cast as a photographer staying at the Cairns family's guest house, Librarian Murray Rankin and Connor's ex-employer Sheena Davidson respectively.
Shetland fans might well have seen these three cast members before, with Pauline playing Tommy Shelby's housekeeper in Peaky Blinders, Ladi appearing in Berlin Station and Stuart in Apple TV show Foundation.
The Shetland season 7 cast is rounded off by another Outlander star, Grant O'Rourke, as publishing employee Jamie Narey, and The Crown actor Laura Cairns as Danny's former boss, DCI Melanie Reid.
Shetland season 7 airs at 9pm on Wednesdays on BBC One with the finale set to air on September 14th.
Sign up to our free daily email for the latest royal and entertainment news, interesting opinion, expert advice on styling and beauty trends, and no-nonsense guides to the health and wellness questions you want answered.
Emma is a Royal Editor with seven years of experience working in digital publishing. Her specialist areas including literature, the British Royal Family and knowing all there is to know about the latest TV shows on the BBC, ITV, Channel 4 and every streaming service out there. When she's not writing about the next unmissable show to add to your to-watch list or delving into royal protocol, you can find Emma cooking and watching yet more crime dramas.