What happened to Tosh in Shetland and is she dead? All we know so far as DI Jimmy Perez's team faces tragedy in season 7
Tosh in Shetland has been a determined detective in the islands' police force since the BBC show started but is her time on the series over?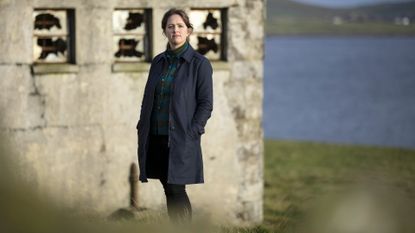 (Image credit: BBC/Silverprint Pictures/Mark Mainz)
If you're wondering what happened to Tosh in Shetland you're likely not alone as *that* dramatic scene in season 7 could tear DI Jimmy Perez's team apart.
Ever since Shetland first landed on the BBC back in 2013, the regular characters have become firm fan-favorites, anchoring viewers throughout each series' increasingly chilling events. The Shetland season 7 cast has seen all of the main actors return alongside brilliant guest stars. Though, sadly, Shetland season 7 will also see Douglas Henshall's Shetland journey reach an end after over a decade. Whilst bittersweet this certainly seems to suggest that the end of the series could be one to remember as his character DI Jimmy Perez bids the Shetland Islands farewell.
And ahead of this, Jimmy has launched an investigation into the disappearance of a vulnerable man, Connor Cairns. Episode 3 of season 7 ended with a shocking cliff-hanger that leaving DS Alison 'Tosh' McIntosh's fate hanging in the balance.
But what happened to Tosh in Shetland and is she dead after that shocking final scene? We reveal what we know so far…
*Warning: Spoilers ahead!*
What happened to Tosh in Shetland?
Anyone who dived right into the hit BBC drama's latest installment after seeking out a Shetland season 6 recap knows that the Shetland Islands' police force has faced its fair share of emotional moments in recent times. Not only was DI Perez arrested in the last series, but his right-hand officer, DS McIntosh discovered she was expecting her first child with partner Donnie.
Now in Shetland season 7, she's a proud mum to a beautiful daughter and managing to balance family and work life as the team are plunged into their next difficult case. Determined to find out what happened to missing man, Connor Cairns, in Shetland season 7 episode 3 things took a turn for the worse for Tosh.
Having uncovered Connor's supposed "safe place" - an isolated caravan on the mainland - the DS set off to investigate and soon found made even more disturbing discoveries. Inside the caravan were a series of drawings pinned to the walls as well as nautical charts for the Bay of Quendale, Dales Voe and more.
Although a seasoned detective, Tosh understandably looked more than a little creeped out by what she'd found. It was then that she called Jimmy to let him know that she'd found Connor's safe place, not long after he'd heard back that Connor's girlfriend Bryd's blood and Connor's DNA had been found on a fragment of T-shirt the police had recovered.
"There's something strange going on," Tosh explained before adding, "It's like there's something rigged up in here. There are all these cables."
If that hadn't got long-time fans' fearing the worst nothing would as Tosh identified mysterious wires spreading the length of the caravan and took a step back, only to hear an ominous snapping sound.
It was then that viewers also saw a sinister timer counting down and the DS exclaimed, "Oh my God, I think it's a bomb", before promptly realizing the door had swung shut and locked behind her when she first entered this shadowy trap.
Frantically trying to make it budge, Jimmy is alarmed and helpless on the other end of the phone desperately calling his loyal DS's name as the timer counts down the final seconds.
Is it the end for Tosh?Find out when #Shetland returns next Wednesday (31 August) at 9pm on @BBCOne, @BBCiPlayer and @BBCScotland...https://t.co/pIfpaYcPUa pic.twitter.com/XggXoCKD2LAugust 24, 2022
See more
At this point fans might well have been keeping their fingers crossed for a last minute reprieve and a triumphant escape from Tosh. Unfortunately, this wasn't to be the case and the last scene of this heart-breaking Shetland season 7 episode ended with an inferno erupting from the caravan's depths. With flames and smoke billowing into the night air, the credits began to roll.
Is Tosh in Shetland dead?
It's no surprise that following that harrowing moment at the end of episode 3 the burning question likely on many fans' minds will be - is Tosh dead in Shetland season 7? Sadly, we don't know if Tosh is dead in Shetland as the only information we have to go on is what's unfolded on-screen so far.
Of course, it's possible that Tosh died in the explosion at the caravan as viewers weren't shown any obvious way she could've escaped unscathed after her increasingly frantic attempts to find any weak places around the windows or doors looked to end in failure.
Though that doesn't necessarily mean Tosh was killed in the blast at all as her survival against all the odds would make for one of the biggest dramatic twists in the series so far. The camera also cut away from Tosh's scenes as the countdown reached its final stages, instead showing us Jimmy's horrified reaction to what was unfolding. This means there was a fraction of time where Tosh wasn't on screen where she could've potentially discovered an alternative escape route.
In light of Douglas Henshall's decision to exit Shetland after season 7 the death of another main Shetland character would hit the fanbase hard. Tosh's actor Alison O'Donnell previously teased to the BBC (opens in new tab) that Shetland season 7 would see one of the regular characters facing mortal danger but kept their identity anonymous.
"This series is jam-packed with twists and high-octane drama. It's not to be missed!" she said. "Our guest cast is absolutely outstanding, as ever, and there are some big moments for the core cast too, with Perez's ending and another series regular being thrown into serious jeopardy."
Although not confirmed officially, given what happened to Tosh in Shetland with the explosion, it could be that she was the series regular in "serious jeopardy". It's not known whether the blast and Tosh's fate - whether she's alive and well, alive and injured or dead - could play into Jimmy's exit in some way as regardless of what happens the detective could possibly be guilt-ridden.
After all, he had also volunteered to go to check out the location and even if Tosh does escape, the DS could be badly injured. Now as fans are left anxiously awaiting further news it seems like there's nothing left to do but wait and see whether Tosh emerges from the explosion alive in the next episode.
Who plays Tosh in Shetland?
Tosh in Shetland is played by the wonderful Alison O'Donnell who's been a part of the Shetland cast ever since it started in 2013. Throughout the recent series, Tosh's storylines have developed, seeing her becoming pregnant and juggling life as a mother with life as a Detective Sergeant. And according to Alison, Shetland season 7 sees the police officer struggling with feeling like she has two identities and the pressure being parents has placed on her relationship with partner Donnie.
"She is completely in love with her baby, which we can see in all of their interactions. It's a real wrench to have to leave her every day but it's also important to her to be able to continue with her career which she has worked so hard for and which means so much to her," the star told the BBC.
Alison continued, "She's trying to balance the two identities which I, and I'm sure many other working parents, can really relate to. She couldn't do any of this without Donnie's [played by Angus Miller] amazing support but of course those big changes are challenging for him too so we see that all play out over the course of the series."
Asked what she believes makes the BBC series such a beloved programme across so many years, Alison reflected on how the place where Shetland was filmed and the "well-defined" world of the show is so important.
"For me, the most important thing about a TV show, the thing that will make me connect and keep coming back, is a well-defined world that I want to spend time in," she said. "I think we have created a world that is unique and really atmospheric. The beautiful landscapes, the intriguing stories and, of course, the characters who have really grown over the years."
As well as her regular role in Shetland, Alison O'Donnell has also appeared in Holby City, Feel the Force and Pet Sematary. For fans of Tosh in Shetland, her fate is expected to be revealed in the remaining three episodes of season 7.
Shetland season 7 airs at 9pm on BBC One on Wednesdays.
Emma is a Senior Lifestyle Writer with six years of experience working in digital publishing. Her specialist areas including literature, the British Royal Family and knowing all there is to know about the latest TV shows on the BBC, ITV, Channel 4 and every streaming service out there. When she's not writing about the next unmissable show to add to your to-watch list or delving into royal protocol, you can find Emma cooking and watching yet more crime dramas.