Sharon Stone dressed herself for her first Oscar's in 1992 but the results were 'awful' according to the star
Things have clearly changed throughout the years, but Sharon Stone recalls the one time nobody was willing to lend her a dress for the Academy Awards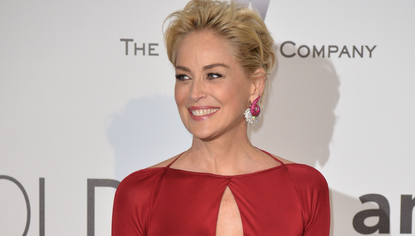 (Image credit: ALBERTO PIZZOLI / Staff)
We all have our "off" fashion days - whether we're famous or not.
Sharon Stone, who recently revealed that she's "worked with a lot of misogynists" in Hollywood, had one such experience back in 1992, when she dressed herself for the year's Academy Awards since "no one would lend me a dress."
The 64-year-old actress, who stunned in two figure-hugging dresses during a surprise SNL appearance earlier this year, got candid about the episode while appearing on the Table for Two with Bruce Bozzi (opens in new tab) podcast this week.
Sharon explained that her film Basic Instinct, which would eventually catapult her to fame, was scheduled to drop in theaters on March 20, 1992, which was only a few days before the Oscar's happened that year. She was, however, invited to present an award so had to figure out what to wear.
"All these people in their $40,000 or $50,000 dresses and I went and bought a Betsey Johnson polyester jumpsuit, because that was the best I could do," she said on the podcast. "I'm doing my own hair and makeup and I was just like, 'Wow, this is awful. Like, how am I going to do this, right?'"
At the event, though, Sharon quickly realized she was poised for success as she was seated close to the stage and top celebrities endorsed her work as soon as they saw her.
"When I walked by, [Anthony Hopkins] put his hands together and put them over his head like a champion and held them up to me when I passed him," she recalled. "I was like, 'Oh my God, he saw my movie.'"
Boy, how things have changed since that night over three decades ago.
Not only has Sharon won countless awards since first landing on the scene, but her fashion choices have repeatedly made headlines throughout the years.
Just last year, she literally transformed her gown in the middle of the Cannes red carpet by removing the train of her Dolce & Gabbana dress halfway down the walkway, for example.
Way before that, in 1996, she showed up at the Oscar's ceremony in a black GAP shirt under an Armani tuxedo dress that was her own after her custom-made pink Vera Wang gown - which she had planned to wear originally - was ruined during its delivery. True story.
"It came and the FedEx guy dropped it out of the back of his truck and backed up over it," the star said during a 2020 appearance on Naomi Campbell's No Filter with Naomi YouTube series, shocking listeners. "The box broke open, and the dress had a black tire track down the whole front. The day before the Oscars."
Clearly, Sharon is not the luckiest when it comes to Academy Award outfits… yet always looks phenomenal and on point!
Anna Rahmanan is a New York-based writer and editor who covers culture, entertainment, food, fashion and travel news. Anna's words have appeared on Time Out New York, the Huffington Post, Fortune, Forbes, Us Weekly, Bon Appetit and Brooklyn Magazine, among other outlets.