Sharon Stone reveals she's 'worked with a lot of misogynists' in Hollywood who 'told her what do'
Actor Sharon Stone has opened up in a new interview, revealing which stars have treated her with respect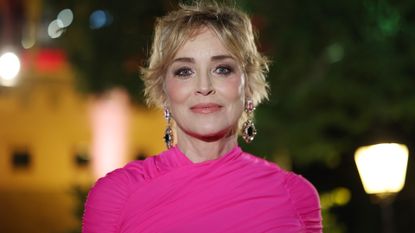 (Image credit: Getty)
Sharon Stone has opened up about 'working with misogynists' in Hollywood, and revealed the few in the industry who have treated her with 'respect.'
She revealed how some big stars 'told her what to do' in a new interview with Variety (opens in new tab), which took place following her surprise cameo on Saturday Night Live on 21 January, where she joined Sam Smith on stage.
She said, "I've worked with some of the biggest stars in the business, who will literally talk through my close-up, telling me what they think I should do. They're so misogynistic."
Sharon added, "They just will not listen to me, and will not allow me to affect their performance with my performance. That's not great acting. I mean, I get that you're great and everybody thinks you're wonderful. But listening, being present for those fractured moments, is really the human experience."
However, she hastened to add that her Casino co-stars, Robert DeNiro and Joe Pesci, were not in that category. "That is not Robert De Niro. that is not Joe Pesci, that is not those guys," she explained.
But opening up about a poignant interaction she had with the late George C Scott, with whom she worked on 1999's Gloria, she recalled, "He said to me, 'I want to give you the greatest compliment I could possibly give to someone, honey,' and he put his hand on my face and said, 'You're the best listener I've ever worked with except for my wife.' And I cried."
The outspoken actor added that she's 'not the most popular actor in town,' explaining, "because people don't want to hear my, as they say, f***ing opinions… maybe because of my devotion, maybe because I'm just kind of a weirdo. But I'm just in it to be present."
Sharon's SNL performance came as somewhat of a surprise to viewers, who couldn't believe their eyes as the 64-year-old made waves during an emotional performance.
Just when you thought Sharon Stone's recent bikini pictures were impressive - the Basic Instinct star brought a dose of old Hollywood glamour to the hit comedy show. Lying on a bed, dressed in a divine fitted black and gold dress, draped in sequins, Sharon looks into the distance with a slight smile as singer Sam Smith's backing choir sings the incredibly emotional single Gloria.
The tune, which is the first from their upcoming album also called Gloria, made for an emotional background and as Sam began their solo - Sharon stood up. To which, of course, the audience cheered.
On top of the serious performance, she had no problem showing her funny side in a skit alongside the show's host and star of White Lotus, Aubrey Plaza. Even while humor was the priority, she made space to look fabulous again, this time in an all-black number.
Bucking the trend of pressures heaped on women who are privileged enough to age, movie legend Sharon has made it clear that she's all about aging gracefully and standing up against the forces that suggest fighting the natural process. Shockingly, Sharon Stone was dumped by a younger man for not using botox and fillers - which she swore off after, "a massive, painful neurological need."
Robyn is a celebrity and entertainment journalist and editor with over eight years experience in the industry. As well as contributing regular to woman&home, she also often writes for Woman, Woman's Own, Woman's Weekly and The Sun.