See Sharon Stone literally transform her gown in the middle of the Cannes red carpet
The always-stunning Sharon Stone removed the train of her Dolce & Gabbana gown halfway down the red carpet at the Cannes Film Festival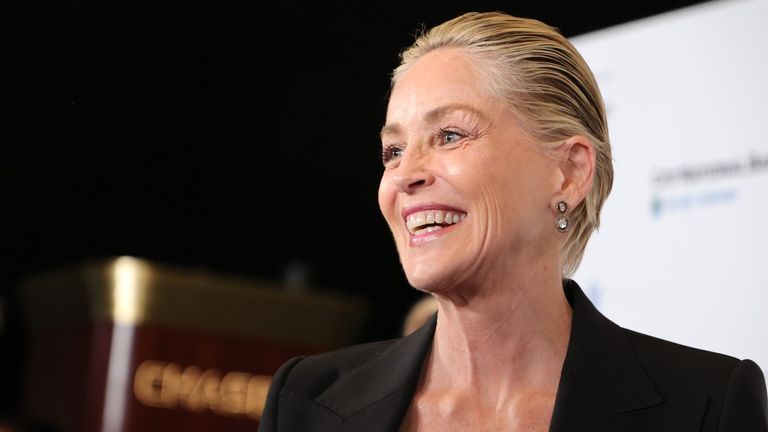 (Image credit: Getty)
Earlier this week, Sharon Stone quite literally transformed the red carpet at the Cannes Film Festival into a fashion show.
Sharon, who recently opened up about the tragic passing of her 11-month-old nephew, stepped out in a fitted Dolce & Gabbana gown with an attached skirt featuring a blue-and-white mandala print.
Halfway down the carpet, though, the 64-year-old actor asked models Adam Senn and Sam Webb, her dates to the event, for some help to remove the train. The result? An entirely new look, this one featuring the sleek dress with a back slit and blue-and-white Swarovski crystals beadings.
Outfit number two allowed fans to take a better look at Sharon's blue platform stilettos, which perfectly matched the same-hue teardrop earrings and ring that she chose to complete her look.
Sharon's makeshift fashion assistants, Adam and Sam, joined her for the premiere of the film Forever Young donning a color scheme similar to that of the actor's. They wore matching navy two-piece suits with bow ties and black Wayfarer-style sunglasses.
This was not the first time that the trio collaborated. In fact, fans may remember Dolce & Gabbana's ad campaign for the Devotion handbag earlier this month. Sharon, Adam and Sam all appeared in the promo, which showed them relaxing on gondolas and walking around Venice, in Italy.
Years in the spotlight have clearly turned Sharon into a pro when it comes to turning heads both on and off the red carpet. Just last year, the iconic actor took to Instagram to recreate those infamous Basic Instinct photos. Sharon put her own spin on the 1992 erotic thriller, in which her serial killer character sits on a chair smoking a cigarette with her legs crossed.
Standing in her brightly lit kitchen, the Pennsylvanian movie star was seen smirking at the camera whilst mimicking the smoking gesture with a tube of makeup. In the photo, she re-wore the Basic Instinct white dress, albeit not the way her followers expected her to. This time around, she paid homage to Catherine Tramelli's signature look by wearing a black T-shirt with an illustration of the iconic scene printed on it. The ode was a clear assertion of power over her public image, which had been exploited by the producers of the movie back in the 1990s.
And if her stint at Cannes is of any indication, Sharon has no intention of giving away her freedom of expression and control over her own image.
Anna Rahmanan is a New York-based writer and editor who covers culture, entertainment, food, fashion and travel news. Anna's words have appeared on Time Out New York, the Huffington Post, Fortune, Forbes, Us Weekly, Bon Appetit and Brooklyn Magazine, among other outlets.