Nike's Plus-Size Clothing Range Finally Leads The Way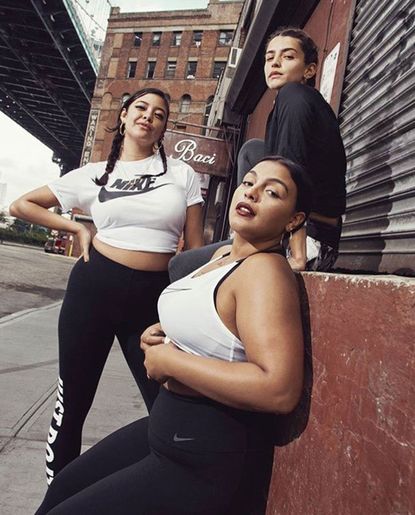 (Image credit: NIKE)
It's certainly been a long time coming, but sports brand Nike has finally put its money where its mouth is by announcing its first plus-size clothing range.
The athletic brand's new clothing line features an impressive 200 products that range from sizes 1X to 3X, including work-out leggings, training tanks, running shorts, t-shirts and jackets. In addition, Nike has also created new sports bras that will go up to a size 38E.
For many women, the move is both welcome but tardy one. In the summer of 2016, the sports brand posted a photograph of plus-size model Paloma Elsesser to their Instagram and got some angry responses. Many challenged why Nike were advocating plus-size fashion without actually offering plus-size clothing options.
Nike responded with a "wait and see" reply that acknowledged the criticism: "We're constantly innovating and working to improve our product to make you the best athlete," Nike Woman posted. "Stay tuned for what's to come."
A year later, the brand has finally followed through on this promise. It's a move that will hopefully place pressure on fellow sports brands to do the same and provide realistic workout clothes for all shapes and sizes.
As for Nike, their message is clear: "Strong is the keyword for us; size doesn't matter," Nike's vice president of women's training apparel Helen Boucher said in a statement.
"In today's world, sport is no longer something that she does, it's who she is," the brand explained. "The days where we have to add 'female' before 'athlete' are over.
"She is an athlete, period. And having helped fuel this cultural shift, we celebrate these athletes' diversity, from ethnicity to body shape."
We couldn't agree more. Here's hoping Nike's newest move signals a change across all sportswear brands. Inclusivity shouldn't still be headline news in 2017.
Our Top 5 Picks
Long Sleeve Running Top, £40.00, Nike
BUY NOW for £40.00 (opens in new tab)
Running Jacket, £125.00, NikeBUY NOW for £125.00 (opens in new tab)
Printed Running Crops, £75.00, NikeBUY NOW for £75.00 (opens in new tab)
High Support Sports Bra, £31.49, Nike
BUY NOW for £31.49 (opens in new tab)
Running Tights, £70.00, Nike
BUY NOW for £70.00 (opens in new tab)